By Ed Leahy
Martin O'Neill has hinted that there could be some new faces in his squad for Ireland's upcoming Euro 2016 qualifier with Poland at the Aviva Stadium next month with Bournemouth's Harry Arter currently on the radar.
While Ireland's campaign thus far has focused heavily on tough away fixtures, which included a hard-fought draw in Germany and a disappointing defeat to near-neighbours Scotland, the attention now firmly turns to the home fixtures with the upcoming Poland clash and then another home game in the return fixture with Scotland in June.
The Ireland manager is upbeat about his squad's position and the impact that recent arrivals have made to the cause, while also hinting that there were more new faces on the horizon set to wear the Green in the near future.
"I'm encouraged by players that are eligible to play for us who are actually starting to make a bit of an impression. I don't want to go into some names at the moment in case it all falls apart," said O'Neill. 
"But this is part of the job that I have some enthusiasm about. With David McGoldrick and Cyrus Christie wanting to play for us, and these players coming in are actually genuine contenders and not just making up numbers, and that has been pleasing.
"I walked out of a Fulham game and was speaking to Harry Redknapp and this young lad walked up to us and starts to speak to me. And it was Arter who plays for Bournemouth, who I had watched on one or two occasions beforehand and it was nice to meet him.
"His enthusiasm was very strong and he is performing regularly in a side that is going very strongly for promotion."
Watford's Tommie Hoban is another player that might be considered for the senior set-up as the young centre-half has cemented his place in the first team at Vicarage Road this season.
"I had a conversation with (Under-21 manager) Noel King and Noel was particularly impressed with Tommie. I've got to see Watford three times in the last 16 days and Tommie has been contributing there so it is just nice to get a decent update. Noel has mentioned a few other players that might be worth looking at too.
"I don't think there are too many players playing that we haven't covered one way or another and there might only be one or two left that I haven't seen personally, which I'd hoped to do, between now and when I announce the squad."
The manager was less forthcoming about England's top scorer Eoin Doyle, who just completed his move from League One side Chesterfield to the Championship's Cardiff City. At the same time, O'Neill refused to rule out the former Sligo Rovers striker, who has scored 25 goals this season.
"His enthusiasm was very strong and he is performing regularly in a side that is going very strongly for promotion"
"It's a harder one to make judgements on as you are looking at League One and you have to make a judgement on whether that player can come and step up. Eoin is one example and there are others who are playing to the equivalent of that but I don't think I would be in a position to rule anybody out."
And what chance of a return for controversial Stoke City midfielder Stephen Ireland, who impressed in front of an onlooking Roy Keane in Saturday's victory over QPR.
"There's been no contact," said O'Neill.
O'Neill is also hoping that the Aviva Stadium can, once again, be turned into a fortress in order to help the international side to gain the upper hand in the tough task that lies ahead as Ireland look to qualify for next year's showpiece event in France.
"I'm really pleased with it at the moment with seven points on the board and now everything depends on what happens here at the Aviva," said O'Neill.
"And we have put ourselves in the position where we can hopefully feed off big crowds, get players really up for the game, ready for the match and just go and try and win.
"There is no reason why the crowd cannot play a big part in it and that's what we would like.
"And we have to try to do something to encourage that, and not just leave it down to the spectators who are paying their hard earned money to come. We have to do something to enthuse them and that's part of our job."
O'Neill elaborated on his thinking going into this vital clash with Poland and how he plans to enthuse the always-passionate home support and give them reason to turn the Lansdowne Road venue back into the fortress it once was.
"We will try to get our best players on the field but I would like to be flexible," said O'Neill, who previously hinted that he might be more likely to utilise creative players like Wes Hoolahan in home matches.
"At the same token, you have X number of days to work on the systems and I don't want it to be too foreign for players that they are not able to cope.
"But I think a lot of players now are at clubs that their systems can be a bit flexible and they are used to, for example, three at the back or one playing off the centre forward."
One such player is Robbie Brady who plays in several positions in a Hull side that often employ three at the back and utilise wing-backs on occasion.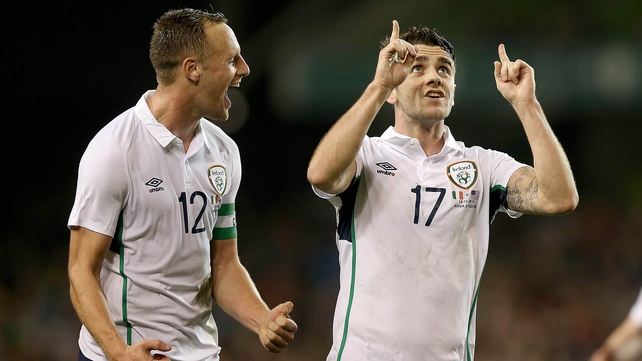 And Brady put in a man of the match performance in Ireland's last game, the 4-1 friendly victory over the USA, playing in the left-back role. And he appears to have played his way into the thoughts of the Ireland boss.
"I'd be considering him in the team, no doubt, I thought he played excellently for us against the USA and was terrific in the match," said O'Neill.
"He played with a good freedom. Of course, it was a non-competitive match but we played well and he did well. The likes of [Cyrus] Christie did well and so did [David] McGoldrick, so I was particularly pleased with them."
O'Neill outlined his best case scenario ahead of the Poland game but he accepted that things rarely materialise as planned in international football.
"Ideally, I would love that when the team arrives the week beforehand that most, if not all, have played strong competitive football in the previous ten days and are fit to go. That's not going to be the case."
The Ireland boss highlighted this frustrating aspect of being an international manager as his plans are almost entirely dictated by what happens to his players at club level and all his plans and systems could be made null and void should players be left out of the team or pick up injuries.
"What you have to take into consideration is that players that you are hoping might go and kick on, for one reason or another don't get playing at club level.
"I'm monitoring that every week and [another factor is] whether a player picks up a niggling injury and misses out for a game and doesn't get back into the team.
"Players that we think are really improving, then three weeks later after they leave us they are not getting in at club level."