Colombia's James Rodriguez has won the FIFA Puskas Award at the Ballon d'Or gala in Zurich as Ireland's Stephanie Roche missed out on the honour.
The Republic of Ireland international was competing against Rodriguez and Robin van Persie for the award which recognises the best goal in the last year.
Rodriguez's strike [42%] edged out Roche audacious volley [33%] and the Manchester United man's header [11%].
The breakdown means that Roche claimed over a million of the 3.3 million votes cast.
The goal was scored in front of a crowd of just 95 people at Wexford's Ferrycarrig Park, but over six million fans viewed the goal on YouTube and sparked hopes that Roche could become the first woman to claim the coveted award.
However, despite a concerted campaign, Roche was beaten in the public vote by Rodriguez's stunning effort against Uruguay in the 2014 World Cup.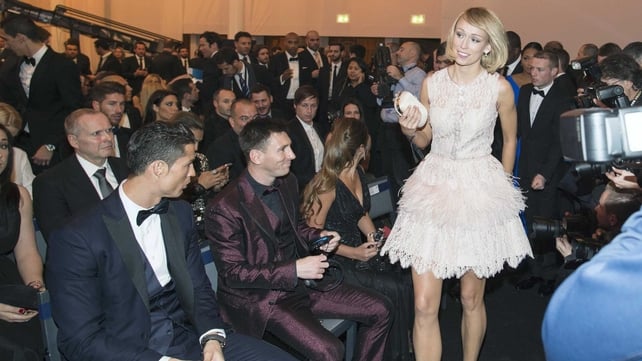 Following her nomination, Roche left Ireland to join ASPTT Albi in the south of France, though she is soon to leave the club having struggling with both the language barrier and homesickness.
"It's been a crazy, crazy ride. I've done so much stuff that I probably wouldn't have done if the goal hadn't been videoed, so I suppose it's been brilliant" - Stephanie Roche
The Dubliner spoke to RTÉ Sport after the event, and couldn't hide her regret at failing to net the prestigious award.
"I suppose [I'm feeling] disappointment. As a footballer I would like to have won the award. But right now I just want to take the chance to thank everybody back at home who did vote for me. The support has been unbelievable," said Roche.
"Being the first Irish person to get here, and also being the first female, has been fantastic.
"Colombia is an awful lot bigger than Ireland, so to have got that close means a lot to me. So, again, thank you to everyone who did vote.
"It's been a crazy, crazy ride. I've done so much stuff that I probably wouldn't have done if the goal hadn't been videoed, so I suppose it's been brilliant.
"There's been so much positive reaction and feedback from people such as pro footballers, and ex-pros."
When asked where to from now, Roche pointed to the Ireland women's winter training camp in La Manga, Spain, as the next port of call as she refocuses on her football, following the glamour of the gala in Zurich. And beyond that the side's upcoming A friendly international with Women's World Cup finalists Norway on 15 January.
"I suppose I have been building up to this for a long time, and now that it's all over we're going to La Manga tomorrow, and I've missed two days training, so I'm just looking forward to getting over there and seeing the girls and training and playing the match on Thursday against Norway," said Roche.

Speaking earlier today, FAI CEO John Delaney said, "Stephanie has done Irish football proud.
"Her goal has been acclaimed internationally and rightly so.
"Getting to the final three is the world is a truly incredible achievement.
"Stephanie and the association thank everyone who voted her.
"She is a fantastic ambassador for Irish football and for our country and we look forward to honouring her achievement at our own awards in March."
Ballon d'Or: Cristiano Ronaldo
Women's World Player of the Year: Nadine Kessler
Puskas Award: James Rodriguez
World Coach of the Year for men's football: Joachim Low
World Coach of the Year for women's football: Ralf Kellermann
World XI: Neuer; Lahm, Ramos, David Luiz, Thiago Silva; Di Maria, Iniesta, Kroos; Messi, Ronaldo, Robben
FIFA Presidential Award: Hiroshi Kagawa
FIFA Fair Play Award: FIFA volunteers