Liverpool captain Steven Gerrard has encouraged team-mate Raheem Sterling to commit his future to the club.
Despite his current deal having two and a half seasons to run, Sterling has seen his contract situation at Anfield become a talking point.
Sterling's versatility in being able to operate as a striker has provided under-pressure boss Brendan Rodgers with a welcome boost, and Gerrard hopes to see the 20-year-old stick around for a lot longer.
He told a number of national newspapers: "I hope he signs a new contract at the club because I think this club is perfect for him, certainly for the next few years.
"He's going to play most weeks, the fans love him here. He can progress here and become a top, top player here so I hope the people around him give him the right advice because he should stay here.
"I hope the people around him give him the right advice because he should stay here." - Steven Gerrard
"He's great to watch, great to play with, he's got that pace. When you look up he's always giving you an option and that's what I've thrived on throughout my career at Liverpool with the likes of Fernando Torres, Michael Owen.
"There's nothing better as a midfielder when you look up and see pace running in behind. I saw it on numerous occasions [against Bournemouth in midweek] and hopefully it will continue because it stretches teams and creates chances."
Sterling's brace in a 3-1 win at Bournemouth on Wednesday was a real pressure reliever after a run of poor results.
His finishing was also impressive, having squandered a number of clear-cut chances at Manchester United on Sunday.
"You've got to be able to have that [versatility] in your locker if you want to be top drawer," added Gerrard.
"Raheem's got potential to be top drawer for sure. He took a lot of stick after the weekend but I thought his all-round performance was magnificent, the only thing that was missing was a finish and that came [against Bournemouth].
"The exciting thing for all of us is that he's English and going to be a top, top player. I think he can play anywhere along the front, he's that intelligent. He's got to keep learning, he's got to keep wanting it."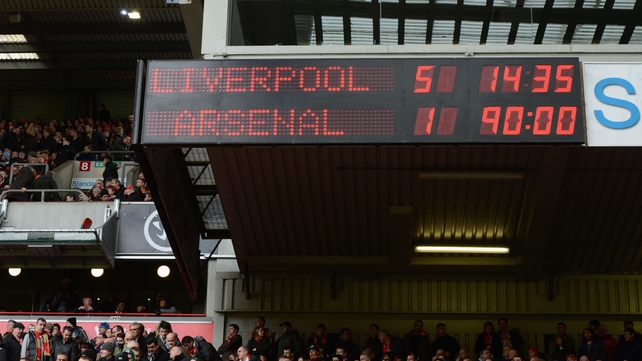 Meanwhile, Arsenal manager Arsene Wenger says being a football boss is about crisis management as his side prepare to face Liverpool on Sunday (1600).
Rodgers is facing a stern examination of his managerial calibre this season as last year's Barclays Premier League runners-up are 11th in the standings this season.
Wenger, who has been Gunners boss for 18 years and survived his fair share of challenges, said: "I've sympathy for every single manager in the Premier League. Everybody goes through periods where it goes a bit less well.
"Our job is to survive crises. Part of the job, not all the job. When you want to make a long career, you cannot only win, unfortunately."
Criticism of Wenger resurfaced after their most recent Premier League away match, when he was booed at a train station following the 3-2 loss at Stoke.
Arsenal responded by beating Galatasaray and Newcastle, scoring four goals in each match, but return to Anfield, where last season they lost 5-1.
The Gunners conceded four goals in the opening 20 minutes last term against a rampaging Reds as their title challenge unravelled.
"We've won five of our last six games," Wenger said. "We want to continue our strong run. We had a good game against Newcastle and Sunday is a good game for us to show that we can have continuity in finding a good balance between attacking well and defending well.
"Liverpool are always very strong at home and that's why we want to continue to be faithful to our philosophy and play our game, but as well be solid defensively."
"Our job is to survive crises. Part of the job, not all the job. When you want to make a long career, you cannot only win, unfortunately." - Arsene Wenger
Asked if the pain of last year's loss at Anfield lingers, Wenger added: "Every defeat hurts. Every defeat is a scar in your heart forever. We have as well very good memories at Liverpool. We won many games at Liverpool as well.
"And even last year, we lost against them. A week later against the same team we won 2-0 at home in the FA Cup.
"Liverpool last year scored over 100 goals in the championship, they were very good going forward.
"This season they've scored 19 until now so they are not on the same trend offensively, but I must say they started out the blocks very strong and we were too late to get into the game."
The match is between two top-four contenders, but Wenger is not yet looking to the end of the season.
"It's a very important period now," he said. "Over the Christmas period we play four Premier League games. Over Christmas we'll come back strongly I'm sure in the league.
"After, when you get over the hill to January, you look towards the end. How you come out of the Christmas period is of course very important."
Wenger's latest challenge is managing a busy treatment room.
Theo Walcott, Alex Oxlade-Chamberlain (both groin) and Nacho Monreal (ankle) face fitness tests to determine if they can play at Liverpool.
Calum Chambers is back from suspension, but Laurent Koscielny (calf), Mikel Arteta (calf), Mesut Ozil (knee), David Ospina (thigh), Abou Diaby (calf), Jack Wilshere (ankle), Tomas Rosicky (thigh) and Serge Gnabry (knee) are all still out.
Wenger fears midfielder Aaron Ramsey will be out until the new year with his hamstring problem, though.
The Frenchman said: "I'm scared that he will miss the Christmas period. He should be back end of December, early January."