Former Republic of Ireland international Sean St Ledger has spoken to RTÉ about his struggle to find a club, just two years after playing at the European Championships.
The 29-year-old was released by Leicester City in May after three years at the club.
"It's been quite tough," he told Saturday Sport. "I was very close to signing for Huddersfield at the start of the season but that didn't materialise.
"Since then I've just been going to the gym trying to stay fit but it's pretty difficult, you can't replicate football fitness in the gym really.
"I was offered something but then it just didn't happen, I wasn't happy with [the terms]. It was going to be more [incentive-based] and only a three-month contract so I felt I was taking all the risk.
"I said 'what happens if I pull my calf' but they were fine, [manager] Mark Robins said 'okay we'll sort something out on Monday'.
"But then I woke up on Sunday morning and he'd got the sack or resigned. I was like: 'How's your luck?'
"They said, 'We still want to sign you,' but as time started going on, I started wondering. They said, 'We can't sign you because we have no manager.' I said I completely understand. Then they signed someone on loan!
"I don't really do anything because I'm obviously hoping that tomorrow I'm going to get a phone call"
"I rang my agent and they said, 'Oh we're still going to sign you, don't worry.'
"We told them we had [also] some interest from America.Then it was transfer deadline day and I'm watching it and I saw that they had signed Mark Hudson, another centre-half, and I didn't hear from them again.
"I knew that once they had signed a centre-half, that was it."
The 37-cap defender believes that the recently introduced Financial Fair Play rules, which limit clubs' spending relative to turnover, has made it harder for free agents to find clubs outside of the transfer windows.
"The [FFP] rules have slightly made a change. In my situation, as well, I was injured, so that doesn't help. They [the manager] are under pressure from people upstairs and looking to their budgets. Is the chairman going to take a fine? Not really.
"Once August has come they've mainly got their players in. If they want, say me, to come in then usually a player has to come out."
St Ledger pointed to some other high-profile players currently without a club as evidence of a growing trend.
"Tomas Kuscazk, who's been at Man United, he's just recently got a club [he joined Wolves two weeks ago], there's Matthew Etherington, Chris Eagles, Jermain Jenas."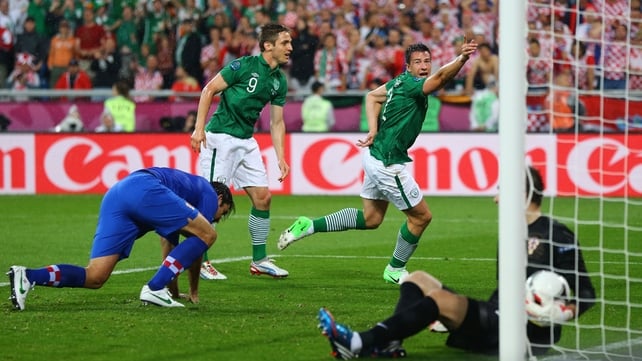 St Ledger, who scored Ireland's only goal at Euro 2012, said that his unemployed spell has opened his eyes to the harsh realities of professional football and that he has found it hard to adjust.
"It feels like I've finished football, it's been the weirdest feeling ever.
"I always say 'there are no friends in football'. I think that's so true, that they'd probably stab you in the back.
"I've found this period really lonely. I ring my friends and say, 'What have you been up to?' and they say 'I've been training, what about you?'
"I've just gone to the gym or gone to do Bikram Yoga and come home. I don't really do anything because I'm obviously hoping that tomorrow I'm going to get a phone call.
"It's been quite difficult. My family have been great. And the lads at Leicester, I still speak to them. But it's not the same, they're going in day-in day-out, having the banter in the changing room and I'm just not a part of that.
"The PFA have been brilliant. There are services if you need to talk to them, they'll pay you for you to keep fit for three weeks at St George's [English FA's National Football Centre], I can't speak highly enough of them."
St Ledger isn't giving up hope on resurrecting his career, however, and is hopeful of earning a fresh start in the United States' MLS next year.
"I still 100% want to try and get a club," he said. "It's not been great too far but you have to see the positive side of things. Hopefully, if I can go to America in January that would be great."