Louis van Gaal branded one of his players "stupid" for the second successive week as Manchester United lost their fourth city derby in a row.
It was Chris Smalling's turn to feel the wrath of his manager, a week after Van Gaal hit out at Robin van Persie for removing his shirt when celebrating his equaliser against Chelsea.
Smalling received two yellow cards in the space of eight first-half minutes as United fell to a 1-0 defeat at the home of neighbours Manchester City.
Referee Michael Oliver showed Smalling a yellow card for a cynical block on Joe Hart as he attempted to kick the ball down field from his hands.
And the England defender slid in on James Milner soon after, leaving Oliver with no option but to issue him with a second yellow.
"In a derby you have to be careful - the second yellow card is a stupid yellow card," said Van Gaal, who had warned his players before the game they must keep their emotions under control.
"As a player you have to control your aggression.
"I didn't see the first yellow but with the second, you know you already have a yellow, so have to handle it differently. I said that to the players.
"You have to deal with that. You cannot do what he has done with the second yellow card. That is not very smart."
Smalling impressed on his return from injury against Chelsea last week and he was playing relatively well before his two moments of madness at the Etihad Stadium.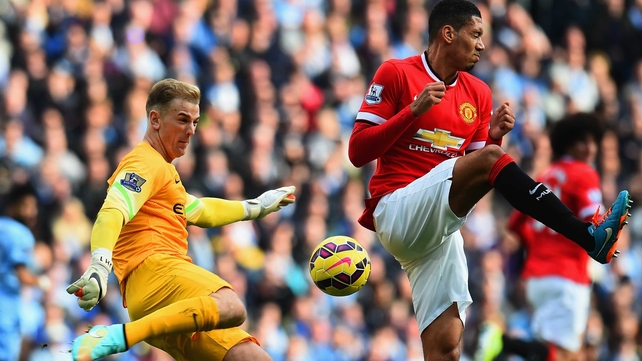 Van Gaal's anger towards him is likely to have been heightened due to the fact United are already severely depleted in defence.
Marcos Rojo will join Phil Jones and Jonny Evans in the treatment room this week after he hurt his shoulder sliding in for a tackle in the second half.
"He has dislocated his shoulder," said Van Gaal, who ended the match with Michael Carrick and Paddy McNair at centre-back.
"He won't be available next week."
Van Gaal's defence has already come in for criticism this season.
He insists he will be able to cope without Rojo and Smalling next week when Crystal Palace come to Old Trafford.
"We have a lot of injuries in defence but you have also seen how Michael Carrick came in and also how Paddy McNair came in. I don't think that's the problem," he said.
Van Gaal was forced to defend midfielder Marouane Fellaini after he was accused of spitting at Sergio Aguero.
Aguero tumbled to the floor after Fellaini kicked his standing leg and the hosts appealed for a penalty, which was not given.
Fellaini clearly did not feel it was a foul and he bent down to shout at the Argentinian as he lay face down on the floor.
Some spit appeared to exit the Belgian's mouth as he unleashed his tirade at the striker, but Van Gaal insists it was not intentional.
"I don't think that he's a spitting figure"
"The TV has shown that he is shouting and sometimes when you shout there's a little bit of saliva (that comes out) with it," the United boss said.
"I don't think that he's a spitting figure."
Fellaini himself later angrily denied the claims. 
"The press loves to invent the stories when there aren't any," he tweeted. "Thanks the journalist. #ferity #tospit."
The English FA later announced that it would be taking no action against Fellaini over the incident.