Christy Fagan bagged a brace in the FAI Ford Cup final as St Patrick's Athletic beat Derry City 2-0 at the Aviva, and the goalscoring hero admitted that he was delighted with the win after suffering a heartbreaking defeat in the 2012 Cup final.
Fagan also found himself on the scoresheet two years ago -although he ended up on the losing side, with Derry City lifting the trophy - but the St Pat's striker said he didn't care who scored as long as the Cup was heading to Inchicore.
And thanks to his two second-half goals, the Dublin club's 53-year wait for FAI Cup success finally came to an end thanks to Fagan and some inspired performances from his fellow Saints.
"I don't know if they believe that it has happened." - Fahey
Speaking to RTE Sport after the Cup final, Fagan said: "I don't think there is any better feeling especially after the heartache of not winning it two years ago and then to be lucky enough to score, that was great.
"But I said before the game, I'd take a 1-0 win coming from an OG, anything to get our hands on the trophy.
"I got lucky with the first and then the second was a bit lucky as there was a mistake from their lad but I was happy enough to take advantage.
"Derry really had us penned in in the second half. They threw everything at us and we had to dig deep and defend as a team."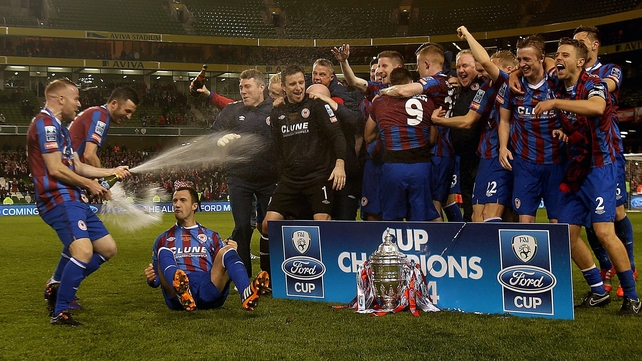 And manager Liam Buckley knew that the 53-year wait had to eventually come to an end.
Buckley said: "It was going to end somewhere along the line; I was hoping that it would have ended two years ago.
"But I'm just delighted for our fans, board, players and sponsors. It's just great for everybody. And although we were favourites, we still haven't won it in fifty-odd years so it's just great to win, I'm delighted."
But Buckley admits that his team dropped too deep after scoring the first goal and said that his side had to ride their luck to keep Derry at bay.
"I was (worried) because we were just sitting back too deep, they just kept dropping back, as much as I wanted them to stay up so you have to ride your luck a little there and we did."
Former Republic of Ireland international Keith Fahey played a key part in Saints success and he said that the pressure wasn't on the players but knew that the fans were a little anxious.
Fahey said: "We were just looking forward to the game. There was a lot of talk before the game about the hoodoo but we deserved to win today. We've worked hard all season so it was nice to win the Cup.
"Some of them (the fans) are fairly quiet," added Fahey, just minutes after the final whistle at the Aviva.
"I don't know if they believe that it has happened.
"But there was a good feeling going into this game that we were going to win it. No disrespect to Derry, they put it up to us today but overall we deserved it."