St Patrick's Athletic star Chris Forrester feels he has matured under the guidance of Liam Buckley this season, admitting he has been affected by watching scouts in the past.
The talented midfielder has attracted considerable attention from across the water, with a move to Bristol City falling through last year after manager Sean O'Driscoll departed when a deal was about to be struck.
Forrester will feature in this today's FAI Cup final (3.30pm live on RTÉ2) where Pat's will attempt to end a 53-year wait for the success in the competition – a match that will undoubtedly catch the attention of clubs in Britain.
Asked whether interest from England had entered into his thoughts ahead of big games in the past, he said this season his focus has been considerably improved.
"100% it hasn't this year," he told RTÉ Sport.
"Previous years it may have got to me a bit. I was a bit nervous out there knowing people were watching me and critiquing me in a way.
"But I haven't been bothered this year. I've let my football do the talking. I think I've matured an awful lot. Under Liam's guidance I have matured and he has allowed me to mature as well.
Pat's started 2014 as favourites to retain the SSE Airtricity Premier Division title but some mixed form early and in the middle of the season put the league crown out of their reach, despite a brilliant return of points in third series of games.
The former Bohemians player retains a belief that the Saints are the country's best outfit, even after falling short in the league to Dundalk and Cork City in the second place, and is grateful to have this final to attempt to prove their worth again.
"Dundalk have won the league and you can't argue with that. But for us, I think we have the best team."
"It has been an okay season and I'm happy with how it went. Losing the league to Dundalk was a bit upsetting but we've got to the Cup final and hopefully we can win that. We have got a European place as well. It has been an okay season individually and collectively for the team.
"Towards the start of the season we were not playing as well as we could. We lost games. We lost to Limerick in two games (and drew one) and those points may have been the difference. We have definitely under-achieved. Towards the end of the season we picked up and obviously got the Cup final. We are where we are now, feeling good and fit going into the game.
"I think we went over 10 games being unbeaten [prior to a loss to Athlone Town when third-place was all but secured]. All of the lads were fully fit at the time and we had a consistent team week in, week out. When we have our full team, for me, I think we're the best team in the league. Dundalk have won the league and you can't argue with that. But for us, I think we have the best team.
"I've probably been trying to get a little bit more consistency into my game. I haven't reached the targets I wanted to reach. I wanted to reach 15 goals and I've reached 12 – so unless I get a hat-trick on Sunday!"
Forrester, like many other Saints, has Cup misery in his past.
This afternoon's final is a repeat of the 2012 decider where Derry came out on top in extra-time.
The 21-year-old spoke highly of the quality in the Candystripes camp and is wary of that dreaded feeling of defeat in the Aviva Stadium.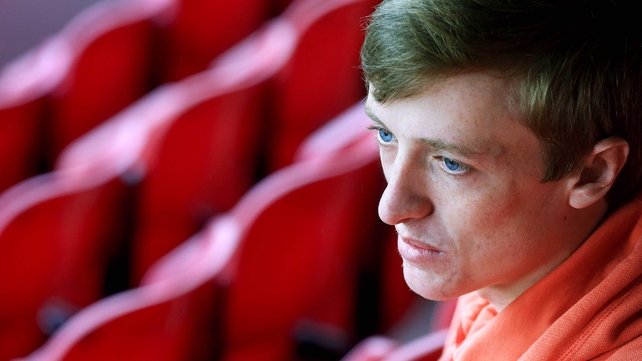 He said: "I don't want to feel that heartbreak again. You'll hear a lot of the fans talking about the 53-year hoodoo but I'm not concentrating on that. I'm concentrating on winning and that's all I want to do.
"As we found out two years ago, they have a lot of match winners in their team. Young Barry McNamee is a very good player, Rory Patterson can hurt us if he is given the chance. He did it two years ago.
"They have great attacking players like Michael Duffy and Patrick McEleney. McEleney is probably the best young player in the league, for me personally. We won't take them lightly. We'll give what we have and hopefully we come out as winners."