Serbia and Albania will learn their sanctions from UEFA next week following their abandoned Euro 2016 qualifier in Belgrade.
UEFA charged the countries with a number of offences connected with the match, which was abandoned when a melee erupted after a mini unmanned drone trailed a pro-Albania flag over the stadium.
Serbia were charged with the throwing of missiles and fireworks, crowd disturbance, invasion of the pitch by supporters, insufficient organisation and use of a laser pointer.
Albania were charged with refusing to play and the display of an illicit banner.
Both countries are likely to be handed heavy fines and other sanctions including possible points deductions when UEFA's disciplinary body hears the case on 23 October.
Albania face forfeiting the match and Serbia playing future games behind closed doors but UEFA is not expected to expel the countries from the competition.
UEFA president Michel Platini has described as "inexcusable" the incidents which followed the drone trailing a flag of Greater Albania - which incorporates parts of various other countries including Kosovo - over the the Partizan Stadium pitch.
The flag was hauled down by Serbia defender Stefan Mitrovic and then brawls erupted involving players, officials and fans.
English referee Martin Atkinson led the teams off the field with score at 0-0 as disruption in the stands threatened to boil over, with objects being thrown onto the pitch at Albanian players.
Neither country had requested they be kept apart in the draw and nor did the other main criteria that also persuade UEFA to keep them separate - being involved in an armed conflict and not having diplomatic relations - apply.
Albanian supporters had been banned from entering the stadium by UEFA on safety grounds and the match was set against a backdrop of tight security.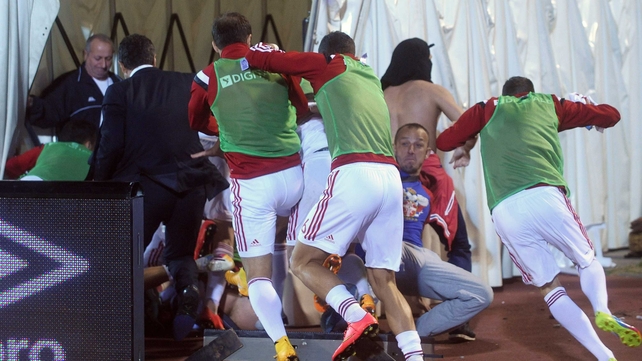 Afterwards, Albanian prime minister Edi Rama praised the players on Twitter for "the pride and joy they gave us" - though Serbian TV has alleged the prime minister's brother was the man responsible for controlling the drone in the stadium.
The Serbian FA has launched fierce criticism of Albania, claiming their team acted with restraint despite being provoked by the "offensive" flag and were then attacked when they tried to remove it from the field.
It said Albania's response to the controversy had been "scandalous" and suggested it had been a "scenario of a terrorist action planned in advance".