Roy Keane believes that the Republic of Ireland will face an even more difficult challenge in Germany following the World Cup winners' shock defeat to Poland.
While Ireland romped to a facile 7-0 victory against Gibraltar, the recently crowned world champions were beaten 2-0 in Warsaw but the Ireland assistant manager is expecting the Germans to bounce back from the defeat when they take on Martin O'Neill's side on Tuesday night.
Speaking to RTÉ Sport at the Ireland camp in Malahide this morning, Keane said: "The downside from our point of view is that you obviously expect a response from Germany at home, so that makes it even tougher.
"Like any good team, they will respond to a setback and we'll expect Germany to come out firing on all cylinders, so we have to be ready for that."
While the footballing world appeared shocked by the result as Poland enjoyed their first ever victory over Germany, the former Ireland captain re-emphasised the quality of the Polish side and the difficult task facing Ireland in Group D.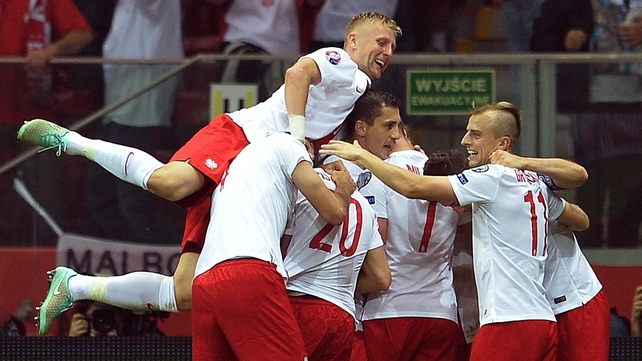 "Poland are a decent team," added Keane. "We said that from day one. It's a tough group.
"Who said Germany would win every game? Football is not like that. It doesn't change our mind-set, it's going to be a tough game for us."
"Like any good team, they will respond to a setback and we'll expect Germany to come out firing on all cylinders so we have to be ready for that."
And Keane was quick to dismiss talk of Germany being a spent force following their World Cup win in Brazil and the retirement of high-profile players like Philipp Lahm, Miroslav Klose and Per Mertesacker.
Keane added: "There's obviously going to be changes as new players come into the group but they still have that quality and the history behind them. They're at home, and they won their first game so I don't for one minute think Germany will be panicking, far from it. You still expect them to be favourites to top the group.
"But it's one defeat for Germany so let's not start getting carried away thinking they are gone. They've got top players. Yes they've lost a few experienced lads but they always have good players coming through, from the [under] 21s or players who were on the bench during the World Cup.
"So don't for one minute think Germany are not a top, top side, because they are. They've just had a set-back. They played okay and had decent possession but lost by a couple of goals. It can happen to any team."
And while Keane is wary of the German threat, he is also hoping that the Ireland players can enjoy the experience of taking on the World Champions and he believes that they have nothing to fear ahead of the trip to Gelsenkirchen.
"We know the challenge in front of the players but we have got a lot of experience," said Keane. "They've played in big games before but they should look forward to it and hopefully they will.
"You obviously cannot go out and go gung-ho against a quality team like Germany but you cannot sit back and expect to defend for 90 minutes. That would be difficult so it's all a balancing act. Defensively you have to be solid but you also want to be a goal threat like Poland were."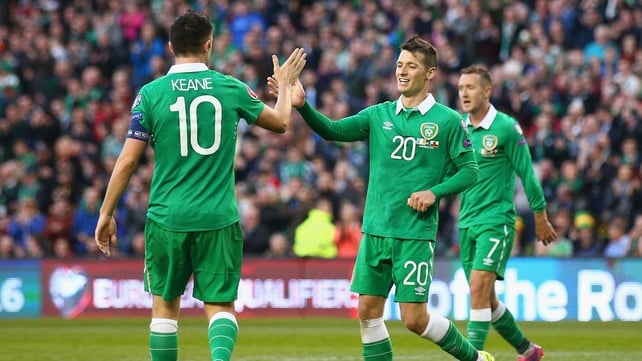 And while Keane does believe that we are starting to see a settled side developing under O'Neill, the Ireland assistant was less forthcoming about the team that will line out at the home of Schalke 04 on Tuesday night to face Joachim Loew's side.
"It felt that there was a good vibe this week, good energy and good feel to the group and we're getting a bit of a settled team.
"Obviously everyone focuses on the eleven who start the game, but we have lots of options, we have Shane (Long), Doyler (Kevin Doyle) and Stokesy (Anthony Stokes) and hopefully all these players will give the manager the options that he needs but you can only start eleven.
"The lads who started last night did okay and the lads who started against Georgia did well so the manager will have a lot to think about over the next 48 hours. so I think we have a lot of decent options."

Live coverage of Germany v Ireland from 7pm on Tuesday on RTÉ2, RTÉ Player and 2fm.