Defender Richard Keogh will miss tomorrow's Euro 2016 qualifying tie with Gibraltar through injury, Ireland manager Martin O'Neill has confirmed.
The Derby County player is also rated doubtful for Tuesday's Group D game away to Germany.
The 28-year-old has been struggling with a hamstring injury.
O'Neill, who will also be without injured Everton duo James McCarthy and Seamus Coleman said: "He's feeling much better today but I wouldn't want to risk him tomorrow, it's come too early for him."
Meanwhile, as Aiden McGeady continues to play the dual role of magician and frustrator-in-chief as he prepares to win his 71st Republic of Ireland cap, defender Marc Wilson is looking for more of the form he showed against Georgia from a man with Jekyll and Hyde tendencies.
The 28-year-old Everton winger produced a moment of sublime brilliance to hand the Republic a priceless Euro 2016 qualifier victory last month just when his country needed him the most to leave team-mates and spectators stunned.
Like many flair players, consistency has been an issue over the years, but having seen his contribution in Tbilisi at close hand, defender Wilson said: "You see Aiden in training every day and any time I have trained with him, he can be a magician or he can drive you mad sometimes.
"But he is a great lad and he's got great ability. It just so happens on the night, he showed a bit of magic and scored that great goal for us."
Ireland manager Martin O'Neill, of course, knows McGeady well from their time together at Celtic and is only too aware of his twin capacities to thrill and disappoint.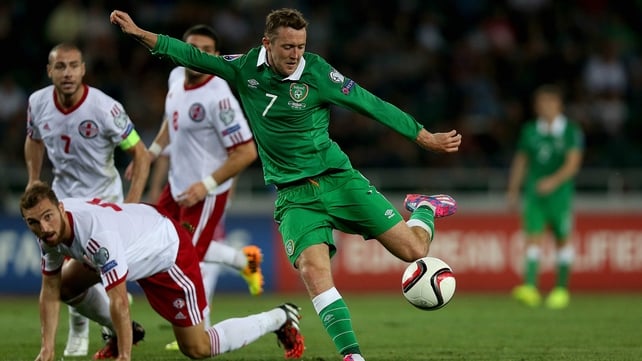 But there are signs that the Glasgow-born midfielder is starting to produce on a regular basis for both club and country with his move to the Premier League and a reunion with the Ulsterman perhaps key factors.
Asked if he, like Wilson, was at times driven mad by McGeady, O'Neill said with a smile: "Absolutely.
"Yesterday, he had the ball in the middle of the field, he tried to do a trick, he lost it and the other team went down and scored a goal. Aiden just shrugged and said, 'Well, I'll wait until Saturday'.
"He's a great player, a really great player. He has got the ability. I said before, he is the only player who could have scored the goal he did on the pitch, and it's nice to have him.
"He has that and sometimes he will drive you mad, but he has got just that X factor."
That quality may be just what is required if the Republic are to break down what is sure to be the massed ranks of the Gibraltar rearguard in Dublin on Saturday evening.
"He has that and sometimes he will drive you mad, but he has got just that X factor"
Allen Bula's men managed to frustrate Poland for much of the opening 45 minutes of their opening qualifier last month with O'Neill adamant that the full-time scoreline of 7-0 did not fairly reflect just how difficult they had made life for the Poles.
He said: "We have to try everything. We have try to keep possession of the ball and try to move it quickly enough so that we are creating openings.
"In the early stages of the match, Gibraltar were happy for Poland just to have the ball and Poland certainly for the first 15 minutes until they got the goal, played largely in front of Gibraltar, and Gibraltar were quite happy.
"We have to try to make in-roads into breaking them down."
Live coverage of Ireland v Gibraltar from 4pm on Saturday on RTÉ2, RTÉ Player and RTÉ Radio 1. Live coverage of Germany v Ireland from 7pm on Tuesday on RTÉ2, RTÉ Player and 2fm.