England 5-0 San Marino
Wayne Rooney edged one goal closer to Bobby Charlton's record as England coasted past the clothes salesman, the factory worker and the bar owner from San Marino with a simple if not spectacular 5-0 win at Wembley.
The 55,990 fans in attendance started to get anxious when England failed to open the scoring in the first 20 minutes, but Roy Hodgson's team finally broke the deadlock through Phil Jagielka's third international goal.
England were sloppy and slow in attack at times in the first half, but Rooney managed to find the net just before the break with a well-taken penalty.
The strike moved the England captain on to 42 international goals - seven short of Charlton.
One can only imagine how many goals Rooney's idol would have bagged in his pomp against this shoddy San Marino team, who fielded just one professional in their starting XI.
The small European principality put 10 men behind the ball when they were not in possession and they only managed one shot on target.
Danny Welbeck and Andros Townsend found the net in the second half and Alessandro Della Valle also scored an own goal to round off the win.
A 5-0 victory over the lowest-ranked team international team in the world does not prove anything, but Hodgson will still be happy to make it two wins from two in the Euro 2016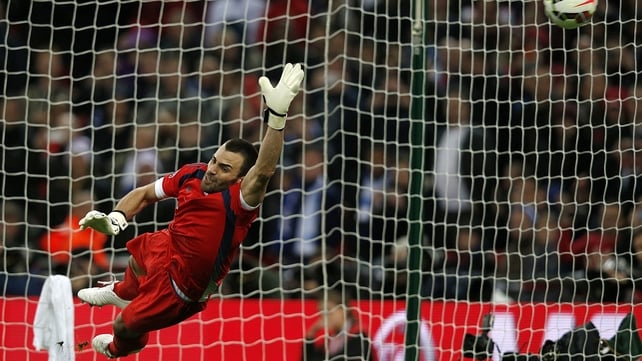 If England needed any proof they were up against the 208th-best side in the world, it came inside four minutes when Aldo Simoncini committed an error rarely even seen in Sunday League matches up and down the country.
The San Marino goalkeeper palmed the ball down with both hands and picked it up to give away a free-kick inside his own box.
Simoncini, clearly racked with nerves, punched away Rooney's 10-yard set-piece.
England camped out in the away half but they were finding it hard to navigate their way through the rigidly assembled San Marino team, who effectively lined up in a 7-2-1 formation when they did not have the ball, which was, obviously, quite often.
Rooney and Raheem Sterling let fly with low shots inside the area, but Simoncini saved.
The England crowd began to get anxious. They had come to see a goal-fest, but inside 20 minutes they had only witnessed three shots on target.
They did not have long to wait, though, as England took the lead in the 24th minute.
The goal came in farcical circumstances. Simoncini raced off his line attempting to collect James Milner's hanging cross, but instead he tripped up over Luca Tosic's foot and Jagielka headed into the empty goal.
The Everton defender almost looked embarrassed to have scored in such a bizarre fashion, but England had their first goal of the game.
England were made to wait for their second thanks to some stubborn defending from San Marino, who even had a chance of their own - a shot from bar owner Matteo Vitaioli that sailed two yards wide.
Milner's clumsy tackle then earned him a booking and a shake of the head from his manager.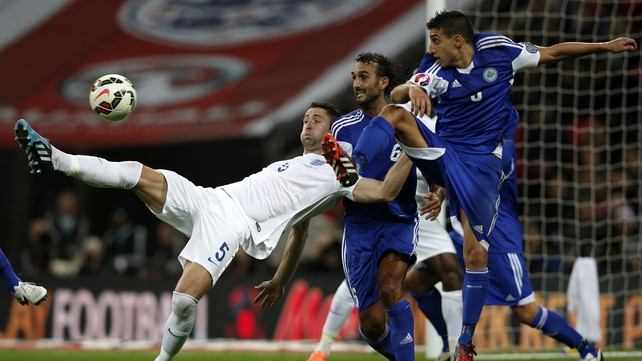 England doubled their lead just before half-time thanks to some sloppy defending from the visitors. Moments after denying Welbeck with a stunning save, Simoncini was picking Rooney's penalty out of his net after the England captain was taken out by Andy Selva.
Hodgson brought on Alex Oxlade-Chamberlain and Adam Lallana for Jordan Henderson and Sterling at the break.
The move paid off immediately as Oxlade-Chamberlain charged Mirko Palazzi's clearance down and drove in a low cross which Welbeck turned home.
Lallana thought he had bagged his first goal for England just after the hour mark when he inadvertently diverted Oxlade-Chamberlain's shot past Simoncini.
But just as he began to celebrate his fortuitous 'goal', the linesman flagged for offside and the referee blew up to cancel out the strike.
Replays showed Lallana was, in fact, onside - something that did not escape Hodgson's notice on the bench.
Townsend's introduction for Welbeck also gave England more width and they looked far more effective.
The Tottenham winger got in behind the San Marino defence and teed up Jack Wilshere, but he headed straight at the goalkeeper.
By now San Marino were clearly tired having chased the ball around the vast Wembley pitch for over an hour.
Townsend used his pace to good effect, earning a yard on his marker before banging a low drive past Simoncini from 20 yards.
With 16 minutes left, Joe Hart finally made his first save. It was a simple one from a weak Vitaioli free-kick.
It was not long before England were on the attack again, though. The hosts peppered the away goal and the ball crept past Simoncini for a fifth time when Della Valle turned into his own net from Rooney's cross.