Arsene Wenger has just about seen it all in his 18 years as Arsenal manager, and he feels while the Champions League is harder to win now, it has become somewhat predictable.
After losing 2-0 away to Borussia Dortmund on Matchday One, Arsenal are bottom of Group D.
However, Wenger remains confident his side can now turn things around in Europe, starting against Galatasaray tonight (7.45pm), exactly 18 years to the date he first took over at Highbury.
Wenger insists he "never looks back", but continues to believes in the "huge potential" of his current squad to deliver.
The Gunners boss, who last season ended a nine-year trophy drought by winning the FA Cup, has never won the Champions League, reaching the 2006 final only to watch his side beaten by Barcelona in Paris.
"Maybe it was more open 15 years ago than it is today. The concentration of the big players in a short number of clubs is much more than it was before," said Wenger, who turns 65 in October and last season marked 1,000 matches in charge.
"It is much more predictable today, the outcome of the Champions League, than it was 10 years ago. It is harder to win it, but as well more exciting.
"If you make a poll tomorrow and say to people 'give me four clubs who will win the Champions League', then 80 or 90% of people will say 'there are these four clubs'.
"I don't think that we are one of the four who will be favourites to win it, but football is strange - and not always predictable, so let's first qualify from the group stage and then we will see."
"I don't think that we are one of the four who will be favourites to win it"
The Arsenal boss continued: "One thing that has not changed compared to 18 years ago, the players were very intelligent and they are still very intelligent today.
"They know what is at stake. Mathematically they know (against Galatasaray) is the game for us."
Wenger had confirmed at Tuesday's pre-match press conference France forward Olivier Giroud, currently recovering from a fractured fibia, had agreed an extension, the formalities of which are set to be completed ahead of an official announcement.
"We want stability and we want to keep the core of our team together because I am a great believer in that," said Wenger.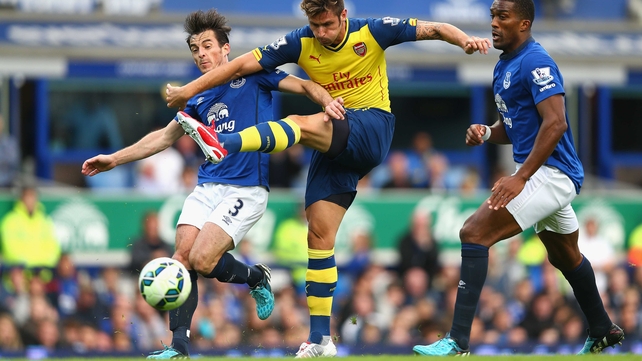 However, that positive news was tempered by the prognosis on Aaron Ramsey, who pulled up during Saturday's north London derby against Tottenham and, along with injured captain Mikel Arteta, will be out for at least four weeks, missing Saturday's trip to Premier League leaders Chelsea.
England midfielder Jack Wilshere, though, could feature tonight despite turning his ankle in the first half at the weekend.
While Ramsey will not be available for Wales' upcoming European Championship qualifiers, Arsenal left-back Kieran Gibbs could be handed a recall to England by Roy Hodgson.
"For a long time it was Ashley Cole (for England), (there was) no discussion. Now it is a bit more open," said Wenger.
"It is a good example (for Gibbs) to follow because Ashley is top.
"You see stories about Ashley Cole, but on the day of a game, when it mattered and when you had to be there, he was always there. You have to respect that."