Louis van Gaal set his sights on Premier League glory after watching Manchester United hammer QPR 4-0 at Old Trafford.
Sixty days after being appointed United manager, Van Gaal finally earned his first competitive win thanks to goals from Angel di Maria, Ander Herrera, Wayne Rooney and Juan Mata.
Van Gaal's new-look side, which contained three debutants, ran Rio Ferdinand and his QPR team-mates ragged all afternoon, and had they taken their chances, they would have scored many more.
Van Gaal laid out his lofty ambitions for the 20-time champions after the game.
"I want to win the Premier League title," the United boss said.
"If it is not this year then the second or third year. I want to give a championship to the fans."
"I have always played attacking football in my 35 years as manager"
Van Gaal was happy to finally end his frustrating four-match winless run in the league and dedicated the victory to his wife Truus.
"This is special because it is also the birthday of my wife. I have already given her a present but she said the biggest present shall be the victory. We give it to her," Van Gaal said.
Di Maria's free-kick cleared everyone in the box and nestled into the goal to give United the lead.
The British record signing set up Mata for United's final goal and he also played a part in the build-up to Herrera's strike, and that of Rooney, who is now joint-third highest scorer in Premier League history.
The fact that United were able to bring Radamel Falcao off the bench for the final 23 minutes shows just how strong Van Gaal's squad is in attack.
Despite the win, Van Gaal was not in totally jubilant form after the final whistle.
The Dutchman, who has been set the target of a top-three finish, thinks his men can improve a lot, although he knows he will have a more settled squad now that the transfer window has closed.
"The result is fantastic, but I think we can do much better," Van Gaal said.
"I said (before the match): 'let's make a new start today'.
"I have made now the (squad) selection of 27 players - three goalkeepers and 24 players, you shall see it Tuesday with the photoshoot, that is our squad."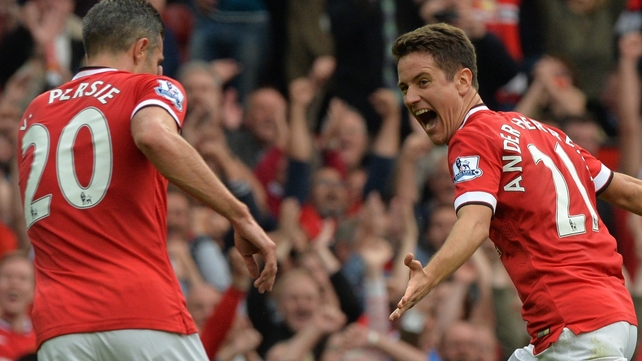 Van Gaal, who ditched his five-man defence for a 4-4-2 diamond, even managed to restrain himself when praising Di Maria.
"When you prepare three goals and make the first goal by yourself then you cannot play bad but he had a lot of unnecessary losses so we can do better," the former Ajax manager said.
United's fluent, high-tempo play was a joy to watch at times, even though their defensive frailties are still clear to see.
Van Gaal will face tougher tests during his reign at Old Trafford, but United fans will be pleased to hear that their manager is firmly committed to the kind of attacking football that was on display in Manchester this Sunday.
"I have always played attacking football in my 35 years as manager," he said.
"All my teams have scored the most of the league so I hope at the end of this league we shall score also the most."
Van Gaal's opposite number Harry Redknapp feels United are serious contenders for Champions League qualification this term.
But the QPR boss was not too downbeat about his team's chances of reaching their goal this season - Premier League survival.
"They have got a big chance of making the top four," the Rangers boss said.
"They have got some fantastic forward players.
"For us it will be a tough season but I still think we will be OK."
Redknapp was unhappy that Leroy Fer, among others, returned to QPR lacking sharpness following the international break.
"I think that one or two of my players are trying to get their fitness," he said.
"Fer has had two weeks away with Holland and has not played a game.
"He probably has been stood around and used as a cone while the first team play. He lacks fitness."