New Celtic signing Stefan Scepovic insisted Parkhead was always his first-choice destination despite his apparent transfer U-turn.
Scepovic faces a battle to win over some Celtic fans who were unhappy with his behaviour on the final day of a transfer window, which might yet offer more drama for the club.
Celtic signed Scepovic from Sporting Gijon late on Monday but just missed the deadline to sign Manchester City striker John Guidetti on loan. However, the Scottish football authorities will take their case to FIFA in a bid to push the signing through.
Guidetti arrived at Celtic on Monday evening after Peter Lawwell had revealed he had been told on Sunday night that Scepovic did not want to come to the club despite agreeing a deal, passing a medical and securing a work permit.
The 24-year-old subsequently held talks with Getafe but a deal fell through, reportedly because of Spanish financial fair play rules, and the Celtic transfer was back on.
But, as he was unveiled as a Celtic player in Glasgow, he said: "I never said that I don't want to come. In all transfers you have some problems but I don't want to look at what happened before. I just want to look at the future.
"My first option was always Celtic and I'm very happy that I'm here. The most important thing is that we finished everything.
"In one hour everything can change but I always said I wanted to come here and I'm sitting here now."
When asked more about how close he got to signing for Getafe and why he ended up in Glasgow, Scepovic said: "It was just talking, nothing more."
"I don't want to look at what happened before. I just want to look at the future"
When asked if he thought he faced additional pressure to win round the fans, he said: "My first choice was always Celtic. I will work hard and do everything on the field to prove I can play here."
The Serbia international added: "Celtic is a big club with a lot of history and we can do a lot more things with very good fans. I know everything about the club.
"I have seen some games on the TV and I know Celtic is a big club."
Scepovic comes in following the departures of Teemu Pukki and Amido Balde on loan deals. His 6' 1" frame and reputed aerial ability will offer manager Ronny Deila another option to Leigh Griffiths and Anthony Stokes.
He said: "I don't like to speak about me but I will try to bring something different. We will see on the pitch, I will do my talking on the park.
"I like balls into space and movement but I need to come into the team and do what the coach says."
Scepovic could face more competition for a place up front if FIFA agree to Celtic's bid to sign Guidetti (below).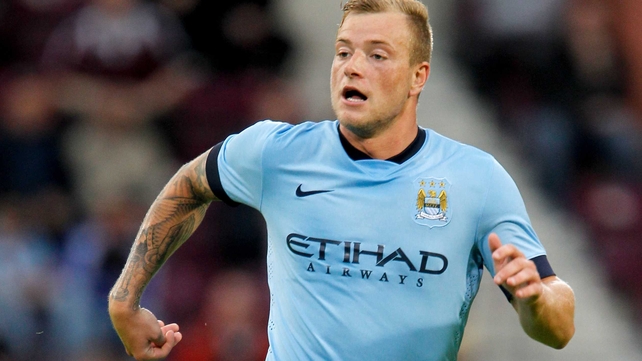 The Scottish Football Association and Scottish Professional Football League both confirmed they are backing the club's case.
A joint statement, released by the SPFL, read: "With regard to transfer window activity being undertaken by Scottish clubs on Monday, 1 September, the SPFL had an 11pm transfer deadline in place for registrations while the Scottish FA had a midnight deadline.
"At 10.56pm, the SPFL received a request from Celtic to extend the SPFL deadline for registration of John Guidetti to fall in line with the Scottish FA midnight deadline. The SPFL agreed to this request.
"Celtic began uploading the relevant documentation in respect of the player prior to the midnight deadline.
"Where an international transfer certificate (ITC) is required for a player, it is custom and practice for the player's registration to be conditional upon subsequent receipt of an ITC.
"Due to part of the registration documentation being received by the Scottish FA very shortly after midnight, FIFA have not allowed registration by the Scottish FA of the transfer.
"The SPFL and Scottish FA are writing to FIFA in support of Celtic FC's petition that FIFA permit the Scottish FA to register the player with the Scottish FA."
However, the 22-year-old Swede, who scored 20 goals in 23 games during a loan spell with Feyenoord in 2011-12, will not be able to play in the Europa League group stages if the deal is not ratified by the end of Tuesday night.
Meanwhile, Kris Commons sought assurances that Celtic are not going backwards as he began contract talks that could keep him at Parkhead for the rest of his career.
Commons was surprisingly dropped for both legs of Celtic's Champions League play-off against Maribor, which saw them cast into the Europa League amid a difficult start to Ronny Deila's reign.
Commons scored 32 goals from an advanced midfield role last season, winning both Scottish player of the year awards, and wants to make sure Celtic match his own ambitions.
But he has had positive initial talks and the fact he remained at the club at the end of the transfer window suggests he will extend his deal beyond the end of the season.
The former Derby player told Peter and Roughie's Football Show on plzsoccer.com: "My agent has been in this week, obviously just for brief discussions, not just about the length of the contract I'm going to sign but what's going to be happening in the future for Celtic and where the board sees us in two or three years.
"Because, when you have had such a successful time at Celtic, you want to keep doing that. You don't want to take backward steps.
"When you have had such a successful time at Celtic, you want to keep doing that. You don't want to take backward steps"
"I'm 31 at the weekend so I want to be playing the best years of my career at the top level.
"I'm hoping with the new manager and new faces coming in that we can achieve the same things that we did in the first few years.
"There were things said in the meeting that were positive."
Commons added: "I've got a great relationship with the players, staff and fans and I just want to keep performing for Celtic as long as possible.
"I have played my best football for Celtic and I love playing for them."
Talking about his position in the team, Commons said: "When you get new management and coaching staff, then obviously they have different ideas and different mentality going into different games.
"The new manager is obviously on a bit of a learning curve about what his best team is and the best formation is. It's just one of those things that has changed at the minute."