Republic of Ireland manager Martin O'Neill says he has not made any promises to Shay Given about his starting prospects. 
The Aston Villa netminder, 38, retired from international football after Ireland's Euro 2012 disaster but, despite playing just a handful of games with the Birmingham club and a loan spell with Middlesbrough last season, now finds himself in contention to start Ireland's Euro 2016 qualifying campaign after a surprise recall to O'Neill's 27-man squad.
The squad also contains goalkeepers David Forde, Keiren Westwood and Rob Elliot. 
Speaking to reporters at Ireland's first training session in Dublin today, O'Neill said: "He still has that desire to come and play but no promises have been made whatsoever.
"He's going to come here for a few days. Aston Villa have given him permission to do so and I'll have a look at it.
"In his own view, he retired at the time, obviously disappointed with the way things had gone at the European Championship. Sometimes you do something and you feel as if maybe you've got something left to give."
Given himself has insisted his return came with no guarantees that he would add to his 125 senior international caps.
"I read somewhere that I demanded to play - that's all rubbish"
He said: "There are no guarantees. There are no demands from me. I read somewhere that I demanded to play - that's all rubbish.
"I am here to try help the group and try to get us qualified. We have some very tough games coming up. Hopefully I can do that."
That said, Given, whose last appearance for his country came in a 2-0 defeat by Italy in Poznan in June 2012, remains confident he has got what it takes to represent his country once again.
He said: "I wouldn't be here if I didn't think I was sharp enough to play."
Indeed, a man who won his first cap in 1996 believes he has unfinished business to attend to before he hangs up his boots for good.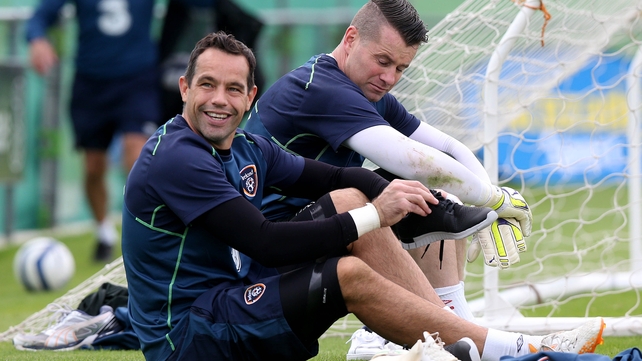 He said: "I probably missed it as much as anything, the honour of playing for Ireland and the buzz you get and the privilege of playing for your country.
"You miss that, and you are a long time retired, so you have a long time to look back. It's about giving it another go and playing a few more games and trying to help the country as best I can.
"I don't want to have any regrets when I do hang up my boots. That was sort of eating away at me as well."
Given's club career has stalled somewhat in recent years after almost 12 years at Newcastle during which he was first-choice for all but a few months.
He had a spell on loan at Middlesbrough in the Sky Bet Championship last season - O'Neill went to watch him play for the Teessiders at one point - and admits he craves regular football once again.
Whether or not he gets his chance this week remains to be seen, but he has no immediate plans to call it a day.
He said: "I'd like to play as long as I can. You are a long time retired and people like Brad Friedel and Mark Schwarzer, people like that, you get inspiration from guys like that.
"I am only 38 - I've just turned 38 as well - and I do feel there are plenty of miles left on the clock. I have not played that much football over the last couple of years, so maybe that will stand me in good stead over the next few years as well."
O'Neill has selected Given as one for four keepers in the squad with David Forde previously having established himself as his number one and Keiren Westwood, who took over from Given under former manager Giovanni Trapattoni, competing for the shirt along with Newcastle's Rob Elliot.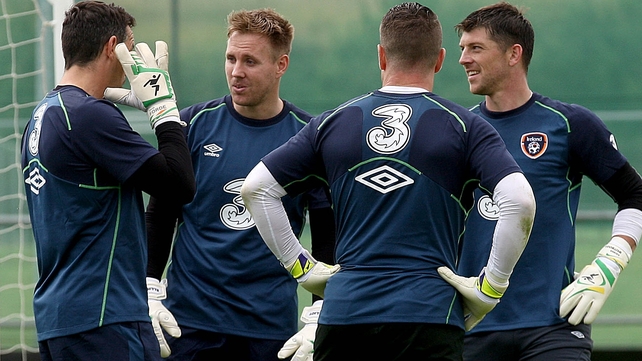 The 62-year-old insists he is yet to make a decision on which of the quartet will start against the Georgians, but hinted that Forde remains in a strong position.
O'Neill said: "David has done well for me. Why shouldn't there be competition for places?
"I haven't picked the side yet. But again, players in the team who have done well shouldn't have to worry too much.
"But every single time you play, you have to prove yourself, every single game. Only when you have gone through maybe three or four years when you have been established in the team as going very, very well can you consider yourself absolutely and utterly automatic.
"That's not to say that we don't have a number of players here who one way or the other, will start the game in Georgia, simply because one, they are playing well enough and two, there's not enough competition."
However, O'Neill was equally adamant that Given's age was no bar to a return to the front line.
He said: "I worked with two of the very best goalkeepers in the world in Peter Shilton and Pat Jennings and Jennings played beyond 40 years of age, so from that viewpoint, if you have got the willingness and you have got the ability and you have got the flexibility as much as anything else, then if you want to continue, then okay."
O'Neill and his players trained in Malahide on Monday morning with only skipper Robbie Keane, who has been nursing a slight groin problem, absent although due in later the same evening, while Wigan winger James McClean worked away from the group as he continued his recovery from an ankle injury.