The curse of Bela Guttman returned to haunt Benfica as Sevilla won a penalty shoot-out to beat the Portuguese giants to the Europa League trophy in Turin.
The Hungarian coach declared Benfica would never win another European final when being denied a pay-rise and leaving the club in anger having delivered back-to-back European Cups in 1961 and 1962.
Over the intervening 52 years, Benfica had since fallen short in the final on seven occasions, most recently conceding a late goal to Chelsea in Amsterdam to concede the 2013 Europa League crown.
On Wednesday night they could not be separated from Sevilla - UEFA Cup winners in 2006 and 2007 - over 120 minutes, and penalty misses from Oscar Cardozo and Rodrigo allowed substitute Kevin Gameiro to prolong their agony as Guttman's fateful words rang around the Juventus Stadium.
Sevilla had most of the ball early on and might have scored through Carlos Bacca in the ninth minute.
The Colombian raced into the box to keep up with a swift counter-attack but, after coming up just short on Ivan Rakitic's low cross from the left, he was in fact ahead of the move and ruled offside.
Sevilla's Portuguese goalkeeper Beto got his first feel of the ball as Nicolas Gaitan's free-kick dipped towards the far post and he had to think quickly to repel Ezequiel Garay on the rebound.
Rakitic looked especially determined to make something happen and his clever passes and skilful runs regularly rattled Benfica's backline.
Alberto Moreno was, however, the first Sevilla player to truly test Jan Oblak, his drive from outside the box forcing the Slovenian stopper off his line.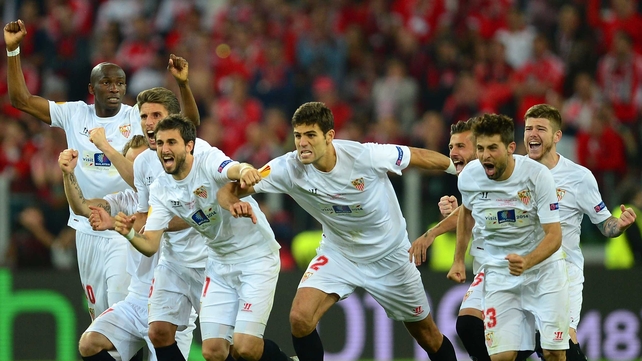 At that point the Spaniards looked like turning the screw but it was Benfica who dominated before the break.
They would lament not being given the chance to notch from the spot in stoppage time.
Sevilla were first caught unaware as Maxi Pereira looped into the box to fire straight at Beto and were rather lucky to avoid conceding a penalty when Federico Fazio climbed all over the well-placed Gaitan.
Benfica pushed through that disappointment when play resumed, yet neither Rodrigo nor Lima could stick the ball away as Sevilla failed to clear their lines.
Los Rojiblancos broke back and Jose Reyes could have tucked Rakitic's dinked pass away had Luisao not sent the ball spinning wide with his toe.
Reyes then wasted a much better opportunity when arriving in the area at speed to blast straight into Oblak's gloves.
The call soon came from both benches to regroup and conserve energy for the final 10 minutes, which began with Rakitic's canny - but unsuccessful - attempt to send Vitolo into a one-on-one with Oblak.
It was time for Benfica to turn up the heat once again and Beto only just got fingertips to a whiplash effort from Lima before an unmarked Garay headed over the crossbar.
But extra-time seemed increasingly inevitable and, just after Garay's desperate swing at a loose ball from the 'D' spooned over the bar, the final whistle sounded.
The Argentinian defender tried his luck again in the second of 30 additional minutes and Beto survived a particularly sticky moment when parrying Lima's free-kick to safety.
It looked like the crowd would finally be treated to a goal when Bacca streaked down the right wing to collect Rakitic's pass, but there was further agony for Sevilla as his drive fizzed past the far post.
Despite the best efforts of 22 tired players, the second period offered no reason to be cheerful or deciding moment, and a penalty shoot-out loomed.
Lima and Bacca netted before Cardozo's stuttering run-up saw him clip straight at Beto.
Stephane Mbia powered home and Sevilla were on the verge of claiming the trophy when Rodrigo was denied.
Coke scored, Luisao kept Benfica alive for a few seconds longer, but substitute Gameiro was soon wheeling away in celebration after beating Oblak to inspire rapture in the Sevilla supporters.