Derry City boss Roddy Collins has explained his thinking behind the dropping of Rory Patterson and admitted that he wouldn't pay in to see the football currently on display at the Brandywell.
The Candystripes have failed to score in their last two games away at Bray and at home to Limerick last Monday with both games finishing scoreless, yet Patterson, the league's top-scorer last season, was dropped from the match-day squad having played the full ninety minutes in Bray.
Collins believes that his side are not creating enough chances to justify playing Patterson who the City manager describes as an "exceptional finisher".
But it would appear that it is the rest of Patterson's game that does not endear the striker to his new boss as Collins believes that he does not work hard enough for the team.
Speaking to the Londonderry Sentinel ahead of Friday's home tie against UCD, Collins said: "The problem is, we're not creating enough chances and that's what his job is. He is a finisher.
"He doesn't give much other contribution to the team. He doesn't work hard. He doesn't chase the ball down, get it back for you or hold it up particularly well. But he is an exceptional finisher.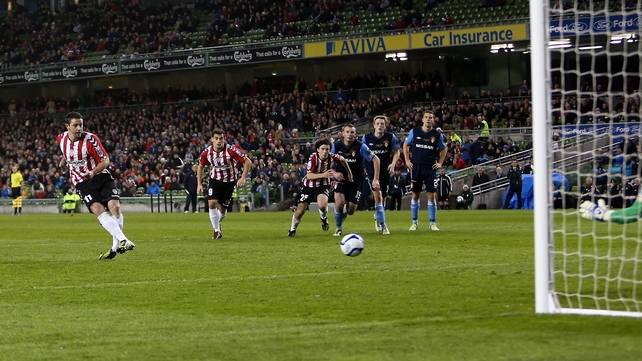 "I don't see the reason to have a finisher in the team until we start creating some chances so that is the thinking behind that one. Until we get it down and start creating chances for someone to put away, there is no point wasting a player in the team."
And the City boss understands the frustration of the home supporters after another goalless performance at the Brandywell.
Collins added: "People were complaining and rightly so from a spectator point of view, a 0-0 draw against Limerick. But Limerick weren't complaining. Stuart Taylor said he came for point and said he was delighted to get one.
"In saying that I'm not going to try and tell people that we played really well when we had the ball. We didn't. We didn't create enough chances.
"We wanted to get nice and tight away and obviously at home. We've done that and to get that and build on to create loads of chances is the object. That's what makes you a great team. We've got one part 100% correct. We've conceded one goal from open play in the whole season.
"But that's not what supporters want to see and I wouldn't pay in to see it."