Bayern Munich winger Arjen Robben has hit back at Arsene Wenger after the Arsenal manager accused him of being a "very good diver" as the Gunners crashed out of the Champions League.
Robben came in for criticism from Wenger and pundits alike after going down from Laurent Koscielny's challenge to earn Bayern a late penalty although it had no bearing on the game, with the Bavarian giants already leading 3-1 on aggregate and Lukasz Fabianski saving Thomas Muller's spot-kick anyway.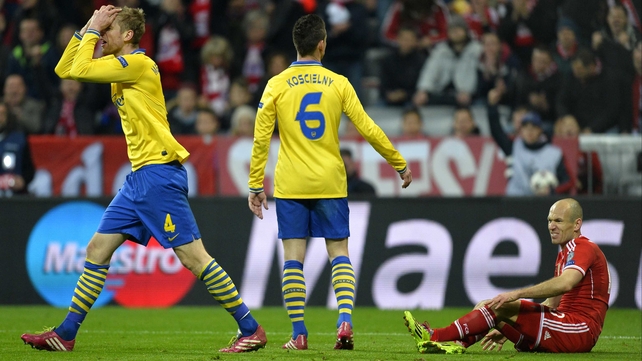 Earlier in the second half, Robben had fallen in the penalty area under a challenge from Santi Cazorla.
Norwegian referee Svein Oddvar Moen - from whom Wenger had called for a strong performance in his pre-match press conference - was not interested and told the Dutchman to get up, but did not produce a yellow card.
Wenger was clearly less than impressed by the antics of the former Chelsea forward, who believes the Frenchman should take their European exit with dignity.
"I always say that if you are a big manager, take your loss. If you win, be happy, enjoy, but if you lose, don't start complaining about the silly things," he told ITV Sport.
"It was two penalties, but I don't want to have to defend myself. From a big manager, you expect a little bit more if you lose."
Bastian Schweinsteiger gave the European champions a 54th-minute lead on Tuesday night to put them 3-0 ahead on aggregate and although former Bayern striker Lukas Podolski levelled on the night, the home side's two-goal advantage from the first leg proved the crucial difference.
That did not stop Wenger from hitting out at Robben's antics, however.
"Robben is very good at getting the maximum of nothing and he is a great player and as well a very good diver, but it is part of it," said Wenger.
"He is a fantastic player, I would not deny that, he's one of the best players in the world.
"But he gets in front of a player and then he slows down and goes down. He gets the free-kicks."
Meanwhile UEFA is expected to take action after Bayern Munich fans displayed a homophobic banner targeting Arsenal and their German midfield star Mesut Ozil.
The banner was shown by fans during the 1-1 draw in the Champions League match at the Allianz Arena on Tuesday night.
UEFA is set to announce an investigation with chief of press Pedro Pinto saying on Twitter: "There will be news from UEFA on the matter this afternoon."