Samir Nasri insists that expectations at Manchester City are now so high that reaching a League Cup final is "nothing amazing".
City are no longer the dreamers they were in the recent past but a hardened club expecting to be challenging for trophies every season.
They remain alive in four competitions this year and Nasri feels winning one of them is the very least of their objectives.
The first of those trophies is on the line as City take on Sunderland in the Capital One Cup final at 2.00pm this afternoon.
Midfielder Nasri said: "I think it is just another game. You have to be focused when you sign for this team, you know the target is to win a trophy every season.
"We know we have world-class players in the team, everyone at the club has invested a lot to build a big team. The minimum we can do is to win a trophy.
"When we go to Wembley we should not be surprised (and thinking), 'wow, something amazing'. It is just another game. We have to win and do our job."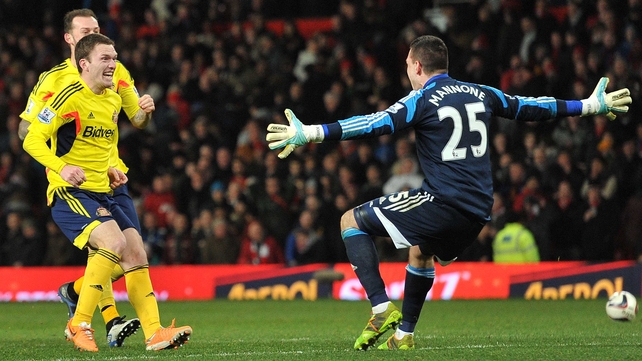 Meanwhile, Vito Mannone (above) is determined not to allow the chance to write himself into Sunderland folklore pass him by.
The Italian goalkeeper will celebrate his 26th birthday at Wembley on Sunday and is desperate to make it a landmark day in his career.
"Reaching the final is something we couldn't predict and something amazing for everybody at the club" - Vito Mannone
Mannone has been one of the stand-out players in the Black Cats' recent recovery, and he may have to produce his best performance yet if they are to find a way past Manchester City's all-stars to lift the Capital One Cup.
However, having dreamt all his life of such an occasion, he is in no mood to let the opportunity go begging.
Mannone said: "It's something I want to achieve for my career, something that stays in history. Being there with Sunderland and having a great chance is something I have always dreamed about.
"When you are a kid, you are looking at the games and you are looking at people lifting the cups and it is really emotional, so you want to be there.
"Each one of us always watched the TV and thought, 'I want to be a winner and I want to lift the cup', and I think that's us, really.
"Each one of us will be thinking about lifting that cup and being important in that game. To have this chance - we are only one game away - is something unbelievable."
Sunderland, of course, would not be walking out at Wembley had it not been for Mannone's contribution to a famous semi-final victory over Manchester United.
The sides were looked together at the end of 120 minutes at Old Trafford in the second leg, and it was left to either Mannone or opposite number David de Gea to claim the glory from a penalty shoot-out.
Mannone saw Danny Welbeck miss the target and Darren Fletcher score from the home side's first two spot-kicks, but he then kept out teenager Adnan Januzaj's effort. After Phil Jones skied his attempt, Mannone dived to his right to deny Rafael de Silva and send his thrilled team-mates sprinting from half-way in his direction.
Mannone, who started the campaign as understudy to the now-injured Keiren Westwood, is confident the Black Cats have grown under head coach Gus Poyet, and argues Sunday's result is far from a foregone conclusion.
He said: "It could turn out to be an amazing season, especially because of how it started. We had a few problems in the Premier League and we didn't get as many points [as we would have liked] in the first 10 games.
"But slowly after the gaffer came in, we changed our style and we changed our mentality, and now we have a chance to fight for survival.
"Reaching the final is something we couldn't predict and something amazing for everybody at the club."