Andy Carroll twice set up goals for Kevin Nolan before being sent off as 10-man West Ham beat Swansea to ease their relegation predicament.
The England striker, making his third start of the season and long heralded as the Hammers' likely saviour by manager Sam Allardyce, twice provided cushioned headers for Nolan to score in a 2-0 Premier League win at Upton Park.
Carroll caused chaos in the visiting defence, but 14 minutes into the second half received a straight red card from referee Howard Webb for an altercation with Chico Flores, after appearing to brush the defender with his elbow.
He now faces a three-match suspension, but an appeal from the Hammers is likely after Allardyce's men claimed a first Premier League home win since November 30 against Fulham.
West Ham began the day in the relegation zone, but buoyed by Wednesday's goalless draw at Chelsea, after which Jose Mourinho accused Allardyce of deploying 19th-century tactics.
George McCartney replaced Joey O'Brien (shoulder) and Matt Jarvis came in for Mohamed Diame (knee) in two enforced changes, while Carroll made his third start of the season after playing 45 minutes against Manchester City and 60 at Stamford Bridge following his heel injury.
The first time a meaningful string of passes was put together, there was a goal.
West Ham broke from deep and left-back McCartney drilled a cross into the area which Carroll stretched to reach.
His header found the late-arriving Nolan, who chested the ball down before volleying into the bottom corner.
It was a goal made in Newcastle in a link up Allardyce has been desperate to see all season.
Swansea had an opportunity to respond when Jonjo Shelvey found Wilfred Bony with a bouncing ball.
James Tomkins was the last defender had to time has challenge well and did so as Bony was waiting for the ball to drop for a shot.
Carroll forced the corner which resulted in the second. Stewart Downing's inswinging cross was met at the far post by Carroll, who craned his neck enough to direct the ball back into the six-yard box and Nolan headed it inside the post to double his tally for the season.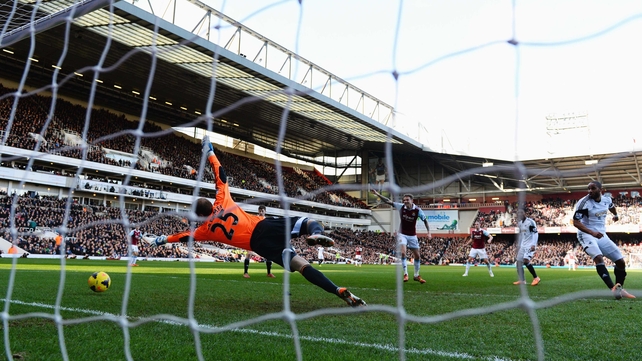 Shelvey had been marking the post, but the ball beat him.
Swansea clearly had not worked out how to deal with Carroll, whose participation came to an abrupt end.
Flores was climbing all over Carroll as they tangled in trying to meet an aerial ball near the halfway line.
As the striker threw the defender off his back, the Swansea man felt contact and went down theatrically.
Carroll was shown red by Webb, marched down the tunnel in disgust and Allardyce exchanged words with Flores on the touchline after the Spaniard had received treatment.
Flores and Webb were roundly booed thereafter.
Defender Winston Reid came off the bench to feature for the first time since November 2 following ankle surgery, with Allardyce expecting a late onslaught from the visitors.
But Bony clipped substitute Alejandro Pozuelo's cross over and there was no late rally for Michael Laudrup's visitors as Upton Park celebrated a rare win and ensured Flores was aware of the scoreline.
After the final whistle, West Ham manager Sam Allardyce accused Swansea defender Chico Flores of "over-exaggerating" the impact of the clash.
He told BT Sport: "I've just had a look at it and from our point of view I can't see why Howard has decided to give him a red card.
"His arm's gone over the top of his head and while his arm's swinging round, coming from a position where both players have tangled and are coming round to correct their balance, there were players running round to obscure his (Webb's) view.
"So he can't be absolutely certain of what's happened, except that Chico Flores is over-exaggerating, which is generally the norm for him unfortunately.
"To clutch his face and roll around, I think that's had a big influence on Howard's decision, thinking that it's caught him in the face when it hasn't at all."
Allardyce then recalled the incident which so greatly amused him during West Ham's October trip to Swansea.
Flores had gone to ground clutching his face and moaning following a challenge from Carlton Cole in the goalless draw, and Allardyce was later seen laughing in the Spaniard's face because of his "squealing".
"Centre-halves aren't supposed to squeal are they?" - Sam Allardyce
"That was him squealing and centre-halves aren't supposed to squeal are they?" Allardyce added.
Referring back to Saturday's game, he said: "If we're going to red card people for that then we might as well stop playing and I might as well retire.
"The game's all about physical contact - there's two challenges gone in and there's nothing happened of any major incident.
"Nobody's been hurt."
The Hammers boss felt Carroll's dismissal had somewhat sullied the fact his side had managed to clinch only their third home league win of the season, a result which lifted them out of the relegation places.
He added: "It's spoiled the fact that we've done brilliantly today, we've contained Swansea and found good goals from two good finishes.
"My players were brilliant today. It's a fantastic result and under the circumstances, where we had 10 men for the last 35 minutes, Swansea did not have a shot on goal that was on target."