David Moyes still thinks he can lead Manchester United to the title even though his team are now 14 points off the pace following their damaging 3-1 defeat at Chelsea.
Samuel Eto'o took advantage of some suspect defending to score a hat-trick at Stamford Bridge on Sunday, with United's only consolation coming thanks to a late strike from substitute Javier Hernandez.
After experiencing 26 years of success under Alex Ferguson, United fans are now facing up to the very real possibility that their side will not qualify for the Champions League this term.
Opposite number Jose Mourinho said after the game that United's rivals would have to suffer dramatic collapses for Moyes' team to reclaim the title, but the Scot is refusing to give up just yet.
"We won't throw the towel in until we can't get there," the United manager said.
"The job is to try and finish first. I will keep trying to do that.
"Before today we'd lost one in six in the league, and I didn't think there was a big difference between the teams, not at all.
"The difference was our defending to set-pieces. Nothing else."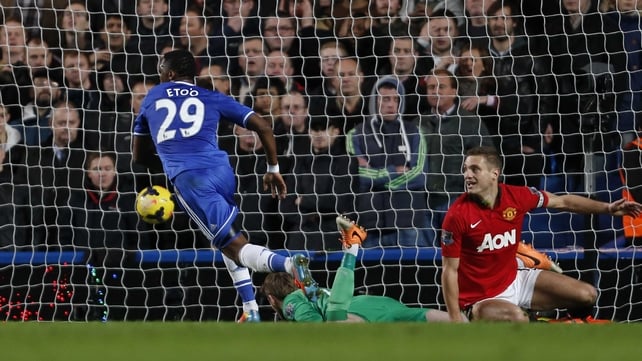 United were second best for large parts of Sunday's encounter.
Mourinho's men were more compact, they looked far more incisive on the attack and unlike United, their defensive stability never seemed in doubt.
The table does not look pretty for Moyes. United sit in seventh, just one point ahead of Newcastle.
They are six points adrift of the top four and that margin will increase by one more point if Everton beat West Brom on Monday.
One reporter put it to Moyes that his team were in crisis.
Again, the former Everton boss disagreed: "That's your opinion.
"Crisis is your word, not my word."
"The job is to try and finish first. I will keep trying to do that" - David Moyes
United's misery was compounded by the second half withdrawal of Patrice Evra through injury and the dismissal of Nemanja Vidic for a petty tackle on Eden Hazard.
Rafael was guilty of an even worse foul on Gary Cahill moments later.
Luckily for the Brazilian, and Moyes, referee Phil Dowd gave the right-back a yellow card.
"I thought Vidic wasn't a sending off, but I've seen Rafa's and I think that could have been a sending off," Moyes said.
The only crumb of comfort for Moyes is that Robin van Persie and Wayne Rooney, who were absent though injury, are set to return to training.