Manchester United boss David Moyes insisted there are "no excuses" after his side slumped to their fourth defeat in six home games.
The 2-1 Old Trafford loss to Swansea meant United exited the FA Cup at the third round stage for only the second time in 30 years.
Wilfried Bony's last-minute header was enough to give the visitors' victory after Javier Hernandez had equalised Wayne Routledge's opener.
And though United were without seven senior players, including Wayne Rooney and Robin van Persie, and had substitute Fabio sent off just four minutes after his introduction in the second-half following an injury to Rio Ferdinand, Moyes did not try to defend the situation.
"No (not an excuse to have seven players out)," said Moyes.
"We have another big game in 48 hours time so we had to keep that in mind but there are no excuses.
"We had a very strong team out. Just about every player on the pitch was an international."
Yet again, it was not just the defeat which shocked observers.
The tame manner in which United were turfed out of the competition was just as stunning.
"Just about every player on the pitch was an international"
For all they dominated possession following Hernandez's equaliser, United barely created a clear-cut opportunity of note and once Fabio had departed for a lunge at Jose Canas, the worst always seemed possible.
"It was a sending off," admitted Moyes.
"It changed the game because we had the most control of it. Without getting the second goal I felt relatively comfortable.
"We don't come away thinking we deserved to lose - but we did."
Moyes conceded confidence was becoming an issue for his side, who face Swansea at Old Trafford in the Premier League next Saturday.
"You can definitely see we are lacking that little bit of confidence when we get into the final third at times," he said.
"We need to get back to winning ways and be hard to play against. Most importantly, we need to take something out of the good play we have had in games.
"It has been a tough start. I am disappointed we have not won more games but it will change I have no doubt about that.
"It shouldn't be that (United are reliant on likes of Rooney and Van Persie).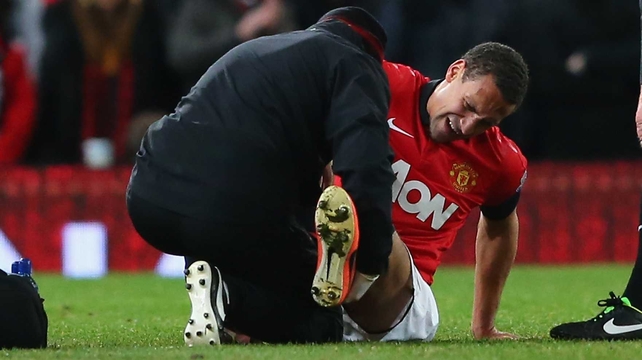 "My job is to find a way of winning. It doesn't matter what style you have to find a way of winning."
Ferdinand looks set to join an already lengthy injury list, merely heightening the expectation of new faces arriving during this month's transfer window.
Yet Moyes - whose team are seventh in the Premier League but visit Sunderland for a Capital One Cup semi-final first-leg encounter on Tuesday - has cautioned against over optimism.
"I have said I will try to get players but it will probably be doubtful in January. I have said that quite consistently," he said.
"There is an urgency that we would like to bring players in but are those players available in January?
"There is no point in me hyping it up and saying we are because players we would like to bring in are probably not available."