By Alan Cawley
Having been in and around professional football circles for over 15 years now it never ceases to amaze me how cut throat, cynical, nasty and horrible an industry it can be. But every now and again though, the good guy wins and that's exactly what happened in Inchicore on Sunday afternoon.
That good guy is, of course, Liam Buckley who guided his St Patrick's Athletic team to a first Premier Division title in 14 years. Funnily enough the last time they were champions he was also at the helm.
I don't know him personally but I call him the good guy because of the way he conducts himself and how classy and dignified he has remained, not only over the course of the season, but also throughout the run in which can be a stressful and anxious time for any manager.
That calm and assured demeanour has translated onto his players and you only have to look at Sunday's performance to see how measured and controlled they were over the full 90 minutes against Sligo Rovers to see the job through.
Buckley has had his detractors and doubters particularly earlier in the season probably due to the fact that St Pat's fell just short in the league and the cup last season.
People questioned whether they would be able to push on this year and with the squads and resources both Shamrock Rovers and Sligo Rovers were assembling I thought it would be a very stiff task for the Saints. Added to that was the upheaval with the staff at the start of the season and the loss of Trevor Croly from the coaching team. the players really enjoyed working with Croly on the training ground. The addition of Harry Kenny has helped fill that void.
The main concern I had for Pat's, and I also had it last year, was where were the goals going to come from as they didn't have a 20 goal a season man like so many of our previous title winning teams.
Players such as Glen Crowe, Jason Byrne, Gary Twigg, that when the games are tight, will pop up and get you a goal out of nothing.
The way the season has panned out they actually didn't one prolific marksman as the goals have come from all over the park. Killian Brennan, Conan Byrne, Chris Forrester, Anto Flood and Christy Fagan all getting eight goals or more.
The biggest compliment I can pay Liam and his players is not only have they been the best team all season but the brand of football they have deployed has been easy on the eye..
The new champions have been a joy to watch and as much as managers will tell you it's about the players and I agree it is largely, they still need guidance and an identity. This current squad have Liam Buckleys DNA printed all over it.
All great successes are built on really solid foundations and the back five of Brendan Clarke, Ger O'Brien, Conor Kenna, Kenny Browne and Ian Bermingham have been in a league of their own this season.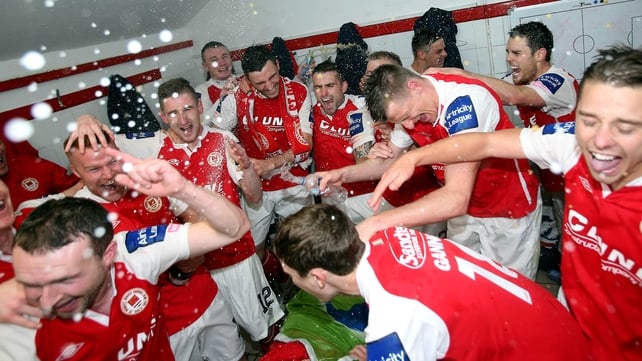 That defence conceded just 15 goals up to now and as much as the midfielders and forwards get all the plaudits, this is your starting point for successful title winning sides.
Goalkeeper Brendan Clarke, in particular, has showed a lot of mental strength in his performances this season especially after the mistake he made in the Cup final last season.
Remember the save from John Mulroy late in the game in the Carlisle grounds a couple of weeks ago? That was a title winning save.
It would have been easy for him to go into his shell this year, but he has stood up and been superb throughout. You have to give credit to the manager also for sticking with him when others doubted him.
I'm a lover of the total football approach and two of the unsung heroes of the team are the full backs Ger O'Brien and Ian Bermingham. First and foremost they are good defenders, but going forward they are fantastic, best in the league in my opinion.
Another player who has flourished under the tutelage of Buckley is Killian Brennan. A very flamboyant and classy player, even though  he can be hotheaded. The key to getting the best out of Brennan is let him do what he wants.
That may sound strange because other players may see this as causing disharmony in a dressing room, but he is a free spirit when he is on the pitch and needs to express himself in that way. 
Buckley has got players in and around him to do the ugly side of the game and Brennan has repaid him with some brilliant performances. Keep a player like that on side and happy and it's a win win situation.
Another one who deserves a special mention, and again it was the managers call to bring him back and that's Daryl Kavanagh. This is a boy who needs to be loved and he will flourish.
He wasn't getting the love he needed in Cork, hence some poor displays, but Buckley knew that if he could get his hands on him, he knew how to get the best out him.
He came in at a time also when maybe the team just needed a littler freshening up and Kavanagh is a very infectious character and that certainly rubs off on others. He has been a different player to the one everyone saw in Turner's Cross and an astute bit of business from the Inchicore club.
An interesting can of worms has opened up since Sunday due to the fact that the national team are currently looking for a new manager and here is a very successful one on our doorstep.
That may be taking it a little too far for now, but I do hate the way so many look down their noses at some just because they have managed in our league. I
t's not acceptable and shouldn't happen.
Liam Buckley certainly doesn't need to worry about any of that chat. This is a time for him to kick back and cherish every second of it.
Nobody can begrudge the man that.
Until next week,
Alan