Skipper Robbie Keane will be given until the last moment to prove his fitness ahead of the Republic of Ireland's final World Cup qualifier against Kazakhstan.
The 33-year-old striker, who missed Friday's 3-0 Group C defeat in Germany with an ankle problem, took part in training today and will have to do so on Monday again if he is to stand any chance of winning his 130th senior cap on Tuesday night at the Aviva Stadium.
Interim manager Noel King said: "Robbie is still recovering. I am hoping he is fit for selection."
"There are a few tired legs, a few tired bodies, few tired minds" - Noel King
Celtic's Anthony Stokes played the lone striker role at the Rhein Energie Stadium in Cologne and on another night could have emerged with a hat-trick, and he would appear to be the leading candidate for the job once again if Keane did not make it.
King's resources were boosted following his squad's return from Germany when defenders Richard Dunne and John O'Shea, who were suspended for the first half of the double-header, joined up.
King said: "They are all good and looking forward to it. It's good to see them in and added to the squad.
"We will do a little bit of training (on Sunday) afternoon and we will see. There are a few tired legs, a few tired bodies, few tired minds, and there's a few anxious and fit-as-a-fiddle minds as well, so it's a combination of things we have to deal with."
Meanwhile, King believes Ireland's next manager can look forward to a bright footballing future for the country.
He is confident the current squad has what it will take to make a fist of the Euro 2016 campaign.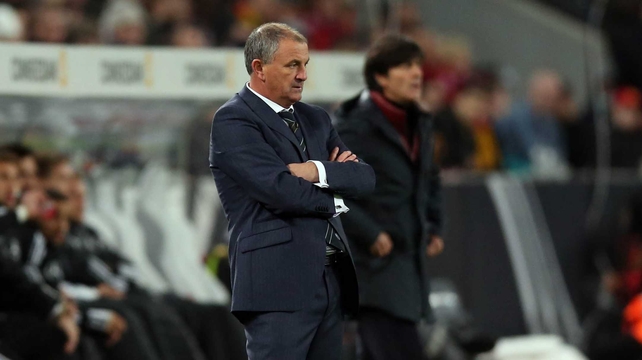 In addition, KIng believes there are younger players emerging from the ranks who will enable Ireland to punch above their weight as they have done so often in the past.
Asked if there is talent waiting to emerge, King said: "There are certainly players in the Under-21s and lower who are going to be full international players, there's no question about that, who are on the way, champing at the bit - maybe one or two that I might have brought into this group in a different circumstance.
"But definitely. We are Ireland, we have a football population of 500,000, they say, we also have a few people we can get in with mothers and fathers who have been born outside the country, which is no problem.
"We are not the biggest power, but we have to devise a way to try to live with those powers and win the matches, as is traditional.
"Kazakhstan and Ireland, we are not that dissimilar, so we have to make sure that when we play these teams, we have a plan that can get us success there as well."