What exactly does the FAI Cup semi-final weekend mean? It's a chance like no other to showcase our league for what it is.
You receive exposure, a double header, four-hour live television coverage, colour, fanfare, excitement and most of all an unbelievably juicy carrot dangling in front of four clubs with the opportunity of reaching the Aviva Stadium for cup final day.
The Showgrounds in Sligo got all these things but unfortunately for the clubs involved in the Louth derby their game descended into a farce solely because of the one man nobody wanted to be talking about, the referee Anthony Buttimer.
A referee's job is to facilitate a game of football taking place and manage it in a sensible and professional manner. Sadly for all involved this game was as badly managed as Ireland's finances during the Celtic tiger.
Stephen Kenny described Buttimer's performance as "incompetent" and although he probably described it far more colourfully behind closed doors this was the perfect way to sum it up.
The cup semi-finals are two of the biggest games played in this country every year largely because of what's at stake and also because of the media attention they receive.
They are occasions where you need the best involved to referee such important games and I think few people would agree that Buttimer falls into this category.
Anyone can make a mistake, I have no issue with that - especially a referee. It's a difficult job but I believe this referee has a track record for making them and courting controversy.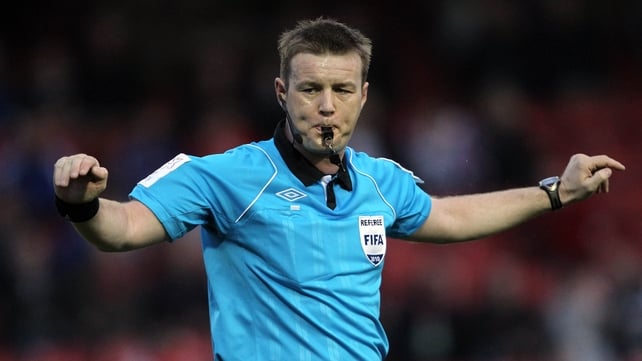 Alan Kelly is the best referee in this country and he was rightly appointed for Sligo Rovers and Shamrock Rovers so why wasn't the second best referee in the country doing the other semi-final?
A referee is always judged on the big decisions in the game. There were three in the Louth derby so let me take you through them and tell you how I saw them.
Firstly Darren Meenan's red card. I didn't think this tackle deserved a red card, it was a yellow at most. The reason I say this is because you have to take into consideration the occasion, it was a local derby, still very early in the game plus it was very wet and the conditions were slippery.
Meenan did dive in a bit recklessly and I can see why he may have given the referee a decision to make but here is where the managing of the game comes into play.
Buttimer should have taken a backward step for a moment and allowed himself some thinking time like all top referee's do. He was far too quick to brandish a red card, in fact it looked like he couldn't get the card out quick enough.
First big decision, wrong in my opinion.
Secondly Chris Shields foul for the penalty and his red card. Again, they were two massive calls and the incident came just ninety seconds after Meenan's red.
Did the referee allow himself any thinking time on this one? Most definitely no.
I think Shields clearly gets good contact on the ball so much so that the ball deviated considerably so it wasn't a penalty. Having given the penalty I would love to know how he came to the conclusion of it been a sending off offence.
Buttimer must have believed that Shields was denying a clear goal scoring opportunity, but again he was wrong because Andy Boyle is covering around like all good centre-halves and he is clearly in a position where he could have tackled Fabio O'Brien had he escaped the challenge of Shields. So again he was wrong on both calls.
These decisions are defining moments in a team's or manager's season. Stephen Kenny as we all know has done such a terrific job at Dundalk and worked tirelessly all season. Both he and his players were let down massively by the standard of refereeing on show in Hunky Dory Park.
Contrast that to the standard of refereeing on show in the second semi-final at the Showgrounds, the difference is like night and day.
Here you had a referee in total control of his emotions and didn't let the occasion get the better of him managing the game superbly.
Again we had two sets of players where there is no love lost with so much at stake but Alan Kelly remained calm and composed throughout.
A situation occurred early in the game where Danny Ventre committed a foul nothing nasty but nonetheless a foul. Kelly calmly approached Ventre and had a quiet word in his ear, managing the game in a sensible fashion.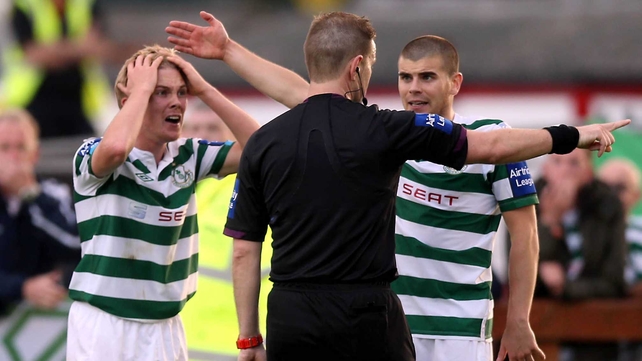 The referee did have two huge calls to make and that was the penalty for Sligo and Conor McCormack's red card. He got both of them spot on. He was right up with the play to see that McCormack fouled Cretaro and did deny him of a goal-scoring opportunity so was dead right to brandish the red card.
This just highlights the point even more that for the biggest games you need the best people you have at your disposal. If Alan Kelly was refereeing, the first match in Louth would it have descended into a farce? I don't think so but sadly for Stephen Kenny and his players that is no consolation today.
Hopefully lessons can be learned from this going forward because this was the day when all we should have been talking about is the players and its a crying shame that we are not.
News also broke this week that Alan Kelly will be leaving our shores for pastures new in the MLS. He will be sorely missed because he was the best referee I have come across in Ireland and I'm sure every other player would agree. Let's hope the powers that be give him the final in the Aviva and the farewell he deserves.
Until next week.
Alan