Germany goalkeeper Manuel Neuer is targeting another clean sheet against the Faroe Islands in a potentially crucial World Cup qualifying game, but he insists his responsibility to the team extends far beyond the goal line.
Despite the Nationalmannschaft's dominance of Group C, from which they can seal their place at next year's finals in Brazil with victory in the north Atlantic should second-placed Sweden fail to beat Kazakhstan, Bayern Munich keeper Neuer has regularly found himself frustrated by an unnecessarily leaky defence.
Emphatic 6-1 and 4-1 wins over the Republic of Ireland and Kazakhstan respectively were marred by the concession of a single goal while Neuer admits the defensive collapse that led to Sweden claiming a 4-4 draw in Berlin still haunts him.
But the 27-year-old was able to celebrate collecting his 40th cap with a clean sheet from a 3-0 victory over Austria on Friday and he hopes his colleagues protect him properly once again in Torshavn.
He told dfb.de: "I try to intervene in the game as much as possible, and to speak to my team-mates.
"Who I manage to get hold of depends on the volume and atmosphere in the stadium.
"If it is very loud and I've seen an error happen way up the pitch, I just try to reach the central defender so he can pass on the information. Then we can play Chinese Whispers from there.
"My job is to help the team as much as possible and I believe I have a pretty good understanding of the whole game.
"It's becoming more and more my responsibility to take corrective action if something goes wrong in the team."
"It's becoming more and more my responsibility to take corrective action if something goes wrong in the team"
Neuer did not have an easy ride in Munich as Austria, who were trailing 2-0 to goals from Miroslav Klose and Toni Kroos, peppered his goal with a series of late efforts until Thomas Muller wrapped up the victory two minutes from time.
"It's true that there were a few shots on goal and there were plenty of situations in the penalty area where I had to be on my line," Neuer added.
"It wasn't a particularly nice game for me. I can't be involved so often, having to fend off so many balls.
"But I'm a team player and our common aim is to avoid situations from which a goal could be conceded.
"So we want to keep the opposition away from the goal and it's better when I have no difficult balls to deal with."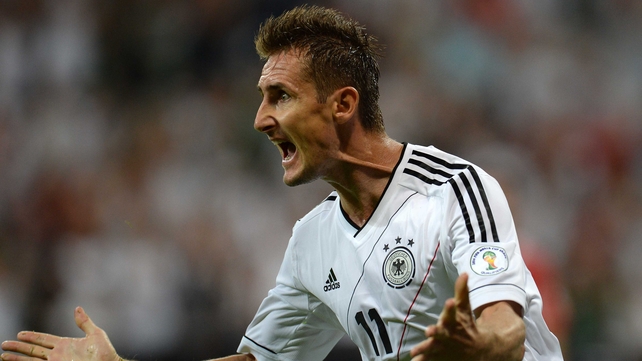 Lazio striker Klose, meanwhile, has the chance to make history in the Faroe Islands after matching Gerd Muller's national goalscoring record of 68 with his opener against Austria.
And with Lars Olsen's men having conceded 22 times in seven defeats, the odds are firmly in Klose's favour when it comes to setting a new record for Germany.
Borussia Dortmund winger Marco Reus will not fly north, however, after contracting a gastrointestinal infection over the weekend.
Pol Johannus Justinussen missed Friday's 2-1 defeat to Kazakhstan but returns from suspension for the hosts, but the yellow card his fellow defender Jonas Tor Naes picked up rules him out at Torsvollur.
Live television coverage of Austria v Republic of Ireland from 19.00 on Tuesday 10 September on RTÉ Two and RTE.ie (RoI only). Live radio coverage with full commentary from 19:00 on Game On on RTÉ 2fm and RTÉ.ie (Worldwide).