Giovanni Trapattoni has accepted his reign as Republic of Ireland boss will end after the current World Cup campaign - regardless of whether they qualify or not.
Both the 74-year-old Italian and his assistant Marco Tardelli have spoken in recent days of an extended stay despite calls for them to go in the wake of Friday's 2-1 home defeat by Sweden, which left their qualification hopes in tatters.
Even former assistant and RTÉ pundit Liam Brady admitted Trapattoni's days were numbered as the implications of a disastrous result were discussed in the company of Bill O'Herlihy, John Giles and Eamon Dunphy.
Brady said: "The manager has to pay the price. He knows that. He knows his fate."
Trapattoni, as he has done so often in the past when criticism has been levelled at him, pointed to his record for justification, but now admits he would not expect to continue beyond his current contract, which expires in June.
He said: "I don't expect, after this campaign, to go again [with Ireland] in the future. Sure, no.
"Over five years, I think we have achieved a good result. We have changed the team, we have improved the ranking, we have moved on players and discovered many others.
"In France, the first time [in the World Cup play-off], you know we deserved to go through; then we achieved qualification [for Euro 2012]; now maybe the third position could be also a good result for us.
"Obviously, I thought until Saturday we could qualify and if we did achieve that result, then after Brazil, sure, I don't think about continuing."
However asked if he would resign, Trapattoni said: "Me? No. I can continue and help the next [manager] because in this short time, maybe this player or another can show the next manager where he can place his trust and how to develop him."
"Third position could be also a good result for us" - Giovanni Trapattoni
Former Sunderland boss Martin O'Neill has already been installed as the bookmakers' favourite to succeed Trapattoni, although he was asked if his assistant Tardelli could do the job.
He replied: "Yes, but it depends on if he wishes to do it or not. It is not a question for me."
Earlier, Tardelli backed Trapattoni to continue.
Asked if he was angered by the criticism which has come the manager's way, Tardelli said: "I played for many years and I have been a coach for many years and for me, everything now is nothing because I know our job, I know your job.
"You need to ask very hard questions for the newspapers and for the TV. It's normal, it's life. No problem.
"We came here nearly six years ago and now, we feel very well also for another two years.
"But I don't know if that will happen or not. The FAI (Football Association of Ireland) know what they will do.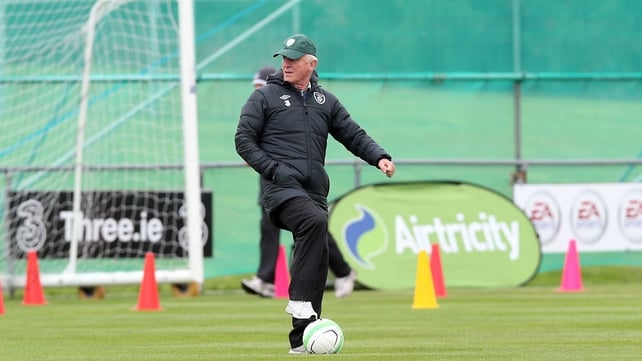 "One year ago, the people who are criticising Giovanni now were very happy with Giovanni.
"Football is so. We haven't a problem because we understand that our job has been very strong. For me, it is very positive."
Tardelli's comments, however, were in stark contrast to the popular reaction to Friday's defeat.
Only victory in Austria on Tuesday night will give them any chance of rescuing their dream and even that may not prove to be enough if Sweden do the same in Kazakhstan.
Live television coverage of Austria v Republic of Ireland from 19.00 on Tuesday 10 September on RTÉ Two and RTE.ie (RoI only). Live radio coverage with full commentary from 19:00 on Game On on RTÉ 2fm and RTÉ.ie (Worldwide).