Giovanni Trapattoni insists he still has the backing of his players as he prepares to mount a seemingly futile mission to rescue both World Cup qualification and his own future.
Friday night's 2-1 home defeat by Sweden left the Republic's dreams of finishing second in Group C behind Germany in extreme jeopardy.
In addition, Trapattoni, who is contracted only until the end of Ireland's involvement whether or not it extends to Brazil next summer, found himself clinging grimly to his job amid concerted calls for him to go.
In the immediate aftermath of the game, the 74-year-old Italian mounted a defiant defence of his record, and he was equally bullish on Saturday morning as he began his preparations for Tuesday night's trip to Austria, where defeat would all but mathematically consign hopes of a South American adventure to the scrapheap.
But asked if he was confident he still enjoyed the support of his players, he said: "Ask them, ask them this.
"The players believe in what they have done and until this result, why should they change their habit?"
Skipper Robbie Keane was refusing to be drawn into the growing clamour for action after a sizable proportion of a packed house at the Aviva Stadium greeted the final whistle with a chorus of boos.
The striker said: "I'm certainly not going down that road because as professionals, as far as we are concerned he is the manager and we are going to give him 100 per cent backing.
"Don't forget, we have a game on Tuesday as well."
"If we finish third in the table behind Germany and Sweden and better than Austria, that must increase our personality" - Giovanni Trapattoni
Central defender John O'Shea too was diplomatic when asked about the manager's continued presence.
He said: "That's not up to me to decide. If we don't qualify, they are the things that will be asked. Let's wait and see."
In truth, it seems a case of when rather than if Trapattoni parts company with Ireland after only just surviving in the wake of last October's 6-1 mauling by Germany in Dublin.
It was not so much the fact of the defeat, but the nature of it which crossed the line for his most ardent detractors, although he emerged from cards-on-the-table discussions still in post with the financial implications of any divorce a major factor.
Trapattoni and his staff were recruited at great expense - businessman Denis O'Brien has footed half the bill - in 2008 and although he came desperately close to taking the Republic to the 2010 World Cup finals in South Africa and did guide them to the Euros in Poland and Ukraine last summer, his relationship with the Irish footballing public has at times been tempestuous.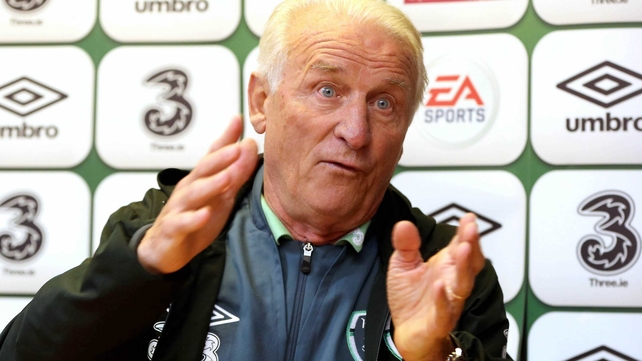 His rigidity and conservatism have proved far from endearing, although as long as results were delivered, which they invariably were during the previous two campaigns, he could plead justification.
But a return of just a single point from home games against Germany, Austria and Sweden has removed that defence as the shortcomings of his methods have been cruelly exposed.
Nevertheless, he is adamant that his way will pay dividends in the future with the likes of Seamus Coleman, James McCarthy and James McClean spearheading a new generation of senior internationals.
He said: "It was always a strong group with Germany, Sweden and also Austria. It was a tough group.
"But we must continue for our growth and to develop our personality. Maybe in the future we can be a little bit more because now we have changed the squad.
"We have many young players and I think they can improve their personality, their confidence and their trust. We must continue this.
"Also if we finish third in the table behind Germany and Sweden and better than Austria, that must increase our personality."
Jon Walters, Simon Cox and Glenn Whelan all picked up knocks against the Swedes, but all three are expected to be able to board the plane when it leaves for Vienna on Sunday afternoon.
They will jet out from Dublin hoping against hope that there are still twists and turns to come, but knowing their fate is no longer in their own hands.
Trapattoni said: "Obviously, the table is more difficult, but I said this morning to the players, in their leagues, when they lose a game and when they play the next game, they start again with confidence, with trust and with the possibility to get a result.
"Now we have to think this. We have three important games, not only the next against Austria.
"Every result is important and we not only a positive result, and we also have to wait and see what happens between Germany and Sweden.
"It is important we continue in our way because in three games, anything can happen."