Tottenham have announced their third capture of the day after completing the transfer of midfielder Christian Eriksen for an undisclosed fee.
The Denmark international joins Romania defender Vlad Chiriches and Argentina forward Erik Lamela in signing for the north London club on Friday.
"We are delighted to announce that we have reached agreement with Ajax for the transfer of Christian Eriksen," Spurs said on their official website.
Chiriches completed his move on Friday morning when he completed his £8.5million move from Steaua Bucharest and four hours later, the north London club confirmed that they had signed 21-year-old Lamela for fee thought to be around £25.8million.
Lamela, who has three Argentina caps, moved to Roma from River Plate two years ago and he quickly become recognised as one of the hottest properties in Europe.
Lamela scored 21 goals in 67 appearances for the Italian club, where he played in a number of positions across midfield.
Lamela arrived in London on Wednesday night, but Tottenham would not comment on the player's potential signing for fear that another club may snatch the midfielder from under their noses with an 11th hour bid.
Chiriches give Spurs more options in defence, after the departures of William Gallas and Steven Caulker left Tottenham short on numbers at the back.
Chiriches played 62 times for Steaua during a two-year period at the club and he has made 19 appearances for his country.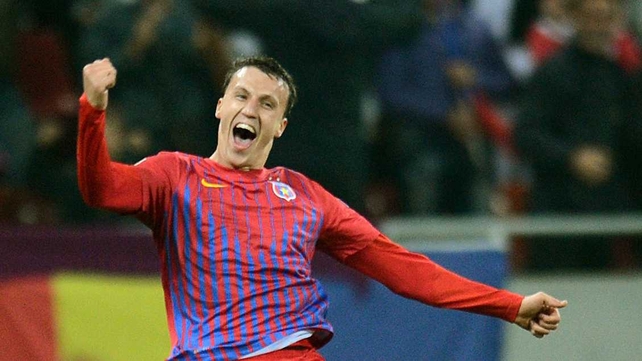 Tottenham have now spent approximately £92.8million in this transfer window following the signings of Lamela, Chiriches, Roberto Soldado, Paulinho, Etienne Capoue and Nacer Chadli.
Spurs are also close to signing midfielder Christian Eriksen from Ajax.
Should the deal for the Dane go through, it is likely to pave the way for Gareth Bale to complete his world-record move to Real Madrid.
Meanwhile, Arsenal manager Arsene Wenger claims Tottenham's summer spending spree could end up destabilising the balance of the squad rather than turning them into top-four contenders.
"I know all the players they have bought. For the rest, we will see how well they integrate and how well they will do. It is very difficult to predict that," said Wenger, whose side again finished above Spurs in fourth place last season.
"There is a little risk on the stability of the squad and on your technical consistency" - Arsene Wenger
"They try very hard (to bridge the gap) of course, that is normal. In our job, there is always a technical risk when you buy more than three players because you unbalance a little bit the stability of your squad.
"I know that in England it is very well seen, but it is always difficult when you bring so many players in, how everybody will do to predict that."
Wenger added: "Your squad always has a balance. It is more of a risk (adding numbers).
"It can work fantastically well, but there is a little risk on the stability of the squad and on your technical consistency.
"However, I must confess I am not too much worried about their risk and what they do.
"I believe you win games when you focus on yourself and the quality of our game.
"It is not a special statement for Tottenham, for us it is exactly the same. It is always difficult to integrate many players together."