Rio Ferdinand believes there to be an extra sharpness about Manchester United during their pre-season campaign this year as all the players aim to impress new manager David Moyes.
Ferdinand is about to enter his 12th season at the club and he says everyone will be trying to prove their worth.
"When you get a new manager you want to show him that you should be in the starting XI for that first day of the new season. That process has started already."
"We've been back from our holidays for more than a week and it's been a really good start," said Ferdinand.
With one former team-mate, Phil Neville, appointed as a coach, Ryan Giggs, taking on a role as player/coach, there is an air of familiarity about Moyes' work.
"It's been very hard but it's been enjoyable and we'll see the benefits of the work we've been putting in back in Manchester and the work we're about to do on tour in the shape of better fitness and a better understanding of the personalities of the players and coaching staff."
"It's a new era for all of us. Hopefully things will come together and we can get off to a good start once the season begins."
"It's a new era for all of us. Hopefully things will come together and we can get off to a good start" - Rio Ferdinand
As usual, United's arrival in the Far East for their pre-season tour, attracted crowds at Bangkok airport and the team hotel.
It is the scale and intensity of this support for the club upon which so much of their huge commercial success is based and it would be no surprise to learn the opening game of United's against Singha All Stars on Saturday, is a sell-out.
Moyes' first task was to sign a book of good wishes for the Thai king, who is so revered in the country.
Although United's players were allowed some rest after their 12-hour flight, a closed-doors training session was planned for later in the day.
With Robin van Persie missing this leg of the tour, which moves on to Australia on Sunday, Wayne Rooney will be the centre of attention.
Moyes has done as much as he can to deal with Rooney but the chatter will continue until the England striker states his intentions.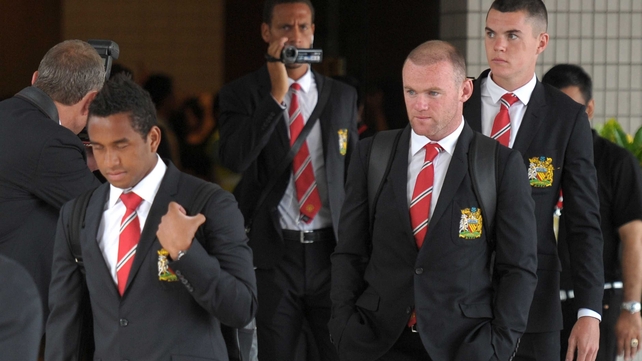 United could also be set to miss out on signing Thiago Alcantara. Reports in Spain suggest that the Barcelona midfielder is on his way to Bayern Munich.
It had been thought Thiago had opted to join United after deciding his hopes of securing a place in Spain's World Cup squad were best served away from the Nou Camp.
However, it seems the player has instead decided to link up with former boss Pep Guardiola at the Allianz Arena.
When asked if he was interested in the player, Guardiola confirmed interest. He also added "I don't know what's going to happen. We have to wait. But I know him very well. He is a super super player."
If he does opt for the German champions, the news will be a blow to Moyes, who had hoped to use Thiago to bolster the midfield, after Paul Scholes retired, and the future of Darren Fletcher uncertain.