by Alan Cawley
On Monday night we witnessed a ferocious Louth derby between last year's surprise package of the Airtricity League Drogheda United and most definitely this year's surprise package Dundalk.
It was won deservedly so by Dundalk and this week I want to very much focus on the fantastic job Stephen Kenny has done so far this season in taking the Lilywhites back towards the top table in Irish football.
We shouldn't be surprised by him doing so well really as he has always been a top manager. I for one am not but after the trials and tribulations he suffered during his stint at Shamrock Rovers last season it makes this season's achievements all the more impressive.
I was critical of that stint at times last year because I felt looking in from the outside the players just weren't playing for him.
For whatever reason I don't think the Shamrock Rovers players of last season accepted him or respected him from day one. Sometimes this can happen you just don't click and the outcome was inevitable.
I'm sure Stephen wasn't pleased at how this chapter in his managerial career ended and probably felt like he wasn't given enough time.
This could have affected a lesser manager really badly but Stephen has showed fantastic strength of character and bounced back immediately this season with Dundalk and just proving the point that he is a top manager if anyone doubted it.
He has assembled a young, exciting and vibrant squad full of technical ability. They are playing a very attractive brand of football and the buzz is back in the town of Dundalk just like the old days as it is a great soccer town.
The fans are coming back to Oriel Park to watch exciting talents such as Richie Towell, Keith Ward and Stephen O'Donnell.
This is the key point for me and where Kenny should be applauded most.
He has basically a brand new team and that's not always an easy thing to do in football integrating new faces and getting them all to sing off the same hymn sheet but he has achieved this.
He also signed lots of young hungry players who are out to prove a point as they may not have been successful elsewhere.
Combine that with a manger who is also out to prove a point and this really is a recipe for success as it is showing.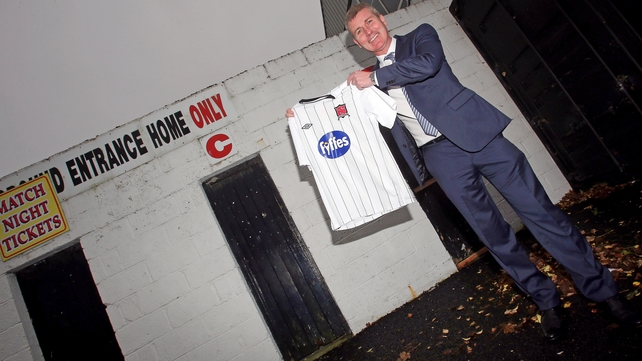 How far can they go? As far as they want if they keep performing the way they are. They are just nine points off top spot with a game in hand on St Pat's so who knows if they can win that. If I'm been totally honest I don't think they will win the league, but if they can stay on the coat tails of the others for as long as possible and finish anywhere in the top four well that would be a massive achievement for Kenny and his players.
As Stephen is a very experienced manager also he will realise that we are only half way through the season and there is still a lot of football to be played. They have done the hard work in laying the foundations.
It is all about building on them now and sustaining it until the end of the season. I believe they can sustain it and finish in the top four and possibly ahead of Shamrock Rovers, now wouldn't that be a nice feather in the cap of Mr Kenny.
Until next week,
Alan