Celtic manager Neil Lennon says the club may re-examine the possibility of signing Republic of Ireland international Kevin Doyle.
The Wolves striker was close to a loan move during the January transfer window but that fell through.
"There's an interest there in Kevin, there always has been," said Lennon.
The out-of-favour Ireland forward is expected to leave Molineux this summer as Wolves look to reduce their wage bill following relegation to League One.
Lennon also revealed that Anthony Stokes has rejected an initial offer to extend his contract at the club but does expect the Dubliner to stay.
When asked about links with free agent Richard Dunne, the former Northern Ireland international revealed that the former Aston Villa defender's age, 33, would most likely rule him out of a move to Parkhead
He said: "I like Richard Dunne, I think he's a great player. He's had a long time out with injury. The way we go about our business now his age may go against him, however, I'm not ruling that one out. He's a player I've admired for a long time."
Lennon was speaking at the announcement of a friendly against Liverpool to be played at the Aviva Stadium on 10 August.
"More is made of Suarez taking a nibble out of Ivanovic than this guy hooking Owen Farrell" - Neil Lennon
Meanwhile, Lennon believes Liverpool striker Luis Suarez may have been harshly treated after being banned for 10 games.
The Uruguay international will miss the start of next season after landing the mammoth suspension for biting Chelsea defender Branislav Ivanovic.
Suarez has since thrown his situation at Anfield into doubt by telling reporters in South America he wants to leave Anfield this summer.
It remains to be seen whether or not the former Ajax frontman remains on the books when the Reds travel to Dublin for the friendly.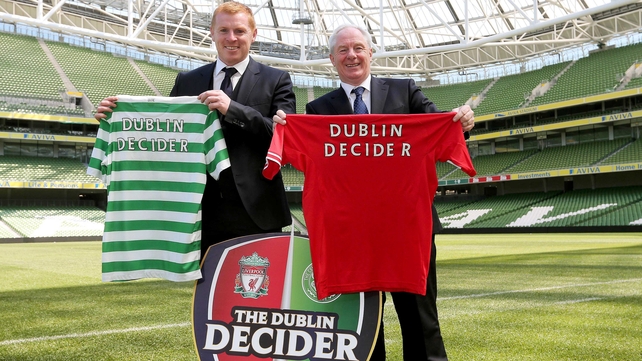 Asked how he would have handled Suarez, Lennon said: "He's a brilliant player. I was watching the Lions last week and Owen Farrell got left-hooked by a Barbarian right on the jaw.
"He hooked him, but more is made of Suarez taking a nibble out of Ivanovic than this guy hooking Owen Farrell, so I think there has to be a certain perspective put on things when it comes to football.
"We know it's a worldwide sport and we know the players are role models and they have a responsibility, but in terms of Suarez, you take him to one side and say, 'Look, behave yourself'."
Live television coverage of Republic of Ireland v Faroe Islands from 19:15 on Friday 7 June on RTÉ Two and RTÉ.ie (Rep of Ireland only). Live radio coverage on Game On from 19:00 RTÉ 2fm and RTÉ.ie (Worldwide).