Giovanni Trapattoni believes Robbie Keane has been rejuvenated by his move to LA Galaxy.
The 32-year-old striker will become Ireland's most-capped player on Friday evening when he wins his 126th senior cap in a World Cup qualifier against the Faroe Islands.
It would be a brave man who would bet against Keane marking the occasion by adding to his goal tally, which now stands at 56 after his double in last night's 4-0 friendly victory over Georgia.
To put that achievement into context, previous record holder and former team-mate Niall Quinn scored 21 times for his country.
Trapattoni is confident his captain still has a contribution to make in a green shirt for some time yet - the man himself is insistent that he will play on as long as he feels he can do a job - and he has put his new lease of life down to the latest phase of his career.
The Italian said: "Robbie Keane in his career has always been an important player.
"In football, there are players who are clever, intelligent, and there are players who work and do their jobs, and these players become famous for their qualities.
"At 18 years-old, he was already (the) Robbie Keane (we know now), in Italy and in England, and I think he can continue in this way because of his quality.
"In America, he has gained fresh enthusiasm in a new situation and he looks very, very well.
"Before the game, he was very, very sharp."
"Robbie Keane in his career has always been an important player" - Giovanni Trapattoni
Keane made his senior international debut as a teenager against the Czech Republic in March 1998 and has been a fixture ever since.
Whether he would have been thrown in at the deep end had Trapattoni been manager at the time is a moot point, but the Italian has made a point of easing the likes of Seamus Coleman and James McCarthy, who are significantly older than he was, into his team.
Asked if it was possible for a teenager to play international football nowadays, the manager said: "There are many in Germany, for example, but in Italy, no because traditionally the young players are a little bit shy because the result is important and the famous players are important.
"In Italy, it is very difficult, only some clubs build the team with young players - AC Milan, for example.
"They say 'Improve this team'. It's not important to win the league or finish in second or third place, it is important to grow this team.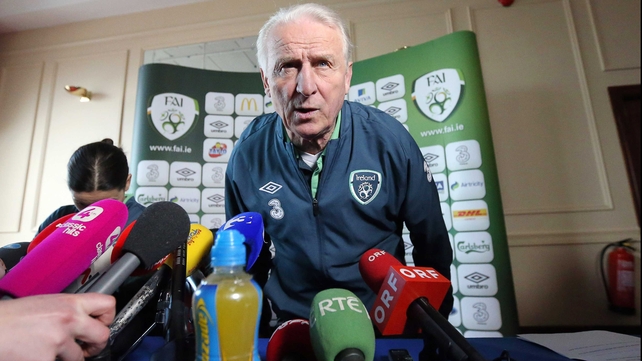 "I was at Juventus when I changed the first group and (president Gianni) Agnelli said, 'We need to change the team, but it is important that every two or three years, we achieve a good result, a cup or the league'.
"In fact, we changed and after one year, we won again. It's important, this change.
"If you have a strong basis, when the basis becomes a bit old, you establish a new basis.
"But the shirt of international players is very, very heavy. There are 90,000 people in the stadium at Wembley, so that creates pressure and when the ball comes, it is 'hot'.
"You need to have security, performance, quality, 'The ball is mine'. There is theory and there is practice. Practice is the ball, you, the ball, the opponent, the referee."