Liverpool striker Luis Suarez faces an extended ban by the Football Association after he was charged with violent conduct for his bite on Chelsea's Branislav Ivanovic.
The FA has stated it believes a standard three-match punishment for the offence - missed by referee Kevin Friend and so dealt with retrospectively - is "clearly insufficient in these circumstances".
As Liverpool have already fined the player for his actions in the 2-2 draw at Anfield and set about working on changing his behaviour the club will not contest the charge.
Later today they will inform the FA of that, having until 6pm to do so, and an Independent Regulatory Commission will be convened tomorrow.
It is not the first time Suarez has been in front of the panel, having been given an eight-match suspension after being found guilty of racially abusing Patrice Evra last year.
However, this is an unrelated incident and will be viewed as such.
Liverpool have not yet decided what representation they will have at the hearing but will do so after talks with Suarez today.
The club acted swiftly on Sunday evening to reprimand the 26-year-old, who apologised to Ivanovic in a late-night phone call, and followed that up with a heavy fine yesterday.
"It affects his future in the sense that we have to work with him on his discipline - but Luis is a very important player to the club," - Ian Ayre.
They did not take additional sanctions as they were aware FA action was likely and that was confirmed late in the day by a statement which said: "It is alleged that the conduct of Suarez constitutes violent conduct and it is the FA's contention that the standard punishment of three matches that would otherwise apply is clearly insufficient in these circumstances."
While Liverpool have taken a harder line with Suarez than with his previous transgression, learning lessons from the public relations disaster which transpired, managing director Ian Ayre has stressed they will not sell him despite widespread condemnation of his actions.
Asked whether the incident would have any effect on the player's future Ayre, who has liaised with owners Fenway Sports Group over the last 36 hours, told Liverpool FC TV: "No, not at all.
"It affects his future in the sense that we have to work with him on his discipline - but Luis is a very important player to the club.
"He signed a new four-year contract last summer and we'd all love to see him here throughout that contract.
"This is more about getting him back on the right track and it's largely down to Brendan (Rodgers) now to work with him on that side of his character: Brendan will be working with him further on his discipline.
"Hopefully that puts the matter to rest from our point of view."
The fact remains a number of Europe's top clubs would leap at the chance to sign Suarez, whose performances certainly in the first half of the season kept the team afloat.
Ever since he signed a new contract last summer Liverpool have insisted they have no intention of selling their prize asset and despite the unsavoury nature of this latest incident their stance has not changed.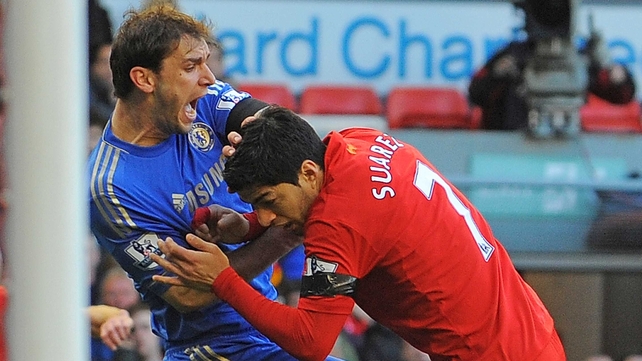 Suarez will be offered anger management counselling by the Professional Footballers' Association but it seems more likely Liverpool would be inclined to utilise the services of their own in-house sports psychologist Dr Steve Peters, who has been working at the club's Melwood training ground one day a week for most of the season.
Suarez's boot sponsors adidas will also "remind him of the standards we expect from our players".
Merseyside Police confirmed no action will be taken after officers from the Surrey force, on behalf of their north west colleagues, spoke to Ivanovic but he told them he did not want to pursue the matter.
Suarez has asked for his fine - likely to be at least two weeks' wages which would amount to about £200,000 - to be donated to the Hillsborough Family Support Group, who marked the 24th anniversary of the disaster last week.