Alan Pardew is happy to fly the flag for England as well as Newcastle as he targets Europa League glory.
The 51-year-old will attempt to guide the Magpies into the quater-finals of the competition tonight as they look to finish the job they started by holding Anzhi Makhachkala to a 0-0 draw in Moscow last week.
Chelsea and Tottenham will also be seeking last-eight berths with the Barclays Premier League hoping to be well represented in the latter stages of the competition, and Pardew would be delighted to play his part in that.
He said: "If I am honest, that did get a mention the last time we played in this competition, saying we have a responsibility not just for Newcastle fans, but for the English Premier League and English fans.
"Yes, for sure, and why not carry that through as well? Whether we have got French players, Italian players, it doesn't matter, we represent the Premier League and we are proud to represent the Premier League.
"Yes, we will try to do that if we can."
"Whether we have got French players, Italian players, it doesn't matter, we represent the Premier League" - Alan Pardew
Newcastle last reached the quarter-finals of the then UEFA Cup eight years ago under Graeme Souness having made the last four with Bobby Robson at the helm 12 months earlier.
No English side has lifted the trophy since Liverpool did it in 2000-01, but while the Champions League has proved troublesome for Premier League sides this season, the Europa League has been significantly more rewarding.
Pardew said: "The Premier League this year, outside of Manchester United, has not been of the standard of last year.
"The group that is below the top four is getting stronger - Everton, Spurs and I think ourselves, although our league position doesn't justify that. But next year, I think we will be competing in that area.
"That suggests the strength of the Premier League at the very, very top perhaps could improve. But the depth of the Premier League is in no doubt.
"I think, if I was a betting man, it could come to England this year. The three teams who are in it can focus on it, and that's not always been the case.
"The experience we are all gaining with this competition is helping the Premier League teams now."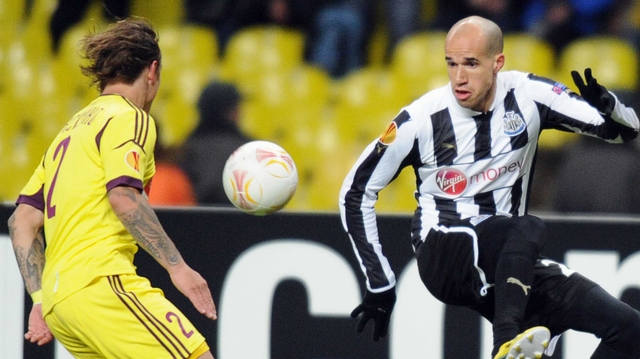 Striker Shola Ameobi will have a late fitness test on the ankle problem he sustained in the first leg, but winger Hatem Ben Arfa, who returned from a 12-week injury lay-off with a torn hamstring in Moscow is out after being sent to see a specialist after a setback.
Pardew said: "This injury he has sustained is an injury that we have to be very, very careful on because more important to us is his welfare going forward.
"We are not going to take any risks. If I am honest, him missing it isn't going to make a great impact on this game because I think the team is in a good place and I think we can beat them without him, no problem."