Chelsea interim manager Rafael Benitez has issued another veiled attack on his critics ahead of the Europa League last-16 second leg with Steaua Bucharest.
Last season's Champions League winners will bid to keep their European adventure alive by over-turning a 1-0 deficit in their clash with the Romanian league leaders at Stamford Bridge.
Progress for the Blues, coupled with the FA Cup quarter-final replay against Manchester United on Easter Monday, 1 April, would result in a fixture headache especially given the first leg of the Europa League quarter-final would be three days later.
Responding to questions on fixture congestion, Benitez implied some people would suggest it is his fault.
Benitez said: "I can do nothing about that. I just concentrate on my job and try to do my best, preparing the team for every competition.
"Maybe someone else will blame me. Some people always say that it's my fault, that everything is my fault."
Asked how he could be blamed for the calendar, Benitez said: "You are clever enough to realise that I was joking."
"Some people always say that it's my fault, that everything is my fault" - Rafael Benitez
"If something is wrong they want to blame me. But I have to manage this too," he added.
The schedule of fixtures means Benitez will have to rotate his squad.
Asked about the challenges of selection with games every four, three, or possibly, every two days, Benitez suggested he expects further reprisals.
"You have to analyse every single thing and you will decide what to do and still someone will criticise you," he said.
"If you lose a game, it's 'oh, he picked the wrong player' or whatever.
"It's quite difficult, but each team is different and it depends on the players that you have, the positions and the congestion."
Steaua Bucharest hope to capitalise on the vitriol towards Benitez and "annihilate" Chelsea.
"We are well aware that the supporters, the crowd has a very big role, a very important role, especially if we were to go ahead early," Steaua boss Laurentiu Reghencampf said.
"That would not create a great atmosphere for the home team. We will try to score early and play well."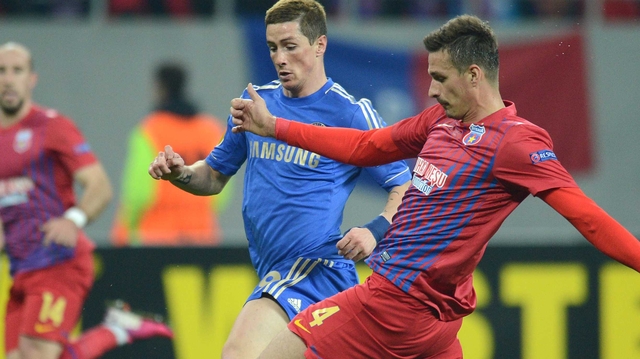 Steaua, who beat Ajax in the previous round after overturning a first-leg deficit, are unfazed by the challenge that awaits in west London.
Defender Mihai Pintilii said: "They are a very good side. They have some great individual players and extraordinary talent in their team.
"Tomorrow night we will be trying to annihilate them and to just play the way we can play."