Airtricity League Preview: Sligo Set For Tough Title Defence
By Ed Leahy
Back in November 2010, Sligo Rovers and Shamrock Rovers were about to go head to head in the FAI Cup final.
The Hoops were going for the double having pipped Paul Cook's side to the league title on the last day of the season, while Sligo were returning to play their second Cup final in a row.
Amidst some office banter with a Sligo Rovers fan, a smug, yet very relieved, Hoops supporter suggested that Sligo's Cup form was starting to define them as a club. If they did not push on and win the league, I suggested, they might be remembered in ten years time as just another Longford Town.
Sligo came back stronger in 2011 and were arguably the best team in the league, yet Shamrock Rovers defended their league title, this time with a game to spare. The Bit O' Red maintained their tag as Cup specialists and returned to the Aviva to win their second FAI Cup in a row, beating Shelbourne on penalties. Perhaps my prediction was becoming a reality.
A changing of the guard occurred at the end of that season as their charismatic and football-purist coach Cook returned to England, leaving the club with only a few weeks to appoint a new coach ahead of the fast approaching new season.
But the Sligo board maintained their progressive approach and cast the net wide to land a manager to take the club to the next level.
An unknown in League of Ireland circles, perhaps, Ian Baraclough was immediately impressive, eloquent and enthusiastic and gladly took the team that Cook built and set out to knock Shamrock Rovers off their perch.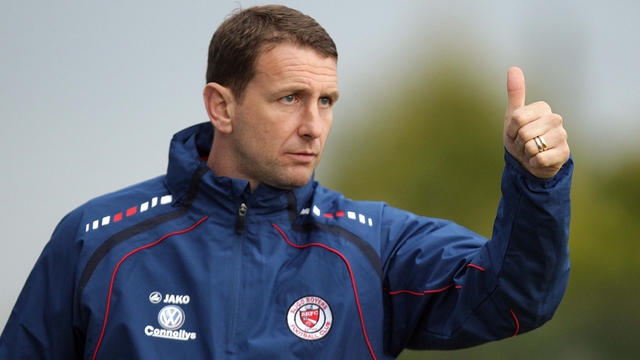 A shaky start, it has to be said, yet the results were clocking up, 1-0 wins, late goals, the points were adding up and soon the Bit O' Red found themselves with a bit of breathing space at the top of the table.
Sligo fell at the first hurdle of last year's FAI Cup; perhaps the writing was on the wall. Cup specialists no more, but the title was never in doubt in the final third of the season as Sligo landed their first league success in thirty years.
Credit must go to the board, the fans and, in fact, the entire Sligo Town, which is perhaps the only town in Ireland that is unanimous in their support for their local team.
Not only did the board continue to invest in players to challenge for league honours, but they also set about turning The Showgrounds into a home fit for champions with a new stand built to meet UEFA regulations for hosting European football. And Champions League football this summer is the ultimate reward for the players, fans and board who made that possible.
But now, ahead of the new season, a new challenge awaits Baraclough and his team, and one that the experts believe is tougher than winning the title itself – defending it.
Such is the player merry-go-round that exists in the League of Ireland, most of the championship-winning squad were out of contract at the end of the season and some key players have been lured to pastures green and whiter with the departure of Mark Quigley and Jason McGuinness to Shamrock Rovers.
While those two key players will be sorely missed by the champions, Danny North coming back to full fitness will be like (as the cliché says) signing a new player and it is the first real chance that the manager has had to put his own stamp on the squad having inherited most of the players last year. He has also enjoyed a full season in Ireland getting to know the league at first hand.
A lot is expected from Kieran Djilali, who has arrived from England, former Showgrounds favourite Aaron Greene has returned after a year away, while the experienced Anthony Elding has also arrived from England. And the 6ft 2in number nine is likely to cause plenty of problems for centre-halves throughout the league.
David Cawley looks set for a breakthrough season, while a lot of quality remains in the squad with the likes of Danny Ventre, Raffaele Cretaro, Gavin Peers, Gary Rogers and the mercurial Joseph Ndo all set to lead the way once more this season.
Can Sligo retain the title? Without doubt, they have the quality, experience and manger to challenge for top honours once more and it would be safe to say that whoever finishes above Sligo will be crowned Airtricity League champions come October.
The Challengers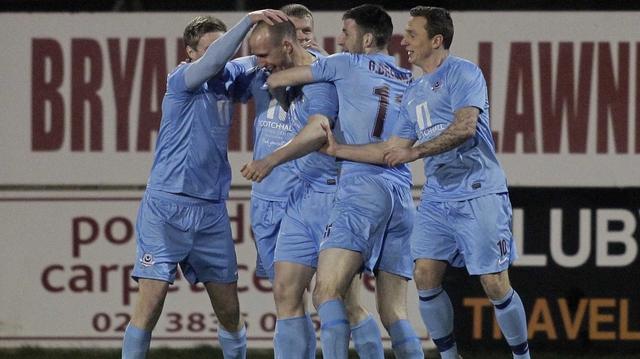 Runners-up in the table last season were 2012 surprise package Drogheda United, who maintained their challenge throughout the season and fully deserving of their second place finish and European qualification.
Mick Cooke took a club that was on its knees and patched together a squad that impressed all season, and playing football the right way in the process.
The 2007 league champions should, once again, compete at the business end of the table, having strengthened the squad in the off-season with David Cassidy and Gary O'Neill signing for Cooke's side. Only two Brennan brothers (Ryan and Gavin) remain in the squad this year as Sean has moved on to Shelbourne, however, there are still plenty of goals to be had when Declan 'Fabio' O'Brien is around.
Drogheda's belief will be key this year as they will go into the season full of confidence and early season Setanta Cup performances would appear to confirm.
The Claret and Blue Boynesiders can expect to hold on to those County Louth bragging rights for the next twelve months at least.
St Patrick's Athletic finished third in last year's league table and while several key players have been added to the Richmond Park squad, Liam Buckley's side will do well to finish in the top three again this season.
Not only did Buckley lose his number two, Trevor Croly, to Shamrock Rovers, but several key players followed, with Sean O'Connor, James Chambers and Barry Murphy moving on down Whitestown Way.
Saints will be solid throughout with quality players across the back four and in the middle of the park, yet it is in the final third where they need to improve and two goalless performances in the recent Setanta Cup defeat to Glentoran proves that it may well be an issue again this season. (Sligo put five past the same Glentoran side last week)
New signings Killian Brennan, Conan Byrne, Conor Murphy and Sean Gannon will, at least, add some extra quality to Buckley's squad.
After winning back-to-back league titles in 2010 and 2011, Shamrock Rovers endured a horrible 2012, eventually finishing fourth in the table and missing out on European football for the upcoming season.
Another new manager takes control this year as Trevor Croly has arrived to pick up the pieces at Tallaght Stadium.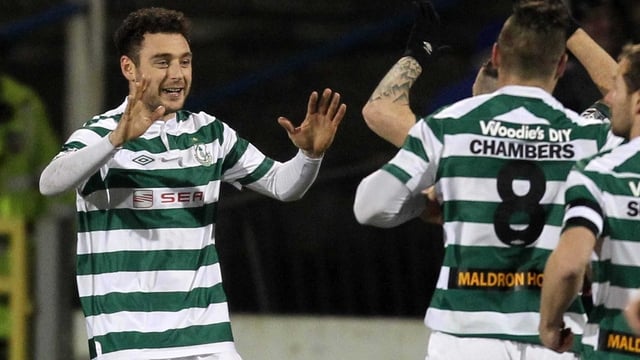 Quality has been added to an already-strong Rovers squad with Mark Quigley, Jason McGuinness and Sean O'Connor (all shortlisted for 2012 player of the year) returning to the club.
Derek Foran is another new arrival and already looks to have struck up a decent partnership with McGuinness in a ball-playing central defence, while James Chambers is another returning to don the green and white hoops and should prove instrumental in the middle of the park.
Gary McCabe and Ronan Finn should once again allow Rovers to dominate games, while a fit-again Ciaran Kilduff is always a handful up front and alongside fellow striker Quigley they should be able to fill the void left by the departed Gary Twigg.
If Rovers have a weakness, it is perhaps in the goalkeeping department, as Barry Murphy appears to be Croly's number one this season.
Murphy was deemed surplus to requirement during the Michael O'Neill era at Rovers and the goalkeeping position has been a constant source of debate since Alan Mannus departed for the Scottish Premier League.
Having said that, Murphy is as good as any other keeper in the league at shot-stopping and has an uncanny ability to save a penalty. A better keeper would have to be sourced from abroad, and that didn't work out too well for Rovers last season.
There was a bit of a gap outside the top four last season, however, that should change this year with a very strong Derry City set to improve their league form significantly in the coming season.
Another club in transition in 2012, the Candystripes proved their quality in the latter stages of the season, topped off with a deserved FAI Cup victory in November, beating St Pat's in the final at the Aviva Stadium.
Rookie boss Declan Devine will have taken a huge confidence boost from the Cup final going into the new season and despite losing key players Stephen McLaughlin and David McDaid, the core of the Cup-winning squad remain with quality throughout including Gerard Doherty, Simon Madden, Stewart Greacen, Ruaidhri Higgins, Kevin Deery, Barry Molloy and Rory Patterson.
If City can make the Brandywell a fortress once again, expect Devine's side to push towards a top-three finish.
The sleeping giant of the league is showing signs of a renaissance and Cork City will be hoping to re-establish themselves as one of the top clubs in the country after a few years of much-needed restructuring.
Tommy Dunne is slowly building a side to challenge for honours and has put together a formidable squad for the 2013 campaign.
Denis Behan, Danny Murphy, Colin Healy, Dan Murray; things are starting to look very familiar once more on Leeside. Daryl Kavanagh has arrived and will bring some extra quality and invention to the side, while Darren Dennehy (brother of Hoop Billy) is set to add even more strength to the defence.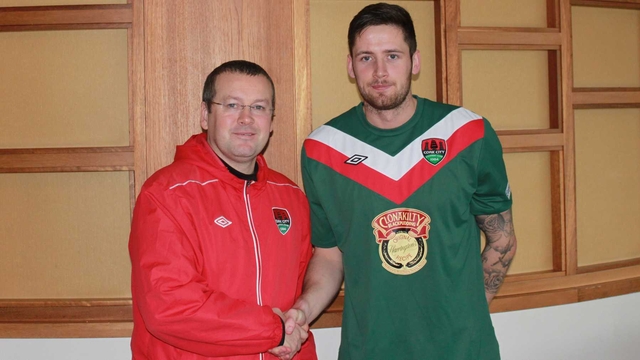 Vinny Sullivan and Davin O'Neill's goals will be missed this season.
Bohemians, who finished seventh last season, probably punched above their weight in 2012. Manager Aaron Callaghan must take huge credit for putting together a makeshift squad on a shoestring budget.
Finances are no better for the Gypsies this season and, yet again, should struggle in the top tier. Goalkeeper Dean Delany and defender Stephen Paisley add a bit of experience to the young squad and the manager will be much better prepared for this season as he retained 15 players from last year.
Another side trying to return to former glories after recovering from financial meltdown, Shelbourne will be hoping to improve on last year's eighth-place finish.
Stability is one thing that the Tolka Park club has going for them with Alan Mathews remaining in charge, as well as many of last year's squad resigning for the 2013 campaign.
Graham Gartland, Pat Flynn and Paul Crowley will bring experience and strength to the squad, and top goalscorer Philly Hughes also remains at the club.
Once again, expect Shelbourne to be a well-organised tough side to beat but may be too reliant on Hughes to get the goals. It could be another long, fruitless season for Shels fans.
After finishing ninth in 2012, UCD boss Martin Russell will be hoping to move another rung or two up the ladder this season.
Every year, a new-look UCD team turn up for the league campaign, but while the faces might be different, the tactics remain as the Students are purveyors of the beautiful game.
Solid at the back with captain Michael Leahy at the helm, UCD may again struggle to find the back of the net – they were the second lowest goalscorers last season – however, former St Pat's striker David McMillan has proved a handful over the past few seasons and can link up well to bring the midfield into play.
Bray Wanderers finished tenth last season and are likely to be battling for their safety again this campaign. But they have managed to hold on to several key players including Marty Waters who scored several vital goals for the Seasiders last season.
The prolific Jason Byrne will, no doubt, chip in with his fair share of goals, while Gary Dempsey returns to shore up the midfield alongside the O'Connor brothers.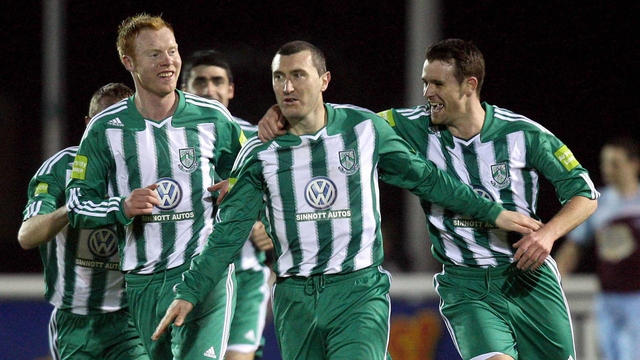 As usual, Bray will be a difficult proposition in their home patch at the Carlisle Grounds, but this season may be a relegation battle from the outset.
Dundalk's goal-difference of -40 in 2012 is an adequate indication of the season that the Lilywhites have just endured. And if it wasn't for Monaghan United's demise, the Oriel Park club may have faced automatic relegation.
However, a play-off victory ensured that Dundalk would remain in the top tier and with new manager Stephen Kenny in charge, combined with a new-look squad, expect the Co Louth outfit to move closer to mid-table than the relegation zone in 2013.
Limerick return to the Premier Division and are arriving in style with the magnificent Thomond Park as the venue for their home game.
There have been several critics of the Munster rugby ground being used as the capacity is way beyond what Limerick can expect to attract to their home games.
However, I would welcome the addition of Thomond to the list of league stadiums and with some clever planning, the less-than-capacity crowds can be housed closer together to create a better atmosphere.
Limerick have the potential to attract attendances akin to Cork City, Sligo Rovers and Shamrock Rovers, so if Stuart Taylor's side can get off to a decent start, perhaps the sports-loving Limerick natives will enjoy a night out at Thomond Park in the rugby off-season.
People might say that it's wishful thinking, well, it's the start of the new season, so I tend to be a little bit more optimistic at this time of the year.
Here's to an entertaining and asterisk-free season for 2013.
Live coverage of Limerick City v Cork City on RTÉ Two and RTÉ.ie (RoI only) from 5.05pm on Sunday 10 March. MNS returns on Monday 11 March on RTÉ Two and RTÉ.ie (RoI only) at 7pm.