Swansea boss Michael Laudrup has claimed yesterday's remarkable Capital One Cup triumph over 10-man Bradford will be remembered for generations.
After their magnificent exploits in reaching Wembley, the League Two Bantams were put firmly in their place as Swansea romped to a 5-0 win, the biggest in League Cup final history.
It was the first major honour for Swansea in their centenary season and was achieved thanks to a free-flowing performance that brought two goals each for Nathan Dyer and Jonathan de Guzman, plus Michu's 17th of the season.
"To lift the trophy is great," said Laudrup.
"But the way we did it says a lot about our performance. We all know what Bradford have done this season. It is absolutely outstanding.
"This final will remain in the history books, a small part because of us, a large part because of Bradford."
"There was no designated penalty taker. I forgot" - Michael Laudrup
The only blot on Swansea's day was the row between Dyer and De Guzman over who should take the penalty after the latter man had been brought down by Bradford keeper Matt Duke.
Dyer attempted to wrest the responsibility away from De Guzman, knowing he was one goal away from becoming the first player to score a hat-trick in the League Cup final.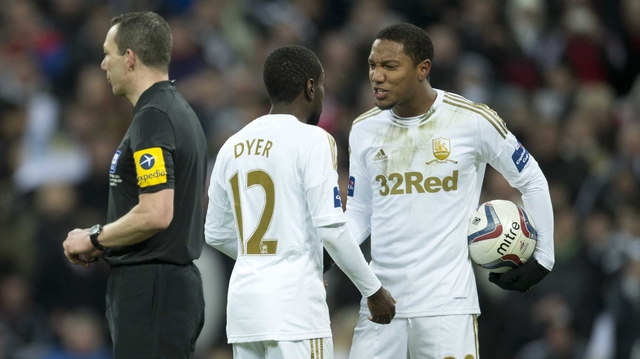 De Guzman would not back down, leaving Dyer simmering, although the pair did make up once the midfielder had scored.
"There was no designated penalty taker. I forgot," Laudrup said.
"This was our 36th game of the season and it was our first penalty so it is my fault because I didn't say who was going to take it if we got one.
"I thought we would go through the whole season without getting one."
Laudrup refused to answer questions about his own future - his name is likely to be linked to a number of jobs - although he admitted the victory compared with any in an illustrious career.
"It is one thing to win a trophy with Barcelona, Real Madrid or Juventus, but to win one with a smaller team like Swansea is absolutely fantastic," he said.
"It is their first major trophy ever and, especially in this season, is up there with the best things."
And it came just a decade after Swansea almost got relegated to the Conference.
"This club nearly went out of League Two," he said.
"You are talking about your life. Two years ago they played to go from the Championship to the Premier League.
"That is a world of difference as well. Maybe those two things are most important. But the first major trophy ranks highly in the history of any club."