By Glenn Mason
With a freshly minted Irish passport in his possession, Norwich City's Anthony Pilkington is determined to make up for lost time and become a regular in Giovanni Trapattoni's Republic of Ireland team as they battle to qualify for the 2014 World Cup.
Blackburn-born Pilkington, who qualifies for Ireland through his father's mother, won his sole Under-21 cap in October 2008 and had hoped full international recognition would have come before now.
The winger is one of five uncapped players in the squad for the friendly against Poland at the Aviva Stadium on Wednesday.
"I hoped it would have been a bit sooner, but obviously it wasn't to be," said Pilkington, who has been one of Norwich's most consistent performers since they returned to the Premier League in 2011.
"But I've been working hard and the manager (Trapattoni) has seen what I can do this season and hopefully I can prove that to everyone in Ireland if I get a chance on Wednesday.
"My dad is really delighted with my call-up. Like myself, he was hoping it would come a bit sooner, maybe with a chance to play in the Euros.
"But that wasn't to be and to be fair to the manager he wanted to stick with the lads who'd done really well and got them through. But I've got the chance now and we're really delighted."
"I made my mind up that I wanted to play for Ireland and that's what it will be from now on" - Anthony Pilkington
As the game against Poland is just a friendly, there is still a chance for Pilkington to switch allegiance to the land of his birth, but he has no intention of doing so.
"I made my mind up that I wanted to play for Ireland and that's what it will be from now on," he declared.
"There were little bits and pieces in the press, but I never spoke to anyone from that side (England).
"People were saying why hasn't he declared for one side, but I hadn't spoken either to the FAI or the English set-up.
"And as soon as Ireland did get in touch, that's when I made my mind up that I wanted to play for them."
In the intervening years since that Under-21 game, the 24-year-old he has shrugged off a career-threatening ankle injury and risen through the English leagues during spells with Stockport County and Huddersfield Town.
The highlight of his season so far has been his winning goal against Manchester United, but Pilkington has won just as many plaudits for his defensive efforts as he has for his exploits in front of goal.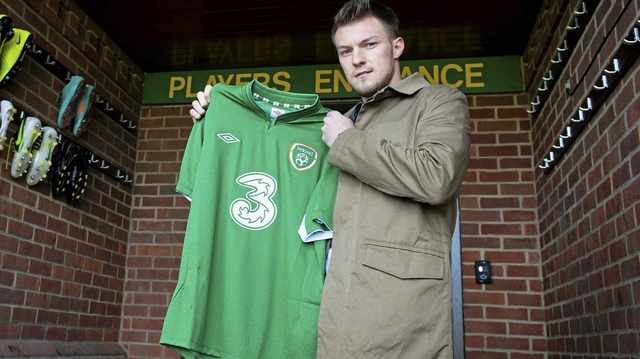 His willingness to track back and help out his defensive colleagues has endeared him to Trapattoni and certainly enhanced his chances of making his debut on Wednesday night.
Pilkington said: "At Norwich this year I've probably had to do a little bit more defending than maybe a winger normally does, but that's to help the team.
"But, when I come in next week, if I get a chance to play hopefully I can nick a goal. But the main thing is to help the boys get a win.
"You're not just an attacking player any more, you've got to help out the man behind you and do a job for the team, as well as yourself. I don't mind doing that, but obviously I mainly like attacking."
Pilkington will be joined in the squad by one or two familiar faces, notably his Norwich team-mate Wes Hoolahan, a player Pilkington classes as the best he has played with.
"It's always nice when you know one or two faces going into a new squad," he said.
"I've spoken to Wes about the squad and he said they're great lads and it's a great set-up. He's real quality. The Norwich fans call him 'Wessi' down here, like Messi.
"He may not get as many goals, but he plays in the pocket and he's really dangerous there and creates so many goals for the team. I can't speak highly enough of him. He's probably the best player I've played with up to now."
Ireland's World Cup qualification campaign may have got off to an inauspicious start with a tight victory over Kazakhstan, followed by a 6-1 drubbing against Germany, but Pilkington is optimistic that qualification for Brazil can still be achieved despite the challenges ahead, especially March's double-header against Sweden and Austria.
"I think we've got a great chance," he stated enthusiastically. "We've got a really good squad with new faces coming in, the likes of Wes, who'll make any team better when he plays.
"And there's some really good young players as well as the experienced lads in there. So I think we've got the kind of squad than can challenge and hopefully we can put the performances in that will see us over the line."
While he may have had to wait for the call-up, Pilkington sees it as another high point in a career that is on an upward path.
"Right from the start of my career I've always tried to better myself, every year, so hopefully the international scene is another step I can succeed at."
Tickets for the game are still available and can be purchased through fai.ie.
Listen to live commentary on RTÉ 2fm's new Game On, Wednesday 6 February from 7pm