The recent changes at Chelsea mean Leeds will head into the Capital One quarter-final between the two tomorrow with greater confidence, according to a man who has played for both clubs.
Tore Andre Flo is a cult hero amongst Chelsea fans after a successful four-year spell with them in the 1990s, during which he scored 50 goals after arriving as a £300,000 unknown from Norwegian side Brann.
He won five trophies with the Blues during that time and was a team-mate of Roberto Di Matteo - the Italian who was sacked as their manager just six months after winning the Champions League in May.
Like most in football he was shocked to see Di Matteo lose his job but, having been a Chelsea player when both Ruud Gullit and Gianluca Vialli lost their jobs at the hands of current Leeds chairman Ken Bates, he accepts such occurrences are part of the London club's make-up and believes recent changes could play into Leeds' hands.
"I have to say, I thought it was a big shame when Roberto left, he is a good friend, a very good manager and I thought it was way too early to push him out of the door," said Flo, who this year turned out for Sogndal at the age of 39.
"But that's just the way it is at Chelsea. They change their manager a lot.
"Their game this week with Leeds is going to be very exciting. Chelsea have had some problems lately and that could be a factor."
"Chelsea have had some problems lately and that could be a factor" - Tore Andre Flo
Di Matteo was replaced by Rafael Benitez, whose appointment has not gone down well with those who used to idolise Flo on the Stamford Bridge terraces, with Sunday's Club World Cup loss to Corinthians merely adding to the sticks they can beat the Spaniard with.
Flo can see why Benitez has had a tough initiation, but believes the League Cup gives him a chance to get his hands on some silverware.
"It's a difficult job for him, because Di Matteo was really popular with all the fans there," he added.
"But this is a great chance for them. It's still a great cup to be in and play in and you can see the enthusiasm in the Leeds supporters for it. It's a really big game coming up and it's another step closer to the final if you win, which he (Benitez) will be looking at."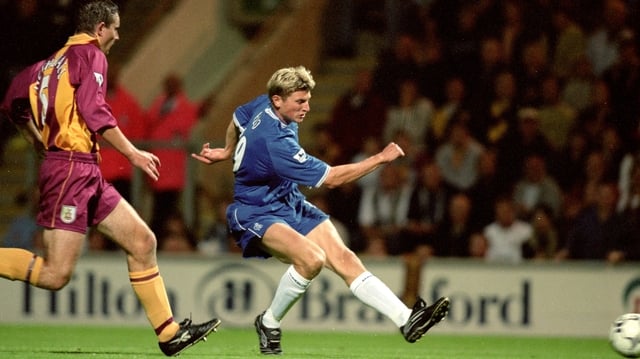 Flo's spell with Leeds came towards the end of his career and a serious foot injury prevented him from doing more than scoring four goals in 24 appearances as the club slipped out of the Championship under the management of his old Chelsea captain Dennis Wise.
He was a popular player with the Elland Road supporters, though, so much so that he was sponsored by famous fans the Kaiser Chiefs, and he believes his old side, now under the management of Neil Warnock, have the game to cause Chelsea problems.
"It was one of the best experiences of my career to play for Leeds and now they are a strong team in a good position," he said.
"They have played some good matches this year and I think they can beat Chelsea."