Twenty four years on from the memorable summer of 1988 the Republic of Ireland are finally back at a European Championship finals.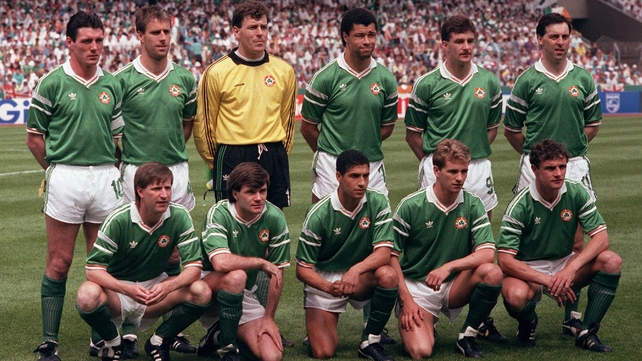 Last night's scoreless draw in Hungary extended the unbeaten run to 14 games but are we about to see a change in formation?
Giovanni Trapattoni admitted his team were a little fortunate not to have lost the game. It now looks a real possibility that a striker may be sacrificed for an extra midfielder for the Croatia game.
For the RTÉ crew here in Poland it's going to get exceptionally busy for the next fortnight, and hopefully beyond.
The Republic of Ireland's first training session on Polish soil takes place in nearby Gdynia this afternoon. Earlier in the day there will be a civic reception for the squad in the town centre of Sopot.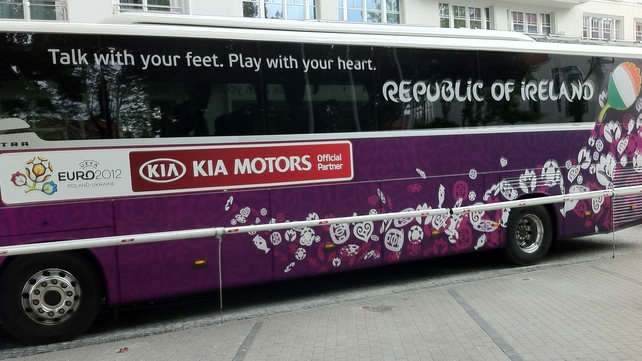 As was the case in Montecatini, the locals are looking forward to playing host to the squad. There is even talk of an appearance from some local cheerleaders at what will be an open training session.
On day two in Sopot we made the short journey to Gdansk to check out the match venue for the Republic of Ireland's second Group C game against Spain on 14 June.
The PGE Arena will also stage the first of the Group C fixtures on Sunday, when Spain open against Italy, the final group game involving the holders and Croatia, and a quarter-final.
The venue and the surrounding areas were a hive of activity as the countdown to the tournament continues. The roads around the ground are still being worked on and there were plenty of workmen putting the finishing touches to the stadium.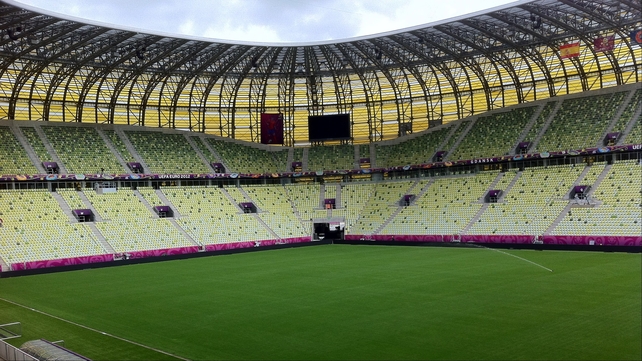 It is a magnificent venue and while the facilities for players, media and supporters are ultra modern, there is a traditional old style feeling to the ground.
With a capacity of just over 43,000 it's among the smaller Euro 2012 venues, but the crowd will be right on top of the action which will only add to the atmosphere.
This is my first experience of a European Championship or World Cup and I was highly impressed by the efficency of the UEFA staff we met on our tour of the stadium.
They were helpful, courteous and good natured on what was clearly an extremely busy afternoon.
From my own point of view it is fascinating to see just how much pre-planning is required by the broadcasters involved to cover a major tournament. Every aspect of the match day coverage has to be mapped out in advance and in great detail.
The logistics involved are considerable, as are the travel arrangements for the team of reporters, commentators and co-commentators over the next three weeks in Poland and Ukraine.
There are certain areas inside the ground designated for the pre and post-match interviews and they must be adhered to.
There is also a mini TV studio inside the stadium available to rights holder broadcasters. All going well we are hoping to interview one Irish players in this studio after each game.
The guys providing our satellite facilites embarked on a somewhat epic journey to get to Sopot. Starting out at 6.30 am Saturday morning they drove over 2,000 kilometres through seven countries and arrived into Sopot at 11 pm Sunday night.
Another went straight from the referendum count to Belfast on Saurday morning to cover the Olympic flame handover for Blue Peter before setting off to Poland on a similiarly long trek.
It put my brief stop over in Copenhagen on Sunday afternoon before catching a 40-minute connecting flight to Gdansk into perspective.
On our journey back to Sopot through Gdansk we noticed quite a few Irish flags on our route. The team will be detached from the supporters until Saturday when they take the short flight to Poznan.
Avoiding defeat to Croatia should keep the Republic of Ireland in contention to reach the quarter-finals ahead of the Italian game, whatever happens against Spain.
The omens are good, the Republic of Ireland are undefeated in their opening game at three World Cups and one European Championship.
It will be interesting to see what, if anything, Slavin Bilic learned from his evening in Budapest last night.
The torrential rain before the game made it somewhat of a lottery at times. Thankfully the substitution of Shay Given (pictured) at the break was not injury-related.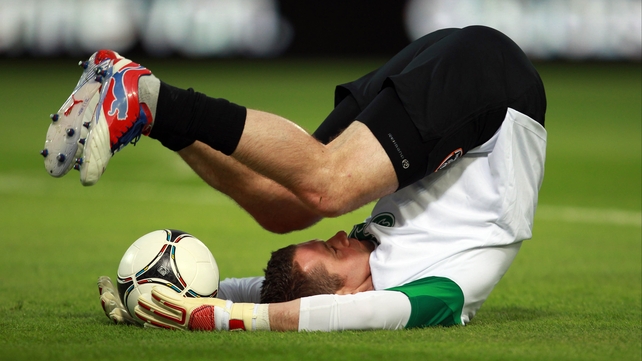 Bilic had his own problem to deal with after Ivica Olic was ruled out of the tournament with a thigh problem. His misfortune could lead to more game time for former Arsenal striker Eduardo Da Silva.
Olic is a vastly experienced player who, although no longer assured of a starting place, remains a hugely influential figure.
Italy, too, have problems. Juventus defender Andrea Barzagli won't be facing the Republic of Ireland or indeed any of Italy's Group C opponents after picking up a groin strain in Friday's defeat to Russia. He looked a certain starter in a defence that is already missing Dominico Criscito.
Mario Balotelli limped out of training on Monday with what's understood to be a knee problem. Balotelli's fitness for the tournament now looks to be a genuine concern for Cesare Prandelli.
Spain are also without their all-time record goalscorer David Villa, and their defensive rock Carles Puyol.
If the Republic of Ireland can avoid any such problems to their key personnel. a European Championship campaign which began in Armenia could yet include a game in Ukraine.
Tonight's Six-One News will have a full report on Ireland's arrival in Poland and this afternoon's civic reception and training session.