By Ed Leahy and Glenn Mason
Group A - Czech Republic, Greece, Poland, Russia
Group B - Denmark, Germany, Netherlands, Portugal
Group C - Croatia, Italy, Republic of Ireland, Spain
Group D - England, France, Sweden, Ukraine
Group A kicks off the tournament at the National Stadium in Warsaw as joint-hosts Poland entertain 2004 champions Greece.
And this group consisting of Ireland's qualification conquerors Russia, the Czech Republic and the aforementioned duo of Poland and Greece is certainly considered the weakest of the quartet.
So a win for Poland or Greece in the opener will offer either side a great chance of progressing to the knock-out stages.
The other fixture on opening day sees group favourites Russia take on the once mighty Czechs. Having watched both sides play Ireland in recent times, the Russians are deserved of their favourites tags and should prove too strong for the other three teams in Group A.
It should, therefore, prove to be a straight battle for the runners-up spot between Poland, Greece and the Czech Republic.
The Polish side gained an automatic berth in the tournament as hosts and are in effect an unknown quantity as they have not played a competitive fixture since the World Cup qualifiers in 2009.
Their key players include Arsenal goalkeeper Wojciech Szczesny (pictured) and the trio of Robert Lewandowski, Jakub Blaszczykowski and Lukasz Piszczek, who play their club football in Germany at league champions Borussia Dortmund.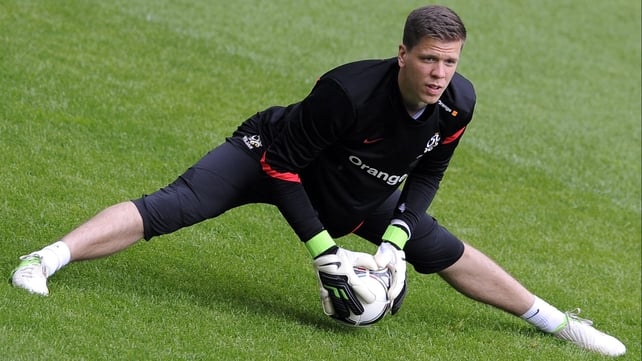 Coach Franciszek Smuda will be relying on some strong vocal support, goals from Bundesliga player of the year Lewandowski and perhaps some hometown decisions if his team is to progress past the group phase.
The Polish supporters are not even that confident that their side will advance, so expect Greece or the Czech Republic to take the runner-up spot.
The great Czech Republic sides of recent years are unlikely to have their legacy challenged by this year's crop, which had to qualify through the play-offs after finishing runners-up, by a distance, to holders Spain and just made the play-off ahead of a very average Scotland side.
Petr Cech's return to world-class form for Chelsea this season will give the Czechs some optimism heading into the tournament, while a lot will be asked of Arsenal's Tomas Rosicky and CSKA Moscow striker Tomas Necid if they are to progress.
Milan Baros may be considered a journeyman European footballer at this stage of his career but his strike-rate at international level (41 goals in 88 games) is not to be sniffed at.
Greece arrive at the Euros as group winners from the qualifying stages, where they enjoyed an unbeaten campaign to finish two points clear of Croatia.
However, coach Fernando Santos' side only managed 14 goals in those ten qualifying games and it's hard to see things being any different in the tournament proper.
So in effect, the only side worth watching coming out of Group A is Russia, who have the potential to beat any side in the competition.
The other side to come out of the group, whoever it is, is likely to be sent packing in the quarter-finals as they face the winners of Group B, though a Poland versus Germany clash in Gdansk could prove very tasty.
With two of the tournament favourites, Germany and Netherlands, competing alongside the always-competitive Portugal and Denmark, this was always destined for the 'Group of Death' moniker.
Every side will have to hit the ground running in Kharkiv and Lviv, and the opening round of fixtures will prove decisive in the overall push for the two quarter-final places.
If either of the perceived Big Two of Germany and Netherlands get beaten in their opening games, the group will be blown right open and that would make for a very interesting clash when they meet in the second round of games.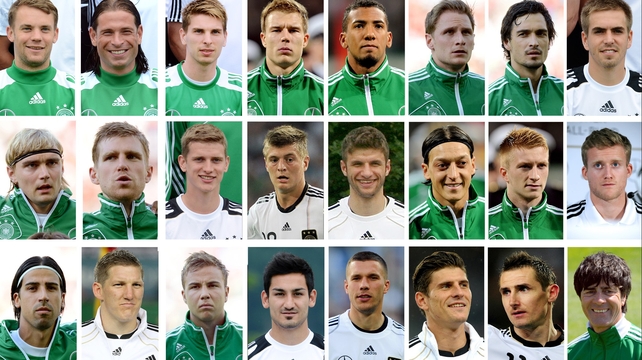 The Germans (pictured) are considered to be the main threat to holders Spain, and with good reason, having watched a large chunk of the side help Bayern Munich reach the Champions League final.
And the Bayern contingent will be hungry for success, having suffered the ultimate footballing cruelty of a penalty shoot-out loss in the final.
Germany romped through the qualifying stages with ten wins and 34 goals scored, and Joachim Low's side only conceded seven goals along the way.
With Manuel Neuer in goal, Germany will be a hard team to score against, and there is strength in numbers in midfield where Bastian Schweinsteiger, Toni Kroos and Real Madrid's Mesut Ozil will add real quality.
Bayern striker Mario Gomez will be looking to bring his club goalscoring form with him to Euro 2012 after enjoying a 40-plus season in Bavaria, while Miroslav Klose appears to turn into a world-class striker once he dons the white Germany shirt.
The Netherlands will be looking to go one better at this tournament having lost the World Cup final in 2010.
All eyes will be on in-form Arsenal striker Robin van Persie, who has had a sensational year at club level. And the Dutch attacking options are plentiful with Klaas-Jan Huntelaar, Arjen Robben, Rafael van der Vaart and Wesley Sneijder all sure to add to the goals tally.
Like the Germans, Holland romped to top spot in their group, with nine wins, netting 37 goals en route.
But caution must be applied before the Netherlands can start thinking of emulating the Dutch masters of 1988 as they have an immediate battle just to get out of their group. Let's hope the squad can all just get along.
Portugal will arrive at the tournament confident that they can negotiate the first phase. It will be a very tough task for Paulo Bento's side and, more than ever, the form of Cristiano Ronaldo (pictured, with Raul Meireles) will be key if they have any chance of progressing.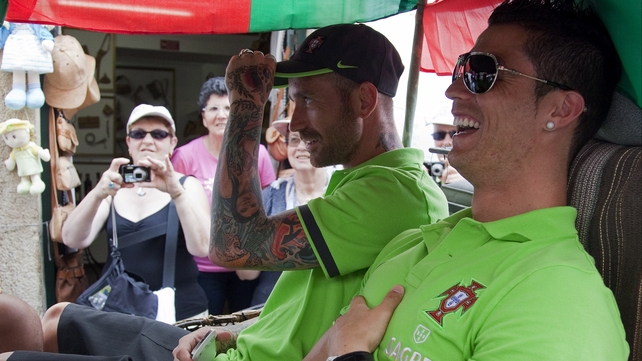 The squad has quality throughout, with Real Madrid's tough-tackling Pepe and clubmate Fabio Coentrao in defence, while Chelsea's Raul Meireles and Manchester United's Nani need to step up in a squad with lots of home-based players.
Former English Premier League flops Hugo Viana and Helder Postiga are also part of Bento's squad.
Denmark will be the perceived whipping boys of the group and, in fairness, it would be a mammoth task for Morten Olsen's side to escape from this group.
The Danes will take comfort from the fact that they qualified for the tournament ahead of group rivals Portugal, and they also boast a mean defence with Liverpool's Daniel Agger marshalling the back four.
Goals will be difficult to come by, however, and a lot will be resting on the shoulders of former Arsenal striker Nicklas Bendtner and the creativity of midfielder Christian Eriksen.
Current World and European champions Spain are chasing an unprecedented hat-trick of international titles.
Vicente Del Bosque's star-studded team is also bidding to become the first nation to defend the Henri Delaunay trophy.
Their chances of achieving those goals have been dealt two major blows with the absence through injury of leading marksman David Villa and defensive lynchpin Carlos Puyol.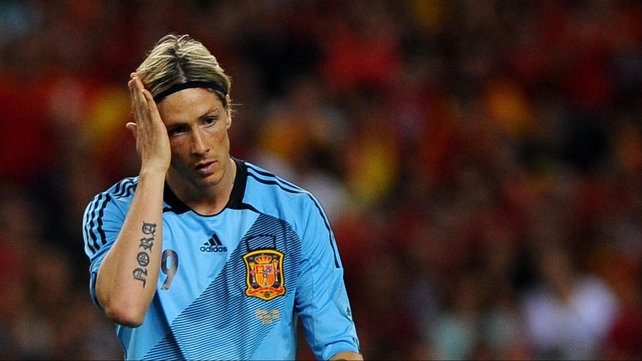 Either Fernando Torres (pictured) or Fernando Llorente will start as the front man this summer, but neither comes close to matching Villa's record of 51 goals in 82 games at international level.
Villa is arguably the greatest finisher of his generation and has earned his reputation by applying the killer touch to Spain's intricate passing moves.
Despite some erratic form this season, Puyol is still Spain's best defender and in his absence, Sergio Ramos is likely to move from right-back to centre-back.
Gerard Pique's partnership with Ramos is not as strong as with Puyol and it could cost them in the later stages. Having the experienced and ever-impressive Iker Casillas behind them should, however, help in the group stages.
Spain have such an abundance of talent in midfield that Cesc Fabregas and Juan Mata will probably have to be content with a place on the bench for the opening game against Italy.
The five starting midfielders are likely to be Barcelona trio Sergio Busquets, Andres Iniesta and Xavi, as well as Xabi Alonso and David Silva.
Emerging star Iker Muniain of Athletic Bilbao has been left out altogether, such is the depth of talent in the La Roja squad.
There has been much talk about the Spanish players being tired by the time the tournament comes around and the domestic season ended on 25 May with the Copa del Rey final between Athletic and Barcelona.
Mental tiredness may also play a role as questions are being asked about whether the players have the hunger to produce such high-quality performances for a third tournament in-a-row.
Once again Italian football is gripped by a crisis and it threatens to overshadow the national team's preparations for a major tournament.
Marcello Lippi's supremely talented squad shrugged off the Calciopoli scandal to lift the 2006 World Cup. It remains to be seen whether Cesare Prandelli's side can put the Calcio Scommese scandal to one side and excel in Euro 2012.
First-choice left-back Domenico Criscito's enforced absence from the squad as he tries to clear his name will affect morale as well as their chances on the pitch.
This squad is clearly not as good as those that won World Cups in 1982 and 2006, but they qualified unbeaten and had the best defensive record of all nations competing this summer.
They only dropped four points on the way to winning the group by ten. However, it must be said that it was not the strongest group, as Estonia showed by claiming a play-off place.
Prandelli's squad contains few of the household names from 2006, yet World Cup winners Gianluigi Buffon, Andrea Pirlo and Daniele De Rossi still form the team's core.
Juventus' tough centre-half Giorgio Chiellini, who has a degree in company management, leads a strong defensive unit, but it is not all about the old catenaccio style of defending.
The statistics show that only Spain held on to the ball more during qualifying. Pirlo has been rejuvenated since his free transfer from AC Milan to Juventus last summer and he continues to dictate the pace of play.
Their chances of going deep in the tournament will depend on the health and fitness of former troublesome striker Antonio Cassano.
The AC Milan striker, who has just returned from heart surgery, was top scorer in qualifying with six goals in ten games. Giampaolo Pazzini (two goals) was the only other player to score more than once for the Azzurri.
Predicting Prandelli's starting team will prove a difficult task as he used 35 players in qualifying.
He will be hoping that whoever he picks will be ready to put off-field matters aside when they play Spain in their opening game on 10 June in Gdansk.
One of Europe's youngest nations, Croatia, is fast becoming old hands at tournament football.
The men in the distinctive red and white chequered jerseys have missed just two tournaments (2000 and 2010) since they first began to compete at international level.
That experience will stand them in good stead in a group as tough as this.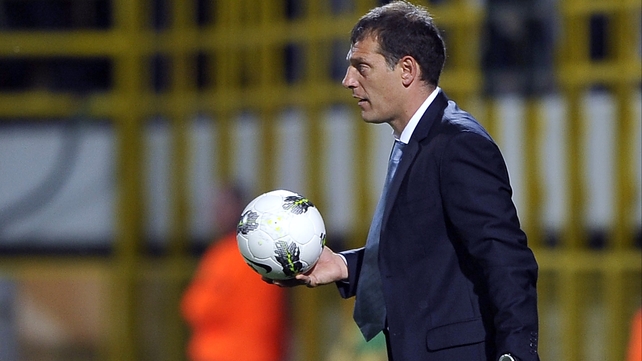 This tournament will be Slaven Bilic's (pictured) swansong as national team manager as he leaves his post to join Lokomotiv Moscow.
His popularity has taken a nosedive in his native land since the high point of leading the side to qualification for Euro 2008, and there were calls for him to go after they failed to reach the World Cup in South Africa.
His critics in the media claim the senior players are now picking the team and dictating tactics, but Bilic maintains that he still has the authority and is determined to prove them wrong one final time.
The team he brings to the tournament is weaker than that which reached the quarter-finals four years ago, but it still contains several top-notch talents.
Talisman Luka Modric's ability on the ball and speed to break free from tackles into space will cause all three opponents difficulty.
Everton striker Nikica Jelavic finished the season on fire and may have done enough to dislodge Wolfsburg's Mario Manduzic as the team's main striker.
A lack of speed at the back is the main worry for Bilic and it is an area where teams will hope to exploit them.
Bilic's hope is that Croatia can maintain possession long enough - as they did against Ireland in August - to keep the pressure off the back four.
Croatia perform better when there is less expected of them as they have a habit of flattering to deceive when expectations are high.
Bilic's comments to World Soccer recently that he is confident of victory over Ireland in the opening game, which would set-up a chance of a quarter-final place, will not have gone unnoticed in the Irish camp.
IRISH OPTIMISM
Croatian over-confidence or not, there is no doubt Ireland face a monumental task of reaching the last eight. Pessimism has given way to optimism about Ireland's chances in many quarters as the tournament draws closer and the hype begins.
Ireland's players will need the performances of their lives to get through, but that is what they are here for. There is no better place to produce your best form than at a major championship.
The confidence Ireland have gained from a 13-game unbeaten run and the discipline they have shown in many games could lead them to cause a shock and sneak out of the group.
Despite their low-key approach to the tournament thus far, England will still be considering themselves one of the favourites for the tournament and may feel that Chelsea's against-all-odds Champions League victory is a good omen for Roy Hodgson's side.
But that couldn't be further from the truth and they will actually have a tough time getting out of their group, which contains Sweden, France and hosts Ukraine.
The English FA took a huge risk leaving the appointment of their coach until the very last minute and may have been better off going with people's choice Harry Redknapp.
The England squad is one of the poorest they have ever sent to a major tournament and has been further weakened by the withdrawal of Frank Lampard and the non-inclusion of Manchester United's Rio Ferdinand.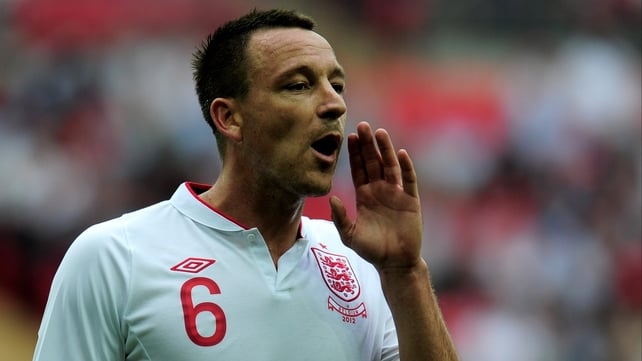 A lot will be relying on the defence and the England can boast, possibly, the world's best goalkeeper at the moment in Joe Hart, while the Chelsea defenders John Terry (pictured) and Ashley Cole will ensure that the goals against column shouldn't be too high, though the loss of Blues team-mate Gary Cahill is a concern.
But surely this is too tough a task for Hodgson and England. It could be argued that a world-class XI could take the pitch with the quality of Steven Gerrard, Ashley Young, Jermain Defoe and Wayne Rooney in the squad.
However, Rooney is suspended for the first two games and it looks like Andy Carroll will be spearheading the attack. Alex Oxlade-Chamberlain, Stuart Downing, Jordan Henderson and Jack Butland are not names that will be causing their group opponents to lose too much sleep.
France will certainly be planning for the knock-out phases and will be quietly confident of topping the group.
Coach Laurent Blanc will be hoping top man Franck Ribery can take his club form with him to Ukraine, while the former World Cup winner can call on quality throughout the squad.
Blanc's 23 includes a strong English Premier League contingent, including Gael Clichy, Patrice Evra, Laurent Koscielny, Samir Nasri, Yohan Cabaye, Hatem Ben Arfa and Flourent Malouda, and they have all had a great season in England with two enjoying champions status, while Newcastle's success was based around Cabaye's creativity in midfield.
And with Karim Benzema, Jeremy Menez and Mathieu Valbuena offering excellent attacking options, Blanc has every reason to be confident ahead of the tournament.
Sweden are another side who will arrive at the tournament under the radar but confident of making a mark at EURO 2012.
Erik Hamren's side qualified as the best-placed runners-up after pushing the Netherlands all the way in the group stages.
The form of AC Milan striker Zlatan Ibrahimovic will be key if the Swedes are to live up to their potential, while Tobias Hysen is considered to be one of the best strikers in the Swedish league and has scored four goals in his last six internationals.
Ukraine will be hoping that their home support can help them cause a shock in this group. Like fellow hosts Poland, it's hard to determine the level that Oleh Blokhin's side are at, considering they didn't have to qualify for the tournament.
Anatoliy Tymoshchuk, Andriy Shevchenko and Andriy Voronin may once have worried opposing sides (Liverpool fans may disagree with the last-named) but not anymore and you must wonder if Ukraine will offer anything of note in front of their home crowd.
Dynamo Kiev's Andriy Yarmolenko will be hoping for a big tournament with lots of Europe's top clubs reportedly interested in signing the striker, who can also play in midfield.