by Con Murphy
Well, who would have thought that was possible?
Actually the answer to that question is Pete Mahon. If you read last weeks blog, you'll have seen that he was pretty sure that there would be further twists and turns in the final two weeks of the league season. He's been around quite a while, and I should never have doubted him, and he's been proved right.
Who is to say that he might be proved right again next weekend.

Most people assumed that Bohemians would roll over Galway United last weekend, and the same people probably assume that Shamrock Rovers will cruise to victory at the Carlisle Grounds next Friday. But as the old saying goes, 'there's many a slip, twixt cup and lip'; and Rovers fans will be hoping that the on pitch celebrations by the players at Tallaght last Friday were not premature.
It's hard for the players not to get caught up in the euphoria of the night, and particularly when the crowd gave Dessie Baker such a great send off on his last night as a player at Tallaght, but I'm sure Michael O'Neill will be drumming into his players all week, that there cannot be any complacency going into the last match of the campaign.
For those of us in the television and radio business, a neck and neck finish like this for the Premier Division title is brilliant. It makes for dramatic TV, and for the league in general, it increases interest from people who would normally only have a nodding acquaintance with the Airtricity League.
I've been in shops recently, where folk have chatted with me about the roller-coaster results we've seen over the last few weeks. If those people who are more used to talking about Gerrard, Rooney and Fabregas, are suddenly talking about Sporting's shock late winner, Bohs surprise defeat at Galway, or Gary Twigg's goals, then it's got to be a good thing for the league.
A couple of times over the last few seasons, RTÉ have had to concentrate on the battle for a place in Europe, or to avoid relegation, in the final few weeks of the season, as the League title had been wrapped up early.
While those issues are very important and can be quite exciting, it doesn't have the same allure to the general viewer, as the showdown for the title like we have this Friday. If Rovers slip, great rivals Bohemians are in position to take advantage. A classic situation with a league title at stake.
Bohs fans must keep the faith......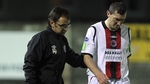 Bohemians supporters have to keep the faith, as Rovers fans did last week at Tallaght, and get out in big numbers to support the team against Dundalk. It must feel like the chance of a third title in a row has slipped from their grasp, but Bray Wanderers have been a revelation since Pat Devlin took over, and there's absolutely no guarantee that the Hoops will collect all three points at the Carlisle Grounds.
One thing for sure, is that the Bray venue will be packed this Friday. A nice payday for the home side, and fitting that this exciting league campaign will be played out in front of a sell out crowd.

It's been interesting that for a number of recent fixtures, Shamrock Rovers have sold out their allocation of tickets.
Dalymount, Inchicore and now Bray. What a great sign of the times for the club and for the league overall to see that sort of positive news. Sold Out in the current economic climate, are two of the sweetest words for any business.
On a less positive note, it was the antics of a few clowns at Inchicore that grabbed the headlines last week.
What a pity that a great match and an exciting occasion was marred by a few idiots. The hard man with the umbrella, who has obviously been watching too many Zorro movies, looked very threatening until confronted by a blonde lady who emerged from the crowd, and he quickly beat a retreat.
'Crimecall' kept Con away from Inchicore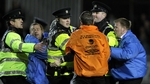 I was (appropriately enough) presenting Crimecall on the night in question and wasn't able to be present, but I did look in detail at the footage of the incident afterwards and agree with Pat Dolan, when he said in his Daily Star column, and our MNS panellists this week, when they argued that the whole thing looked worse than it was in actuality.
I don't for one second condone the actions of the guys on the pitch confronting the St.Pat's supporters, and there are a couple of identifiable culprits who should be told to go away and don't come back, but let's keep things in perspective.

I can hear the cry of 'Shamrock Rovers sympathiser' – something I would reject. As I've mentioned, there are a few so called fans, who should be banned, but the vast majority of the supporters on the pitch after the Pat's Rovers match, were there to acclaim their heroes and celebrate getting to a Cup Final, as the Sligo Rovers supporters had done with their heroes at Dalymount.

On the subject of the FAI Ford Cup final, what a fantastic day it promises to be on 14 November at the Aviva Stadium. I'm sure half of Sligo will come down to Dublin for it, and it would be nice to think that Rovers supporters, the general populous of Tallaght and all neutral soccer supporters will make it along to create a great atmosphere at the Dublin 4 venue.
Ford FAI Cup final should have a great atmosphere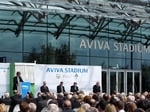 The FAI deserve great credit for making the match affordable to everyone. At just 10 euro for an adult ticket, and 5 for a child it's brilliant value, and even for those sports fans who don't have much of an interest in domestic football, the opportunity to get to a competitive match at the Aviva for just a tenner has to be too good to miss.

It should be a great match, with memories of the 1978 final still fresh in the minds of the elder lemons who were at Dalymount the day John Carpenter awarded Rovers a penalty for a foul on Steve Lynex, converted by Ray Treacy. I was only 12 years old that day, and I still vividly remember the Sligo fans around me complaining about the award of the penalty.
Since that day, both clubs have had wins and defeats in cup finals, but have never come face to face in the big one. More about this big match in the next few weeks here, but for now the concentration is on the League.
Barring a miracle, Derry City will be promoted back to the top flight and they'll be very welcome back as well for all sorts of reasons. The supporters they bring to away matches, geographical spread, Steven Kenny, and not forgetting the pom pom ladies, who always bring a bit of colour to Derry matches.
Not forgetting that 'Irelands Greatest' supports them. (Congratulations on both counts Mr Hume). The Derry City supporter on the MNS team is at pains to remind me that Derry are not mathematically promoted yet, but the chances of Waterford beating Shelbourne by 9 goals would be about as likely as PSV beating Feyenoord 10-0. It will never happen!!!
Mervue United - comedic own goal worth a look

On a related note, if you haven't seen Mervue's winner against Monaghan from last weekend, you could do worse than check it out on Youtube. To call it a comedy of errors, would be to do a disservice to comedies of errors.
Unfortunate for Monaghan after such a great season, to miss out on a chance of winning the title, by such a calamitous goal, but I suppose the good news for Monaghan fans is that they still have a chance of going up via the play-offs. One way or another they've had a fine season under Mick Cooke, including an EA Sports Cup final appearance.

Finally for now, I wonder if Rovers fans will be singing "I do like to be beside the seaside" come 9.30 this Friday night. If you can't get to a match make sure you don't miss the helter skelter action on RTE 2 from 7.30.