by Tony O'Donoghue
So we are, more or less, where we always are, be it Mick McCarthy, Brian Kerr, Steve Staunton or Giovanni Trapattoni in charge of affairs at the helm of Irish international football.

Hours after the full time whistle had signalled an anti climactic end to proceedings in Zilina, when the post match interviews had been harvested and the fans had been waved off back to Bratislava, Vienna and beyond we made our way to the Holiday Inn nearby the MSK stadium where the Irish squad had lodged the previous two nights.
It was coming up on 1.00am in the morning local time and our crew were ravenously hungry. Having discovered that Zilina was quite a sleepy little town over the course of the previous 24 hours the prospects of getting some grub, not to mind a beer, were looking remote indeed.
Our advance party of commentator George Hamilton and analyst Jim Beglin had not disappointed us however, somehow managing, in a restaurant that had been closed to the general public and remaining Irish fans, to have us included in the official Slovak team dinner. So it wasn't just early goals and dubious penalties that the Slovaks were giving away.
What a result. Unlike the Ireland team captain Robbie Keane we were able to take full advantage of the late opportunity handed to us on a plate.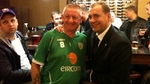 And we weren't the only ones to break the, admittedly rather lax, security cordon. Uber Irish fan Davy Keogh (Davy Keogh says hello) found himself in the Slovakian inner sanctum in the company of their manager Vladimir Weiss.
They got on famously, although, to be fair, Davy Keogh could probably tell the notably fiery Slovak a thing or two about World Cups and European Championships and Mr Weiss was eager to learn in spite of the language barrier.
So what did we learn about ourselves from two fixtures that we said beforehand would define the group? Well sadly, it seems, we now know that our chances of winning the group outright are probably gone and that we will, at best, be scrapping for our lives for a play-off place if we are to harbour any hopes of a return to these parts and the European Championship finals in Poland and Ukraine in the summer of 2012.
So we are, more or less, where we always are be it Mick McCarthy, Brian Kerr, Steve Staunton or Giovanni Trapattoni in charge of affairs at the helm of Irish international football.
The big difference, I suppose, is the cost of the Trapattoni/Tardelli ticket and the false hope engendered by the performance and the injustice of Paris.
Trapattoni has had many mantras during his reign in charge of the Republic of Ireland, most notably 'mentality' and 'little details but sadly that seems to be where Ireland fell short both at home against Russia and in Zilina against Slovakia.
Conceding from set pieces when defending them was once our strength is a a worrying habit we have fallen back into. Does it mean that the players have stopped listening to the management or that we are setting ourselves up wrongly to counter the predictable?
Much has been spoken of about our midfield and their inability to create when in possession but there were signs that the engine room was prepared to take the ball on from defence and hold on to it a bit more against Slovakia. Whether this was according to instructions or not is a crucial point. although to see Trapattoni going mental on the touchline suggested he was not too pleased with the tactic. Whether this suggests a fissure within the squad remains to be proven but there are worrying signs of discontent.
Liam Lawrence was not injured. He hurt his hand in Dublin on Friday during the game against Russia but by Tuesday that was not an issue. He has had a sore leg for seven weeks now, but nothing serious enough to prevent him from playing for Ireland or Portsmouth (and scoring) during the same period. If things were that bad, like Kevin Doyle, he shouldn't have travelled.
Once he was dropped from the starting XI, like Slovakia's, Miroslav Stoch, he should at least have been put on the bench and been an option for 20 minutes or so. Instead we lost the services of two midfielders, Paul Green and Keith Fahey, to be replaced by Darron Gibson and Andy Keogh, neither of whom made much of an impact.
For set piece delivery alone Lawrence was worth a place on the bench and to be honest that remains the most likely source of goals for Ireland. Did you ever wonder if we got another penalty whether Robbie Keane, shorn of confidence, would have taken it?
So we are where we are and we must hope for a flawless finish to the campaign when it resumes next March. In the meantime we can only hope that Trapattoni loosens the straitjacket somewhat and gives other players an opportunity to emerge.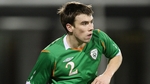 Greg Cunningham, Seamus Coleman, Marc Wilson, James McCarthy, Keith Treacy, Jon Walters and others should be tried in the friendly against Norway next month and the Carling Nations cup tournament in February.
And at risk of another ear bashing from Trap why not return to the Andy Reid debate and even consider the merits of Rory Delap? Honestly our bench on Tuesday night was seriously lacking in experience and quality. Not good enough.
We do meet Slovakia again, of course, in the reverse of these two fixtures next year when we host them in Dublin on Friday 2 September, followed by a trip to Moscow for a game against Russia the following Tuesday. Let's hope we're still in contention by then.
And if Trapattoni wants the low down on Slovakian tactics and game plan I'm sure he could call on the services of Davy Keogh (says hello) as a management consultant for a small fee. I'm sure John Delaney would be happy to pick up the tab.
Tony O'Donoghue is Soccer correspondent for RTÉ.