by Con Murphy
In horse racing circles, there's an old phrase about 'horses for courses' which has become used in common parlance when referring to previous success in a competition, and the fact that it helps when it comes to winning that event again.
In the sport of kings, bookmakers will generally shorten the odds on a horse that's won over a course and distance previously, for good reason. Getting that win under their belts improves their chances of repeating the dose. Bookies are generally very shrewd people and that's reflected in the calculation of odds for all manner of sports events.
It seems that the 'horses for courses' argument is coming into play in a big way as the Airtricity League draws towards it's dramatic climax.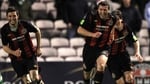 Bohemians have been there, done that, and have a couple of t- shirts to prove it, and it strikes me that the experience of getting over the finishing line in the last two seasons is standing Pat Fenlon's side in good stead at the moment.
By contrast, Shamrock Rovers resemble Devon Loch approaching the finish line for the second season in a row. It seems inexplicable that a team that had gone 26 games with only one defeat earlier in the campaign could go on to lose four of their last five matches.
Like an athlete desperate to win a big race and leaning over too early to get to the finish line, losing balance as a result, the Hoops have stumbled in the last few weeks, with the anxiety palpable in supporters and players alike.
Contrast that with Bohemians' ten-match unbeaten run going into the final two games, and it looks like the trophy should be heading for the Dalymount cabinet for the third time in a row.
In what has been a hugely trying season for Pat Fenlon and his players, notably around the time of the Champions league exit at the hands of TNS, to go on to win the league again, with an FAI Ford Cup semi final to come as well, would be a massive achievement.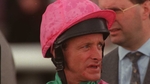 To carry on the horse racing metaphor, the Gypsies have timed their run like Pat Eddery did aboard Grundy to beat Bustino in the 1975 King George VI and Queen Elizabeth Diamond Stakes at Ascot. It's hard to believe that Bohs have hit top spot in the league for the first time with only two games to go, much like Pat Eddery hitting the front with only 100 yards to go to claim victory in the great race all those years ago.
The dark financial clouds that have shrouded Bohemians for much of the season may not have cleared, but Owen Heary lifting the league trophy again, would be a shaft of very welcome light for the Phibsboro faithful. For Pat Fenlon personally, I would suggest that this league win, a sixth in his managerial career, should it turn out that way, might well be the sweetest of the lot given the adversity the club has faced through the League campaign.
Of course, Pat would be the first to warn us of complacency, and with six points still up for grabs, the fat lady is still in her dressing room before appearing on stage to sing, so Galway United and Dundalk, along with Drogheda and Bray Wanderers, can all still have a major say on who'll be lifting the League trophy on the 29 October.
Realistically, you'd have to say that Bohemians would be long odds on favourites to beat Galway despite the fact that they've struggled against Sean Connor's side this season, and with home advantage against Dundalk on the final day of the season it's hard to see anything but a Bohemians win.
Hoops fans will bemoan the fact that Chris Turner could have put his side 2-0 up against Sporting had he converted the penalty awarded midway through the second half, but in reality it was a catalogue of errors that allowed Liam Buckley's side back into the game.
There were shades of last season's FAI Cup final in Tallaght on Saturday, as Sporting rose from the dead to beat another Rovers 2-1, having trailed 1-0 for a long time.
In RTÉ Radio and TV programming is divided into different sections, such as News/Current Affairs, Religion, Irish Language and Features, Drama and Sport. I've always thought that there's something wrong in the thought process that divides sport and drama, because if this week's matches have proved anything, it's that the Airtricity League will provide the most gripping drama, top, middle and bottom of the table between now and the end of the month.
And that's the thing. Whether your team wins, loses or draws the unpredictability and drama that goes with following any football team, in fact, any team in any sports event, is hard to match. I really feel sorry for anybody who doesn't follow sport.
They don't know what their missing. For me it's the equivalent of somebody saying I only eat bread and rice when there's a world of great tasty food out there to be savoured.
No doubt there'll be plenty of spicy games over the next few weeks. Fasten your seatbelt and enjoy the ride.
Finally, with RTÉ television, radio and online broadcasting both FAI Ford Cup semi finals live this weekend, the focus switches temporarily from League to Cup, and two smashing matches they look on paper. I predict two draws, which will give us even more matches to look forward to.