by Con Murphy
Des Kelly not open for business.
By the time you read this the Bohemians v Shamrock Rovers game will probably be over, or - if your reading this on Tuesday - just about to take place.
It's great that the match is live on RTE Television. A big derby match, with a big crowd, good atmosphere, and a result one way or the other that could have a huge say in the destination of the Airtricity League title this season.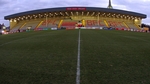 I'm told that for some reason, a decision has been made not to open the Des Kelly stand behind the goal at the St Peter's end of Dalymount. Why? There are hundreds of Shamrock Rovers fans who can't get tickets, and surely Bohemians could do with the money the sale of those tickets could generate, not to mention the fact that it would look much better on television to have a big colourful crowd behind the goal.
Nobody has publicly stated why this stand is remaining empty. There's a fence about eight or nine feet high separating this stand from the main Jodi Stand, so surely security can't be the reason. If the fear is that the two opposing sets of supporters could get too close to each other in the scenario, close off the last block of seats in that area.
Surely with a big fence, a closed off area and a healthy population of stewards and Gardai, it should be manageable. It's a real pity that fans who attend matches week in week out can't access tickets for such a vital match. My concern would be that because that stand is closed, Rovers fans may try to buy tickets for the main stand, which would not be ideal at all.
If they did make a late decision to open the stand behind the goal on the night, just disregard the previous couple of paragraphs!

One thing is for sure. The atmosphere should be crackling, and let's hope a large audience on on television and the web get to see a good match. I think they will, although sometimes the tension of an occasion like this mitigate against a bright open game.
The Wordmesister
Damien Richardson collected €5 from Tony McDonnell this week after they had a bet in studio about the word 'anticlimactic.' Tony Mac thought the word was 'anticlimatic', and he made the mistake of wagering real hard earned money with Mr Words, and there was only ever going to be one winner there.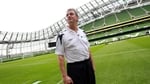 Damien could have collected another €5 from Tony if he managed to get the word oxymoron into one of his answers this week, but that was a step too far even for Damo!
Incidentally, best of luck to Mr and Mrs McDonnell who are about to become parents for the first time, indeed the new arrival is so imminent that Tony broke the general rule of a television studio by having his mobile phone switched on in case he had to leave halfway through the programme to run up to the maternity hospital for the delivery of UCD's newest fan.
O'Neill to Hibernians?
Somebody asked me the other night who the highest profile ex League of Ireland manager is.
A couple of names instantly sprung to mind. Current Blackburn manager Sam Allardyce, who had a spell in charge of Limerick, as his playing career drew to a close.
Former St Pat's Athletic manager Brian Kerr, who of course, went on to manage the Irish national side, and is currently in charge of the Faroe Islands on the international scene.
Eoin Hand is another former Limerick, and Irish national team manager.
Current Portsmouth manager Steve Cotterill cut his managerial teeth at the Showgrounds in Sligo.
Former Northern Ireland international Billy Hamilton (He crossed the ball that led to Gerry Armstrong's match winning goal against hosts, Spain in the 1982 World Cup finals) also managed at Sligo and Limerick. Former Northern Ireland manager and member of Wimbledon's crazy gang, Lawrie Sanchez also had a spell in charge of Sligo Rovers.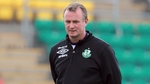 I think the reason my friend asked me the question was because Shamrock Rovers manager Michael O'Neill has been linked with the vacant managerial position at Hibernian in Scotland after John Hughes resigned at the weekend. Michael played for Hibs in the past, and if he steers Shamrock Rovers to the league title here, his stock will definitely have risen across the water.
Witness Dundee United's pursuit of Pat Fenlon on the back of the success he's had in the League of Ireland down through the years.
It's another example of how achievement in Ireland can prove a stepping stone to bigger leagues. Stephen Kenny made the move to Dunfermline after making waves with Derry City here, and even though Dunfermline were relegated, Stephen did guide them to a Scottish Cup final against Celtic, beating Rangers en route.

Finally, it was interesting to note that the panel in studio and some of our Facebook correspondents agreed that the goal of the month competition was as good as any we've had. One of my choices for GOTM didn't even make it into the top eight.
Another example of the quality on show in the Premier league - and it will be very interesting to find out next week, who has won this most competitive month.