I always think there's an extra level of excitement in the MNS studio on the night of an FAI Ford Cup draw. For the supporters of each club it's exciting, and for those of us in the television business who'll be covering the games, there's that question about which match will be tie of the round. Will St Pat's Athletic finally break their Cup hoodoo? Could a First Division club make it to the final, or even win it once again?
Might we see a local derby match final? With so many Dublin clubs, that likelihood increases. Personally I prefer when a Dublin team meets a team from outside the city, because when someone like Sligo, Longford, Dundalk or whoever get through to a final, the whole town seems to get behind the club, unlike a Dublin outfit, where it's much more difficult to generate interest from outside your core support.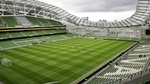 With the 2010 decider taking place in the Aviva Stadium, there's an extra incentive for teams to make it through to the big day. To be the first ever club to win the Cup at the new stadium would be something special.
Monday night's draw left us with some very interesting quarter final matches to look forward to.
Sligo Rovers are set to lock horns with Monaghan at the Showground's - they'll also meet in the EA Sports Cup final.
St Pat's have been handed another home draw, this time against the holders Sporting Fingal who've been making pretty heavy weather of the defence of their crown, having been taken to replays by Limerick and Mervue before that.
The penalty shoot-out victory for Liam Buckley's side at Jackman Park against Limerick was way too close for comfort for Fingal and their management.
Bohemians versus a resurgent Bray is one of those games where the Gypsies will be strong favourites, but the Seasiders have been building a little head of steam of late, and would be hopeful of maybe bringing the tie back to the Carlisle Grounds for a replay.
Galway United's reward for beating Salthill Devon in Monday night's replay is an away tie to Shamrock Rovers in Tallaght. This is a repeat of the 1991 final when Johnny Glynn broke Hoops hearts with a splendid winner at Lansdowne Road.
This week's panel were making the point that the difference between Premier Division and First Division in terms of playing standards would seem to have narrowed, but having said that, we still have all of the top five teams in the Premier Division in the last eight of the Cup. Perhaps that extra little bit of quality still makes the difference!
I have to say that Tony Cousins' Longford Town were excellent against Shamrock Rovers last weekend, and were extremely unlucky not to at least get a draw out of the game at Flancare Park.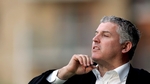 Tony is moulding a very nice side there, and the fact that they're in the bottom half of the table in the First Division suggests to me, that the quality in that league is good.
One aspect of the game at Flancare that took me back in time was the quality of the matchday programme. Maybe I've been spoiled by the full colour glossy programmes on offer at Premier Division games, but I have to say, I thought Longford's effort for a big cup match last Friday was below par.
This is fine for the average run of the mill league match, with the Airtricity Logo featuring prominently, but for a cup match in a competition sponsored by Ford, to feature the Airtricity logo, with no mention of Ford on the front cover is an insult to the competition sponsors, and one that I would imagine the FAI will frown upon.
Finding any interesting editorial content between the pages of advertising was quite a task, and I was really disappointed that for a team like Longford with a great recent FAI Cup pedigree, there was no reflection of that in the programme.
I know I've said it here before, but clubs need to remember that the paying customer is the oxygen that will keep them in business, and in asking a supporter to part with €3 or €4 for a programme on top of their €15 entrance fee, the buyer should feel like he or she is getting value for money when they purchase the programme, and in Longford I'm afraid it was below standard.
Having said all that, the welcome at the ground was warm, the main stand looks well (shame there weren't more there, but the Longford fans who were present matched the Rovers fans for volume), and the pitch was in good shape.
One thing does occur to me though, in relation to the value of paying customers at the gate. Over 600 Shamrock Rovers fans made the journey to Longford - and for their trouble they were corralled into one section in the far corner of the ground.
If those fans are to be encouraged to return, surely they should be allowed watch the match from somewhere near the halfway line which would give them a good view of the pitch, instead of putting them in a corner with stewards standing up in front of them.
Clubs need these fans to pay at the gate, and their custom cannot and should not be taken for granted. Of course there are matches where supporters need to be kept apart to avoid the hot heads wrecking it for everyone, but in a place like Longford where there is plenty of space all around the ground, I would have thought it could have been manageable to allow supporters move with a bit more freedom. I know if I thought I was going to be kept in one small corner of the ground with two portaloos for 600 fans, I wouldn't be in a hurry to return the next time.
Clubs will argue that it's on the advice of the local Gardai, but it's advice that will see dwindling crowds if the punters are going to be treated as if they're hooligans who have to be caged in a corner of the ground. Has it really come to that here?
For me goal of the weekend in the Cup was probably Paddy Maddens for Boheminans against Shelbourne. Paul Doolin who was at the match wasn't very complimentary about Bohemians performance, but it must be said that the goal was a peach. How long more will Paddy be at Dalymount I wonder?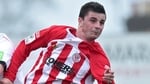 Another man on his way, it would seem, is Padraig Amond who is bound for Portugal. You may remember earlier in the season when Liam Buckley was in the MNS studio talking about his time in Spain and Belgium as a player and he made the point that there were players here who would definitely do well in European Leagues, not necessarily the English, Spanish or Italian, and if the opportunity came, it's one that the player should grasp.
So it'll be very interesting to see how Padraig fares in Portugal. I wish him well, and by our reckoning in the MNS office, we think he's probably the first former Carlow hurler to play in Portugal unless you can think of anyone else. (We know Mickey Walsh played with Porto but we don't think he was ever a reggae boy hurler)
For clubs like Sligo it's very hard to turn down the money when it's offered for a player who may not have too long to run in his contract, but at the same time for Paul Cook to lose such a valuable asset at this point in the season must have him tearing his hair out , if he had any to pull out.
After a weekend of Cup matches last weekend, it's back to the race for the League title, Europe, and the scrap to avoid the drop this weekend. I think Friday should be a fabulous day. Armenia v Ireland at 4pm, followed by an Airtricity League match at your local ground afterwards. Bring it on!
Until next week, thanks for your emails to mns@rte.ie and for your contributions to our facebook page.
By the way, try to keep the language reasonable on our facebook page. I know passions can get aroused because of club loyalties and so on, but we do have a lot of kids following us on fand as we all know, they're the future of the game here - so we'd ask you to keep that in mind.