We welcomed Damien Richardson back to the MNS couch this week after his co-commentary duties at the World Cup in South Africa, and he was joined by Colm Foley and Paul 'Ski' McGee.
Actually, I had the pleasure of speaking to Damien twice in one day on Monday. I was sitting in for regular presenter Damien O'Meara on the League of Ireland football show, which airs on RTÉ Radio One extra and on the RTÉ website and Rico was a studio guest along with UCD media officer and regular League of Ireland columnist Brian De Salvo.

The programme, produced by John Farrell is always interesting, and with studio guests of the calibre of Damien and Brian the chat is always going to be well informed and articulate.
In case you haven't heard it before, it's broadcast every Monday from 6.30pm on Radio One Extra, and after that it's available on the RTÉ.ie/sport website - it's also downloadable via iTunes.

On this week's programme, apart from the contribution of our two guests, I also spoke to Tony Incenzo, who reports on English Premier Division games for RTÉ radio throughout the season.
He had been on a flying visit to Ireland and managed to take in six games in four days, which is no mean feat, albeit two of them were in the Mayo district League. He did get to Tallaght for Shamrock Rovers v Bnei Yehuda, followed by Wexford Youths' game on Friday, the local derby between Salthill and Mervue, and Galway United at home to the Hoops on Sunday night.
Listen to the League of Ireland Football Show.

Airtricity League - better experience than English football?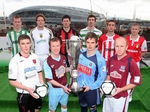 In case you get to listen to the programme I won't go into too much detail about what Tony's impression of the games here is; suffice to say he was quite positive about the experience of going to an Airtricity league match when compared to going to football games in England. It makes for interesting listening.

One recurring theme when talking about the League here is money, or lack thereof, which stifles growth at so many clubs, and sees clubs such as Galway United having to constrict at a key time during the season.
Losing top players because the money isn't in the club to keep them, must be devastating for a manager, and in Sean Connor's case, having brought in such quality at a cut price to Terryland, to see it now slip away has to be a bitter pill to swallow.
Those clubs with small budgets and consequently small squads are starting to feel the pinch now.

Ask Ian Foster.

All season our panellists have been saying that the size of Dundalk's first team squad would be a problem as the season progressed, with injuries and suspensions to important players causing a major headache for the manager. You get the feeling at the moment that the Dundalk house of cards is on the verge of tumbling down.
Dundalk: under pressure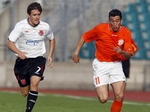 13 goals conceded in their last three matches, none scored, and another match against the strong Levski Sofia to come this week. The absence of Liam Burns at the back has never been more starkly exposed than it has been over the last few matches.
Foster had pointed some of the blame in the direction of the FAI: too many fixtures at a time when the club are battling in Europe he says.

The FAI have hit back publicly, and Ian will no doubt have to explain himself to the Association.
One man, who's very learned, and experienced in the ways of the world, approached me at a game recently, and said that he felt the FAI's response to Foster's comments was heavy handed and reminiscent of the Eastern Bloc leaders in days of yore, when to speak out and criticise those at the top, led to an extended holiday in Siberia or somewhere equally bleak.
In fairness to the FAI, even Dundalk folk would admit (indeed the club publicly have) that the Association have been helpful to the club on a number of fronts.
That, if I'm not mistaken, includes getting Foster onto a UEFA 'A' Licence course to make sure he could take charge of the Lilywhites in Europe. So for him to be so openly criticising the Association must grate in the corridors of Abbotstown.
Colm Foley said he's not a huge summer soccer fan (sorry Kid, we'll have to agree to disagree on that one), but even he admitted that the switch to summer football has brought about an improvement in our clubs' showings in Europe. Let's hope that continues.
A bigger top division for the Airtricity League?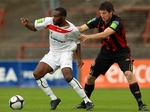 Brian De Salvo favours a bigger top division, - perhaps 14 to 16 teams – which would lead to a league campaign of 26 to 30 matches, and that would give the League authorities a bit more leeway in terms of avoiding fixture congestion.
It also means that teams wouldn't have to play each other a minimum of four times and up to seven times a season by the time you include FAI Ford Cup, EA Sport Cup, Leinster Senior Cup, and other competitions.
It's been argued in Scotland that some of the lustre has been taken off the Old Firm derby because of over familiarity, and you could argue that the same applies to some of the big derby matches here too.

There is a case for saying that you can have too much of a good thing.

One thing's for sure, if we had fewer league matches, it might benefit clubs with European fixtures, but you might have club chairmen wishing for the bad old days when the games came thick and fast, turnstiles clicked, pints were bought in the club bars, and turnover ticked over.