Tadhg Peavoy: Do you think there may be trouble regarding safety of fans and players at the World Cup?
Piers Edwards: Sadly, yes. I think there is every possibility there will be trouble.
TP: In what sense?
PE: I don't think it will be crowd trouble. If they don't sort out the park and ride services at matches, they may get very unhappy supporters – and there will be heated atmospheres outside the ground.
In terms of the other trouble, I'm sure there may be some smash and grab and some wallets being nicked. One hopes the World Cup will inspire a new attitude among South African criminals, but I think it would be naive to believe that it means crime is going to go away.
TP: What is the problem with the park and ride services exactly?
PE: The park and ride was a complete disaster at last year's Confederations Cup and descended into chaos on certain occasions. It's whether they've sorted that out yet. If they haven't sorted it out I think there are going to be some very disgruntled fans with the scenes that they've found. At the moment, they [the officials] aren't learning things.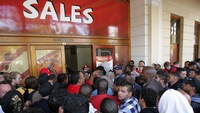 FIFA and MATCH, when they released the tickets for sale after the system crashed for the third time, had a situation where people were fighting each other outside the centres, saying 'this is all hopeless.' You would expect people to learn and I am yet to see the officials really learning.
TP: In terms of the attitude towards the World Cup in South Africa, there has been a lot of media reports that Soccer City, Johannnesburg, was built in slum areas and that those slum areas were raised to the ground and the inhabitants moved on. How much truth is there to those reports?
Also, in terms of the ticket problems, what is the current attitude towards the World Cup from the people of South Africa?
PE: I can't really talk about the slum clearouts around the area of Soccer City too much. There have been some forced removals – I would have thought. Soccer City was a stadium before it became Soccer City. It was just completely demolished and rebuilt in the same area. I can't see how it had that much impact on surrounding areas.
With regards to the tickets and ticket sales, there is enormous enthusiasm for this World Cup - 'once in a lifetime' is something you hear every day. The fans can't believe they are going to get the chance to watch Kaka, Ronaldo and Rooney - the players that they follow on satellite TV – week in, week out.
They are also incredibly excited to be welcoming the world itself. Twenty years ago few people if any came to the pariah state of South Africa and now they are hosting the world's biggest sports tournament. I really think they can't wait. They had been disbelieving, but now, with the tournament so close, they are giddy with excitement, I would say.
TP: In terms more of the actual football of the event. How do you rate the African teams chances of progressing in the tournament and can they break that glass ceiling of the quarter-finals. Is it possible?
PE: I think anything is possible in football, so I wouldn't ever write off anything. As we saw with South Korea in World Cup 2002, the unlikely can come through. As with Greece in Euro Cup 2004.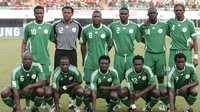 I think some of the teams have serious problems. I think Nigeria have got a lot of work to do get out of their group. Because their coach Lars Lagerback hasn't really had enough time and they are an unsettled side. (Lagerback took the reigns of Nigeria in February).
I think South Africa have a very good chance of surprising people and of getting out of Group A. They are well-organized; they've been preparing since March and their fitness levels are up to speed and they are improving all the time. So, they may not do nearly as badly as most people expect.
I can't see Algeria doing much.
Ghana I think are in an incredibly tough group. I think that might prove too difficult for them.
Cameroon I would have thought have a good chance of going a fair way.
I would think Ivory Coast have a good chance of going a fair way too. Obviously that is if they can get out of their group – the group containing Brazil and the Ivory Coast.
As for the quarter-final ceiling, it's a tough call. If it's going to happen it's surely going to happen here. I think we might see two teams through to the quarter-finals and that might be it.
TP: If one of the African sides can make the last four who would it be?
PE: I would say it would be between the Ivory Coast and Cameroon. Really, with the former most likely to succeed. The Cameroonians defence is pretty unsettled.
Sven-Goran Erikisson [Ivory Coast manager] has only had one game in charge before naming his squad. But, he's got a pretty settled side and they have got good experience of playing in Europe and they've got big name players. If he can get them organized and get them out of that group and avoid a second round meeting with Spain they could surprise.
I'd love to say Ghana normally, but I just think Group D is so difficult. If they were in any other group I would fancy them – because they have a very good coach. They have some very good players and showed great discipline at the African Nations Cup.
TP: What does Sven-Goran Eriksson have to do to turn the Ivory Coast around?
PE: I think he just needs to get them organized. They were shambolic at times in Angola in the African Nations Cup, especially in the quarter-final against Algeria. In, midfield and defence, it was very hard to discern what shape they were playing. They seemed to have lost all tactical discipline.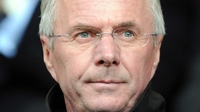 Sven will have to get them playing in a disciplined way and get the respect of the players, which I think is crucial in African football. They'll listen to what he says; they'll know that he has done it with England and that will count for a lot.
They've never had a coach of such a calibre. There is a lot of talk of division in the squad, but I think we will see a very different Ivory Coast to what we saw in Angola.
TP: What is the opinion of the England team in South Africa and Africa at present?
PE: English football is hugely popular here in South Africa. I think the only time in living memory that any South African fans can remember Kaiser Chiefs supporters being outnumbered at matches was when they played Man United a few years ago.
There was more fans wearing Man United jerseys than Kaiser Chiefs jerseys – which is rare, given the Chiefs are the best supported team in the country. Everybody can't wait to see Rooney.
English football is broadcast here seven or eight times a weekend. Rooney is the guy everybody wants to see, but they are also excited by Lampard, Gerrard, even Peter Crouch's name pops up when I talk to fans. England are popular across the whole of Africa. When you look at the francophone nations, they [England] aren't as well followed, because the francophone nations tend to follow French football.
TP: England will presumably be one of the teams most affected by the severe altitude at some of the venues. Do you think that's going to play a big part in the tournament?
PE: The head of FIFA's medical team Jiri Dvorak, a Czech doctor, says he doesn't think the altitude is going to make that much of a difference.
The highest venue is Johannesburg. That is 1,750m above sea-level. He says it's not that bad at that altitude. But, it is going to make a bit of difference, because people who aren't used to it are going to fade early.
We know that from the comments that Ronan O'Gara made with the British and Irish Lions last year. He said he underestimated the effects of altitude.
Many visiting teams struggle late on. So, it's going to to be the closing stages where we're going to see the effects of altitude - the last 15 to 20 minutes.
I personally think that the weather is going to make more of a difference than the altitude problem. We're not going to have heat ruining matches like at the 1994 World Cup and like we saw in the 2002 World Cup. It's going to be very cold.
The day will have nice sunshine, but cool. In the evening it will be bitterly cold at most games. Last year's Confederations Cup was played at about two degrees. It basically means that there are going to be no complaints about the weather effecting the football.
I think we're going to see better football matches which go the distance a bit more and played out at a higher pace than we've seen at some World Cups.
TP: Do you think that will lead to a European side winning for a first time outside their continent?
PE: I think they've got every chance. European teams will be very at home. A team like England will be incredibly at home. They're playing in an English speaking country. I'm not necessarily saying I think England are going to win. It's definitely going to help the European teams.
TP: The South African team are unbeaten in 11 matches - an impressive run. Can they make it out of Group A and will they pass the second round?
PE: I think they can get out of the group. I think if they meet Argentina in the next round I don't fancy them to do anything. Anybody else, Nigeria, South Korea or Greece, they've got every chance. I don't think the teams making up the rest of Group B are too strong.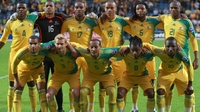 I think South Africa are improving with every game, although they havn't been playing the best teams. They still have to pass the ball accurately to one another and with a bit of pace. Six months ago - even against similarly bad teams - they couldn't string more than three of four passes together.
So [Carlos Alberto] Parreira (South Africa's manager) has made a big, big difference. I'm definitely impressed with the work he's done. I think they've got every chance. They would have to win the group to make the quarters in my opinion.
TP: Did Parreira make the right choice in leaving Benni McCarthy out of the squad?
PE: [I'm] not wholly convinced. I can understand why he did it. I think McCarthy had played 112 minutes of football since damaging his knee against Burnley in February. He added to that with 25 minutes against Colombia last week, but he's overweight, he's not fit. The injury really wrecked his World Cup dream.
The South African media will tell you he can upset a group and having found a harmonious group that have been working together for these last three months, perhaps the fitness and those thoughts prompted Parreira to sideline him.
I think time will tell. Katlego Mphela is the main man – should he be injured then South Africa's chances would diminish considerably.
TP: You've been living in Africa since 2007, covering the continent's football. Was it the right decision to move there? How has the experience been for you? Are you loving it?
PE: Right decision, certainly. Loving it? It has its challenges. Living in Johannesburg is quite restricting at times, given the security problem. You don't have the freedom to walk around like you do in Europe. I'm here with my wife and my daughter and that's definitely something that we miss.
We were in Senegal beforehand, which was unbelievable. We may not have appreciated it at the time. It was a Muslim nation, it was very hot, very dusty. It was just completely different to everything we knew back home in London. Travelling around West Africa was fantastic. My wife and I actually drove all the way to Ghana from London – and back, via Senegal.
To live in a country that is hosting a World Cup and a city that is hosting the final itself. I mean, it's fantastic.
TP: What promped you to leave your desk life at the BBC and take up this very interesting role?
PE: Feeling that I wasn't quite fulfilling the role that I had, which was talking ad infinitum about African sport, without often seeing the sport itself due to the logistical problems. Just a desire to get out into the field and meet the protagonists of the sport. Also, to experience something different. I work in the African sports section.
The World Cup was coming here. The World Cup is something that I love most in sport and it seemed like something of a no-brainer to come out here for a few years and then to go home afterwards.
Piers Edwards was in conversation with Tadhg Peavoy on 1 June 2010. Edwards will return to London after the World Cup to continue working with the BBC.