Geography
South Africa is situated at the southern tip of Africa, with almost 2,800 kilometres of coastline from the Atlantic and Indian Oceans. At 1.22 million square kilometres it is roughly the size of France, Italy and Spain combined.
It is bordered to the north by Namibia, Botswana and Zimbabwe, to the east by Mozambique and Swaziland and encircles the kingdom of Lesotho.
The country is divided into nine provinces, with Gauteng, which includes industrial and financial centre Johannesburg and capital Pretoria, being the smallest by land size but the richest and most populated. It is also home to three of the 10 stadiums for the World Cup.
Johannesburg, with 9 million people, is the largest city.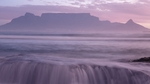 Cape Town, in the southwest, is the biggest tourist draw and will host a semi-final within sight of famous Table Mountain.




People
49.32 million people, largely housed in the northern and western parts of the country. South Africa also hosts millions of immigrants and refugees from other African countries, lured by its relative wealth and open-door policy.
South Africa has 11 official languages and while English is the main one for business, it is only the fifth most commonly spoken. The others are Zulu, Xhosa, Afrikaans, Northern Sotho, Tswana, Southern Sotho, Tsonga, Swazi, Venda and Southern Ndebele.
Just under 80% of the population is black, with whites and mixed-race making up about 9% each and Asian about 2.6%. Wealth is still skewed in the hands of the white population 16 years after apartheid ended.
Nearly a third of the population is under the age of 15 and almost 70% under 35.
Economy
Nominal GDP was 2.4 trillion rand at the end of 2009, about $320 billion, making it Africa's biggest economy. Annual GDP per capita is about $6,300.
South Africa's economy emerged from its first recession in 17 years in the third quarter of 2009, after averaging around 5% growth a year for the previous five years. The economy contracted 1.8% last year.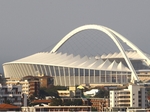 Economists say the World Cup will add between 0.3 and 0.7 percentage points to economic growth this year. Forecasts of growth for 2010 are between 2.3 and 3%.





Accounting group Grant Thornton estimates an expected 373,000 foreigners - about 100,000 from other African countries - should inject 13 billion rand into the economy during the month-long tournament.
National and regional government and city councils have spent about 40 billion rand to prepare for the event.
The government and its utilities are to spend 846 billion rand over the next three years to boost infrastructure, including a huge upgrade of roads and highways around major cities and a fast rail system linking Johannesburg's airport, financial centre Sandton and Pretoria.
However, only one section of the 'Gautrain' will be finished in time for the tournament, linking the airport to Sandton, an affluent suburb.
South Africa is mineral-rich, producing about 75% of the world's platinum, and remains a major producer of gold despite output falling sharply over the past two decades.
Unemployment is a major problem, with the official jobless rate climbing to 25.2% at the end of March. The high jobless rate is seen as a catalyst for high levels of crime.
Tourism is an important source of income, with more than 10 million foreigners visiting in 2009, an increase of 3.8% on the previous year despite a weak global economy.
Officials hope a successful World Cup will attract millions more visitors over the next five years, lured by sprawling game parks and white, sandy beaches.
Politics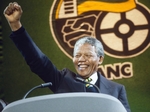 Nelson Mandela's African National Congress, which led the country out of apartheid in 1994, has dominated power ever since, although it has internal divisions. President Jacob Zuma, the fourth head of state in democratic South Africa, has courted controversy because of his polygamous marriages and extra-marital affairs.


Main Issues
AIDS: South Africa, with more than five million people estimated to be infected with HIV, has the world's largest AIDS caseload.
Poverty: Life expectancy at birth is 53.5 years for males and 57.2 years for females. The latest UN Human Development Report ranks South Africa at 129 of 182 countries.

Crime: South Africa has some of the highest rates of murder and rape in the world. There were 18,143 murders in 2008/9, more than 35,000 reported rapes and around 15,000 carjackings.
Energy: A chronic energy shortfall affected the country in 2008, cutting production in the key mining sector and regularly plunged millions of homes into darkness last year. Ageing infrastructure and cable theft often leave swathes of Johannesburg in the dark.
Utility Eskom and the World Cup's local organising committee have vowed, though, that there will not be disruptions during the tournament, with huge diesel generators at all stadiums.
Weather: South Africa is in the southern hemisphere, meaning this will be the first winter World Cup since Argentina in 1978.
Temperatures and rainfall vary between the highveld region of Johannesburg and Pretoria, where, at nearly 2,000 metres above sea level, winters are cold and dry; tropical Durban, which is warmer and more humid' and windy Cape Town, with its grey and wet winters.
Sport
South Africans are sports-mad, with soccer the most popular, especially among blacks, and cricket and rugby also followed passionately, predominantly by whites.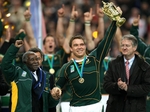 The country's Springboks rugby team are the world champions and have won that prize twice in the last four tournaments, while its Proteas cricket team are one of the world's top-ranked, although they have never won a World Cup.
The national soccer team, affectionately known as Bafana Bafana (The Boys), have not fared as well. They are ranked 83rd in the world but have set themselves the target of making it through the first round of the tournament, to avoid being the first host nation to fail to do so.